Mill Valley's Lehan, De Soto's Cauthron win
MV

senior night triangular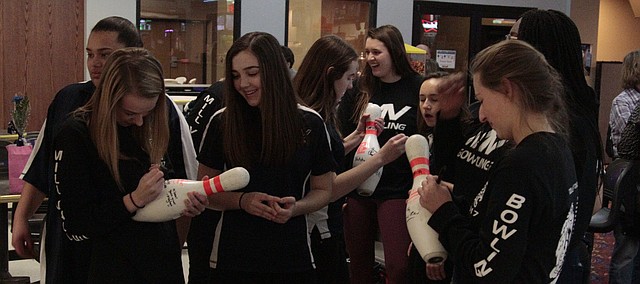 Mill Valley bowling coach Rick Pollard grabbed everyone's attention over the intercom to begin the Jaguars' senior night ceremony on Monday at Park Lanes, but the triangular was not quite over yet.
Mill Valley senior Lauren Tracht still had one more ball to roll on the 10th frame of her third game, and with the gallery's focus shifting from Pollard to her, she calmly recorded one last strike to put the finishing touches on a first-place finish for the Jaguar girls team.
Mill Valley won the girls tournament with a score of 1,976, while Bishop Miege and De Soto followed in second and third, respectively. Senior Raya Lehan won the triangular with a three-game series of 535.
"This is the first tournament that I've placed first at," Lehan said. "Also being on the bowling team is a really big deal to me, so it means a lot to me to be able to place first."
Lehan was consistent in her first two games with scores of 173 and 170, but she saved her best for last with a total of 192 in the third.
"I think that I was really hitting my mark. Usually that doesn't happen, but I was feeling really good today," Lehan said. "I was getting good scores over and over again. That really helped keep me motivated to keep getting better and better."
The Jaguars swept the top three spots in the girls tournament, as senior Meghan Clark and junior Emily Jackson followed Lehan in second and third with respective series scores of 517 and 509. Clark had the high game for the Jaguars with a score of 198 in the second.
Pollard didn't have his traditional lineups with shifting some of his seniors who normally compete on the JV level to varsity. Freshman Bri Laluk moved from varsity to JV for Monday's triangular, but kept right on rolling with a first-place series score of 531.
Tiye' Kindred paced the Wildcats' with a sixth-place finish after rolling a series of 392.
While Tracht had the spotlight on her at the end of the girls tournament, De Soto freshman Sean Cauthron was once again the center of attention before that. Cauthron — who already has one perfect game this season — rolled eight straight strikes to open the third game before picking up a spare on the ninth frame.
The De Soto freshman closed out the third game with a score of 269, and won the boys tournament with a series of 682. Cauthron was steady for the first two games, but he decided to change things up in the third, and it paid off.
"I just switched balls. I went from a Brunswick Nirvana and DV8 Freakshow to throwing a Nirvana on the right lane and a Primal Rage on the left lane," Cauthron said.
Joining Cauthron in the top three was De Soto senior Danny Erickson, who rolled a series of 576 to take third place. Cauthron and Erickson led the Wildcats to a first-place finish in the boys tournament, while Miege and Mill Valley took second and third, respectively.
Senior night did not quite go how the Mill Valley boys squad had hoped it would, but the Jaguars did not let the third-place finish put a damper on their special experience.
Seniors Jesse Bowden and Grant Moberly led the Jaguars with series scores of 550 and 549 to finish fourth and fifth, respectively.
The high series for the Jaguars came from the JV squad, as Hunter Turpin celebrated his senior night with a series of 578 to take first place.
"We're just here to have fun," Moberly said. "Having fun is our No. 1 goal."
Moberly was escorted on senior night by Mill Valley assistant bowling coach TJ O'Neill, who will also be moving on to a different school this summer. O'Neill was named as the first head football coach of Olathe West back in January.
"It's exciting. The community is excited," O'Neill said. "The new teachers and coaches that are going there, obviously it's pretty unique being able to open a new school. There's a lot of momentum behind it, and I'm ready to get started."
O'Neill has spent the past seven seasons on Joel Applebee's coaching staff, and the co-offensive coordinator has helped the Jaguars to back-to-back Class 5A state championships.
"It's been my longest tenure anywhere coaching wise, so I a lot of my philosophies that I've used at Olathe West will definitely come from him (Applebee)," O'Neill said. "Obviously he's built a tremendous program at Mill Valley, and I've been blessed to be a part of it."
The new Olathe West football coach has enjoyed being able to spend time working with the Mill Valley bowlers when he hasn't been out on the gridiron.
"It's a different group of kids than the football guys, so it's just fun to see a different part of the student body, be able to interact with them and see them have success," O'Neill said.