Face to Face: Brennan Schulte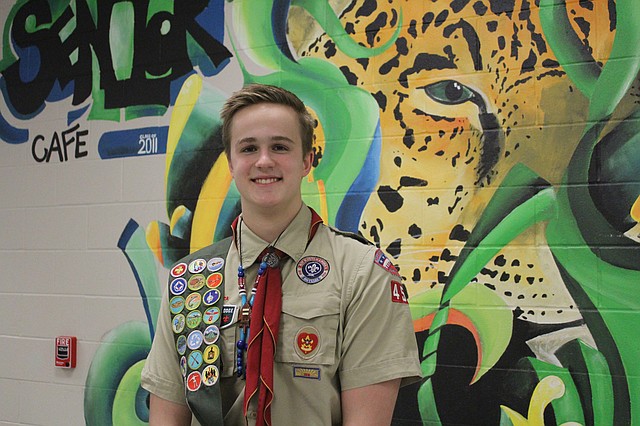 Name: Brennan Schulte
Born: Kansas City, Mo.
Family: Dad, Karl; Mom, Chris; older sister, Rachel; goldendoodle, Salvi
Dream job: Brennan plans to join the Air Force after high school, following in the footsteps of his father, who was in the Air Force for seven years. "My dad told me all about his adventures and it just really made me want to go out and see the world and serve my country," he said.
Digging deeper: Brennan recently earned his Eagle Scout rank, an accomplishment he's been working towards since he started scouting in first grade.
The Mill Valley High School junior will be recognized during a Court of Honor ceremony next month.
For his Eagle Scout project, "1,000 Books Before Kindergarten," Brennan created a cart at Starside Elementary School in DeSoto, which featured 100 bags of children's books for families of pre-K students.
The goal is to encourage literacy at an early age.
"When I was collecting the books, it was cool seeing all the books my parents used to read to me when I was a kid," said Brennan, who belongs to Troop 451. "Like, Skippyjon Jones and Curious George. It made me feel a little nostalgic. It's cool now these young kids will be reading those same books."
Although he is ecstatic about being an Eagle Scout now, a goal very few Boy Scouts reach, Brennan said the best part about scouting has just been the overall experience.
Some of his closest friends were made in scouting, plus it's allowed him to bond with his father.
And scouting introduced Brennan to one of his passions: camping.
"I don't think a whole lot of kids today even go camping," he said. "It's a cool thing to do. There's something about the fresh air in the morning and the dew on the grass. It's something I really think everyone needs to experience."
One of Brennan's favorite scouting memories was a camping trip his troop took to Philmont Scout Ranch in New Mexico nearly two years ago.
It was there he climbed a mountain for this first time in his life.
"We got up at 3 a.m. and hiked all the way up to the top and when we reached the peak, it was sunrise," he said. "The view was crazy. I don't even have the words to describe it. You could see the whole ranch and mountains for miles and miles."
Scouting and camping aren't the only things keeping Brennan busy.
He's also on the Mill Valley swim team.
These activities have helped shape the 16-year-old into the young man he is today.
"(Swimming) is both physically and mentally grueling," he said. "You have to know what you're doing and do your best, which is tough, but I like the challenge. For me, it's about self-improvement."