SM

North boys tame Lawrence High, 59-55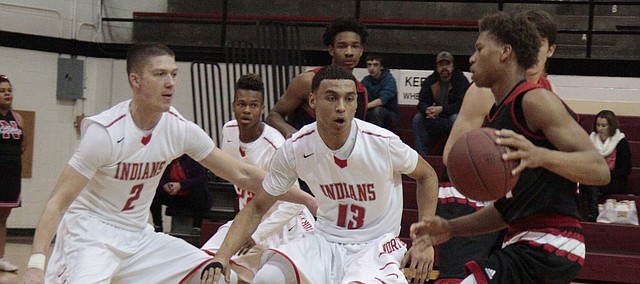 Overland Park — The overall record of the Shawnee Mission North basketball team has had several of its Sunflower League foes scratching their heads of late, and it was no different for the No. 9-ranked Lions of Lawrence High on Tuesday in the Brick House.
The Indians trailed or were tied with the Lions for the first three quarters, but led for the bulk of the fourth en route to a 59-55 victory. Senior Danny Bradley Jr. fueled the Indians' comeback with a game-high 21 points, while sophomore Jarrett Hensley and senior Avante Williams added 14 and 12, respectively.
"It's major," Bradley said. "We're starting to peak. This is our turning point where we're going to turn our season around and trying to make a run at state again."
North (6-11 overall, 5-3 in the Sunflower League) has won three of its last four games, with its only loss coming in the final seconds to No. 7 Free State on Feb. 7. The Indians helped the Firebirds (13-4, 8-0) move one step closer to a league title by knocking off the Lions (11-6, 6-2). North and SM East are tied for third place in the league at 5-3.
"It feels good," Hensley, who also had four blocks for the second straight game, said. "We've had a lot of hardships throughout the season, and it feels good to win. Hopefully we can keep it going."
Hensley hit two 3-pointers, both of which came at pivotal points in the second half. The 6-foot-5 sophomore's first triple tied the game at 40 with 2:40 to go in the third quarter. Lawrence High senior Jackson Mallory answered Hensley's trey with a personal 5-0 run, but the Lions' lead did not last long.
Senior Will Schneider and Bradley made back-to-back buckets to close the third quarter, and the Indians kept right on rolling into the fourth. Hensley drained his second 3-pointer with 6:38 to play to give SM North its first lead, and Bradley came through with another bucket on the Indians' next possession to cap off a 9-0 run.
"Jarrett stepped up major tonight on the defensive and offensive end. He hit shots when we needed them," said Bradley of Hensley. "He made blocks and got rebounds when we needed them. I'm very proud of Jarrett."
Mallory responded again with another 3-pointer to pull the Lions back within one at 49-48, but they were never able to retake the lead.
Much to the dismay of several Lawrence High fans, the Indians were only whistled for three fouls in the second half. The Lions were unable to put up many uncontested shots after the break, and only scored 21 points in the second half. The ability to come up with several defensive stops down the stretch gave Bradley a lot to smile about after the Indians' win.
"We didn't play our best game, but we made stops on the defensive end and that's what got us the win," Bradley said.
Lawrence High sophomore Brett Chapple led the Lions with 13 points, and kept his team in it until the end. Chapple tied the game at 53 with 1:47 to play with a traditional 3-point play, which marked the Indians' first foul of the half. The 6-foot-5 forward had the opportunity for the hoop-and-the-harm again with 12.7 seconds to go, but Chapple missed the free throw the would have cut the Indians' lead to one.
After Hensley hit two free throws with 11.2 seconds left to push SM North's lead to four, the Indians still had five fouls to give before the Lions would reach the bonus. The Indians only committed one of them, and the Lions could not carve into the lead any further in the closing seconds.
"We feel pretty good about it," Bradley said. "We now know that if we play together and get stops that we can beat any team in the Sunflower League."
The Indians could very well see the Lions again when the sub-state tournament rolls around. With three games to play, the Lions have the second-best record behind Olathe Northwest in the eight-team sub-state, while the Indians have the second-worst record — only ahead of Wyandotte.
The Indians can still finish as high as the No. 4 seed, and will look to gain ground on SM South (8-9, 4-4) when they take on the Raiders at 7 p.m. Friday in their last regular-season road game.
SM North (59)
Danny Bradley Jr. 8-16 4-5 21, Will Schneider 3-4 2-2 8, Byron Morgan 0-1 0-0 0, Amari Williams 0-0 0-0 0, Avante Williams 2-5 8-12 12, KT Harris 1-4 1-1 3, Tremaine Jackson 0-0 0-0 0, Billy Conaway 0-0 1-2 1, Jarrett Hensley 4-6 4-4 14. Totals: 18-36 20-26 59.
Lawrence (55)
Braden Solko 1-2 0-0 2, Austin Miller 3-6 0-0 9, Brett Chapple 5-5 3-4 13, Anthony Selden 2-4 0-0 4, Trey Quartlebaum 1-3 0-0 2, Clarence King 4-14 0-0 10, Noah Butler 1-4 1-2 3, Jackson Mallory 3-12 0-0 8, Kobe Buffalomeat 2-4 0-0 4. Totals: 24-58 4-6 55.
SM North 10 21 13 15 — 59
Lawrence 16 18 11 10 — 55
Three-point goals: SM North 3-10 (Hensley 2, Bradley); Lawrence 7-24 (Miller 3, Mallory 2, King 2). Fouled out: None. Turnovers: SM North 7, Lawrence 6.
More like this story