SM

North girls fall to Lawrence High, 51-39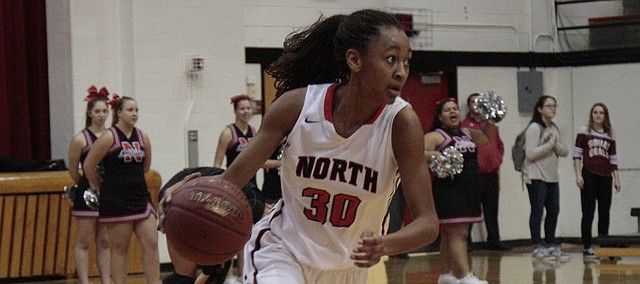 Overland Park — With only having one player who logged regular varsity minutes off of the bench back from last season, Shawnee Mission North girls basketball coach Brian McIntosh figured that his team would have a great deal of growing pains in the 2016-17 campaign.
The Indians have struggled to get into the win column after a 3-2 start, but games like Tuesday's 51-39 loss to No. 9-ranked Lawrence High have given McIntosh reason to believe that his team has gained from the growing pains.
"I told them that I wanted to see them compete and fight out there, and I thought they did that for the most part. We had some lapses," McIntosh said. "For the most part, I thought we came out and we competed and we fought. I felt like we missed some gimmes that we should have had that I think maybe would have changed the game a little bit. If we hit a couple more shots, I think it's a lot closer ball game and maybe put a little tension on them."
McIntosh's squad showed plenty of fight early, as the Indians (4-13 overall, 0-8 in the Sunflower League) jumped out to a 12-8 lead in the first five minutes. Freshman LeLe Love scored seven of her game-high 21 points during the stretch.
"I thought she had a really good game," said McIntosh of Love. "She attacked the gaps and she made some extra passes that we've been wanting her to make when the defense collapses, so it was nice to see her make those."
Love carried the load offensively again for the Indians, but her teammates did take advantage when the Lions' defense keyed in on the 6-foot freshman. Junior Hannah Redick knocked down three 3-pointers and freshman Tiana Lee added two more triples, as they combined for 15 points.
McIntosh has encouraged Redick — the lone varsity returner — to shoot the ball with confidence, and he's given the same message to Lee.
"She's got a green light for us," said McIntosh of Lee. "She hits them in practice. Sometimes what hurts her, I think, is that she gets into a rush during a game because it's happening a little faster, but that's to be expected of a freshman. She's got to get her feet set and be prepared before she catches the ball, not after."
After the Lions (13-4, 5-3) built a 14-point lead at the end of the third quarter, the Indians put together one last run. After Lee and Lawrence High senior Olivia Lemus traded 3-pointers to begin the fourth, Love made back-to-back buckets and Redick drilled one from deep to pull the Indians within seven at 44-37. The Lions roared right back, though, with a 6-0 spurt to push their lead back to 13.
"I felt like we got nice shots. We just didn't knock them down when we needed to," McIntosh said. "I felt like when we did hit a big shot, they came down and answered it with a big three and I think that hurt us, too."
The Indians will play their final road game of the regular season when they travel to SM South at 5:30 p.m Friday.
"A lot of teams kind of cash it in at this point," McIntosh said. "That's not us. We want to continue to get better."
SM North (39)
Michelle Zehr 0-1 0-0 0, Sarah Boyce 1-3 0-1 2, Noel Rivera-Watkins 0-0 0-0 0, Tiana Lee 2-6 0-0 6, Mackenzie Vielhauer 0-0 0-2 0, LeLe Love 8-21 5-8 21, Alexis Jones 0-8 1-2 1, Hannah Redick 3-11 0-0 9. Totals: 14-50 7-12 39.
Lawrence (51)
Hannah Stewart 1-2 0-0 3, Olivia Lemus 3-9 0-0 9, Skylar Drum 1-2 0-0 2, Sammy Williams 2-6 4-4 8, E'Lease Stafford 6-16 6-10 19, Chisom Ajekwu 0-3 1-2 1, Tyrin Cosey 0-0 0-0 0, Asia Goodwin 3-6 2-4 9. Totals: 16-44 13-20 51.
SM North 12 8 7 12 — 39
Lawrence 14 15 12 10 — 51
Three-point goals: SM North 5-23 (Redick 3, Lee 2); Lawrence 6-17 (Lemus 3, Stewart, Goodwin, Stafford). Fouled out: None. Turnovers: SM North 10, Lawrence 12.
More like this story