Battle of Park Lanes marks special accomplishment for Mill Valley bowler Clark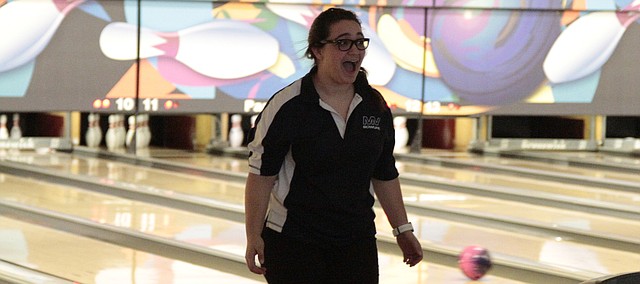 There were no individual champions crowned during the Battle of Park Lanes on Wednesday, but that did not keep Mill Valley senior Meghan Clark from having one of the most memorable moments of her bowling career.
Clark was confronted with a 4-7-10 split during the all-Baker format tournament — which has five bowlers from each team roll two frames apiece to compose a score for each game — but the Mill Valley senior picked up the spare before dropping her jaw in disbelief.
"It hit on the left side of the four pin and somehow shot that over to the 10 and hit it," Clark said. "The four pin was really slow going over to the 10, so I wasn't quite sure if it was going to make it over."
Clark helped guide the Jaguars to a second-place finish, as the Mill Valley girls squad knocked down a total of 1,423 pins during the nine Baker-format games. The difficult spare pick-up was not only celebrated by Clark's teammates, but by several of her opponents in the surrounding lanes.
"Nope, never done any of that before," Clark said with a laugh. "I've never picked up anything big like that before."
Shawnee Mission Northwest junior Alaina Burris high-fived and hugged Clark before rolling her next ball. Burris and the Cougars girls team won the quadrangular of the four-area schools that call Park Lanes their home alley. The Cougars collectively knocked down 1,525 pins.
"We just encouraged each other through the whole thing, and I feel like Baker is a lot easier than bowling your own individual game because it's like a team effort," senior Katy Doleshal said. "It takes some of the pressure off, so that kind of helps to do better."
Doleshal felt that it was important for the freshmen who aren't as familiar with bowling Baker format to get some experience with it before regionals and state tournaments. Northwest freshman Cheyenne Bolin confirmed Doleshal's point.
"It definitely gets rid of some of the stress, so I think that's definitely a plus," Bolin said. "It really just lets us calm down before the big tournaments."
While the Cougars and a number of other teams on the Kansas side of the KC metro area have bowled in a couple of Baker-format tournaments during the past few regular seasons, the upcoming regional and state competitions will incorporate it as well for the first time this year. The regional and state tournaments will both be composed of three regular games and four Baker-format games. An individual winner will be determined from the three traditional games, but the team champion will be awarded to the school with the highest combined total from all seven games.
St. James Academy and Maranatha Christian Academy rounded out the girls quadrangular in third and fourth place, respectively, with totals of 1,265 and 812 pins.
Mill Valley won the Battle of Park Lanes for the varsity boys quadrangular, but the highest team total of the day came from SM Northwest's JV squad. The Cougars' JV team had a high game of 269 en route to a grand total of 1,769.
"We got a lot of strikes. We got a couple of lucky throws," senior Travis Morrison said. "Jalen (Pak) struck out the 10th. That really helped."
The Mill Valley varsity boys were not far behind the SM Northwest JV squad, as the Jaguars knocked down 1,751 pins.
Mill Valley senior Hunter Turpin said that picking up spares fueled the Jaguars' success, and he was happy that they got into a rhythm in the Baker format.
"It's big because at least we can get our order set for regionals and know what to expect," Turpin said.
Turpin and the Jaguars easily won the tournament out of the four varsity boys teams, as SM Northwest came in second with a total of 1,604 pins.
St. James and Maranatha also finished third and fourth, respectively, in the varsity girls tournament with scores of 1,542 and 1,395.
The Thunder were coming off of a second-place finish on Monday at a triangular at Crown Lanes, but couldn't quite put things together as well as they had hoped on Wednesday.
"It was a little rough," St. James junior Grant Huerter, who had a 274 high game on Monday, said. "Towards the end, we started to pick it up. Our coaches kind of came over and got us amped up. We had more fun, and we came out and just hit our marks and kept it simple."
Maranatha's Brett Perry said that the Eagles had a very similar showing to that of the Thunder.
"There were a couple of rough games that we just couldn't get spares, but we were able to pick it up the next game and get through it," Perry said.