Keeping it 100: St. James sets single-game school record for points against rival Rockhurst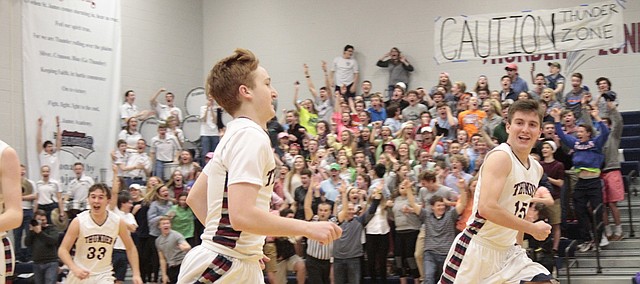 Lenexa — With the St. James Academy boys basketball team being just three points shy of the century mark in the closing seconds of its rivalry game against Rockhurst on Wednesday, there was one player in particular that the Thunder student section was hoping would hoist up one final 3-pointer.
The St. James fans got their wish when SJA senior and Rockhurst transfer Zach Allinder drained a 3-pointer just before the buzzer to cap off the Thunder's 100-81 win over the Hawklets. The Thunder knocked down 12 3-pointers in all en route to setting a school record for points in a game.
"It means a lot to get to 100," Allinder said. "It was a big shot with it being my first points of the year."
While Allinder put the finishing touches on the Thunder's historic night, it was another sharp-shooting senior guard that sparked St. James to its fast and furious start. Spencer Kaifes poured in 21 points after nailing seven of his 10 shots from long distance. Five of Kaifes' treys came in the first six minutes to propel the Thunder to a 19-10 lead. Rockhurst coach Pete Campbell called a timeout after Kaifes' fifth 3-pointer, but the Thunder kept rolling as they closed out the quarter on a 6-2 run.
"They zoned us early, and he (Kaifes) was able to hide out in the corner a little bit," St. James coach Stan Dohm said. "We got it to the center, which they collapsed."
Kaifes has had his hot streaks from 3-point range, but he had to think way back to the last time that he was in a zone like he was in the first quarter against the Hawklets.
"When I was in fourth grade I did," Kaifes said. "Five in a row. But yeah, I was feeling good tonight."
Kaifes benefited from point guards Josh Spradlin and David Hornung, and fellow shooting guard Zach Thornhill, attacking the Rockhurst zone before kicking the ball outside. Thornhill — a Nebraska-Omaha signee — has been St. James' leading scorer on most nights, but he's taken a different offensive approach over the past six weeks.
"After the new year, I just kind of said, 'If we want to be a really good team, everyone has got to get involved,'" Thornhill said. "If you try to isolate just yourself it's just hard to win that way. I've just found that if you get multiple people scoring double digits, the chances of winning just go up more."
The plan of the 6-foot-4 senior worked to perfection with four Thunder players reaching double figures. Thornhill (20), senior Will Mckee (18) and junior Keenan Fitzmorris (17) followed up Kaifes' team-high 21 points.
Rockhurst never got back within single digits after St. James surged out to a 52-29 halftime lead, but the Hawklets heated up from 3-point range in the second half to fight their way back. Chris Teahan — younger brother of former Kansas University guard Conner Teahan — knocked down five 3-pointers for 15 of his game-high 26 points. Rockhurst junior Jake Thompson added four treys of his own, as the Hawklets matched the Thunder with 12 3-pointers.
The 23-point halftime deficit for the Hawklets proved to be too large to overcome, though, as they could only pull within 14 points of the Thunder on five different occasions in the second half. Dohm finally felt comfortable enough to pull his starters out of the game in the final minute, and just like the Thunder fans, they were pulling for Allinder to log his first points of the season to get St. James to 100.
After Allinder drilled the 3-pointer from the left wing, his teammates ran out on to the court to congratulate him.
"It was really special. I've been friends with him since I was pretty much born. He works hard," said Thornhill of Allinder. "He comes to practice and makes us better every day. Just seeing him hit that shot is really good to see. Hopefully he can hit some more down the stretch."
The night for Thornhill was special even before the opening tip. The St. James senior was presented a certificate for being nominated to play in the McDonald's All-American game. Although Thornhill did not make the final roster, the honor was significant to him nonetheless.
"It means a lot — especially with the adversity that I kind of went through with injury (broken arm last season) and stuff," Thornhill said. "Just to work hard and get to that point, I mean even not playing in the game and just kind of getting that nomination and get honored just gives us confidence and gives me confidence going forward as well."
The Thunder (11-6, ranked No. 10 in Class 5A) will host Gardner-Edgerton at 7 p.m. Friday.
St. James (100)
Spencer Kaifes 7-10 0-0 21, Zach Thornhill 7-9 4-4 20, Josh Spradlin 2-4 3-4 8, Casey Worley 0-0 0-0 0, Will McKee 5-8 8-10 18, David Hornung 1-2 2-2 4, Kyle Dekraai 3-6 0-2 6, Keenan Fitzmorris 7-8 3-4 17, Jake Dunsmore 1-2 0-0 3, Zach Allinder 1-1 0-0 3, Jack Moellers 0-0 0-0 0, Sean Ziesman 0-0 0-0 0. Totals: 34-50 20-26 100.
Rockhurst (81)
Scotty Thompson 0-2 0-0 0, Xavier Rhodes 2-8 4-7 8, Jake Thompson 5-8 1-2 15, Ross Elder 1-1 0-0 2, Tyler Nelson 3-6 1-2 9, Ahmad Louis 0-4 0-0 0, Chris Teahan 9-14 3-4 26, Darrius Hughes 3-4 0-0 6, A.J. White 2-2 0-0 4, Dalen Ridgnal 4-4 0-1 8, Marcus Teahan 1-1 0-0 3. Totals: 30-54 9-16 81.
St. James 25 27 17 31 — 100
Rockhurst 12 17 24 28 — 81
Three-point goals: St. James 12-22 (Kaifes 7, Thornhill 2, Spradlin, Dunsmore, Allinder); Rockhurst 12-28 (Chris Teahan 5, Jake Thompson 4, Nelson 2, Marcus Teahan). Fouled out: None. Turnovers: St. James 8, Rockhurst 7.