Kaufman leads
SJA

girls hoops in 45-35 loss to Gardner-Edgerton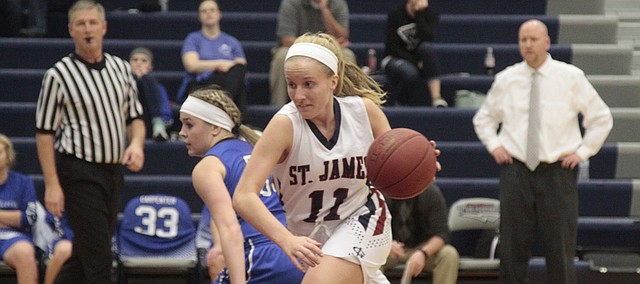 Lenexa — The St. James Academy girls basketball team has had its struggles against some of the powerhouse programs in the Eastern Kansas League this season, but Thunder coach Greg Hohensinner had plenty to be encouraged about from his squad's 45-35 loss to Gardner-Edgerton on Thursday.
St. James grabbed its lone lead at 8-7 after a Mary Goetz layup, but a series of turnovers led to a Gardner-Edgerton 11-2 run to close the first quarter. The Thunder were unable to recover from the Blazer's first-quarter surge, but they didn't back down either, as they were only out-scored by two points the rest of the way against the No. 7-ranked team in Class 6A.
"These girls don't give up. They just go out and we just keep on plugging away every day and we do the best job that we possibly can," Hohensinner said. "They are running the offense the way we are telling them to run it."
The Thunder calmed down after committing the turnovers that plagued them late in the first quarter, and were able to get the ball inside to senior Emily Kaufman. The 5-foot-9 forward led all scorers with 18 points on 8-of-17 shooting.
"I thought it was a good effort by everyone that got the opportunity to play," Kaufman said. "They were really great competition for us. We've been working really hard in practice, so that's really helped us prepare for these games. Being in the EKL this year has definitely increased our competition, and made us a tougher team and all-around better team."
After suffering a 53-22 loss to St. Thomas Aquinas (No. 2 in Class 5A) on Jan. 31, the Thunder bounced back with their third and fourth wins of the season by defeating Mill Valley, 52-39, and Blue Valley West, 40-36.
The Thunder have now lost to three in a row to top-10 teams — Bishop Miege (No. 2 in Class 4A-I), BV North (No. 4 in 6A) and Gardner-Edgerton — since their victory over BV West, but have been able to hang around longer in each contest.
"I feel like we've kind of clicked recently. We've done a good job of getting to know each other better as players and making sure we sacrifice good shots for great shots," Kaufman said. "We're just really playing unselfish and together as a team. That's really helped us succeed."
While Kaufman and Goetz have served as leaders for the Thunder on the offensive and defensive ends throughout the season, they've been starting to get some help from a few of the underclassmen on the team, too. Sophomore Torri Kempf netted a career-high 15 points in the Thunder's win over BV West, and joined Kaufman in double figures with 10 against the Blazers.
"Her confidence increasing is key for us," said Kaufman of Kempf. "She's a leader on the court as our point guard, and her stepping into her role has really sky-rocketed our success lately."
Gardner-Edgerton also had two players score in double-figures with Cassidy Androff and Skylar Washington pouring in 15 points apiece. The Blazers fed the 6-foot Androff in the post early and often, as she scored 10 points in the first quarter. Kaufman has had to guard the top post players in the EKL throughout the season, but she gave credit to her teammates for helping her to limit Androff to five points the rest of the way.
"She (Androff) is definitely a great competitor. We just really needed to be more aggressive and dig deep on her and have help-side defense there every single time because they were lobbing it in there to her a lot," Kaufman said. "I think we did a good job of that and shut her down in the second half."
The Thunder (4-13) will host St. Teresa's Academy at 10 a.m. Saturday before rounding out the regular season against BV West and BV Northwest.
"We're just that close to being able to do some good things," Hohensinner said. "We're just not quite there yet."
St. James (35)
Emily Kaufman 8-17 2-4 18, Torri Kempf 4-14 0-0 10, Brianna Streeter 0-0 0-0 0, Courtney Setter 1-2 0-0 2, Audrey Jones 1-1 0-0 2, Karissa Duker 0-0 0-0 0, Mary Goetz 1-5 1-2 3, Katelyn Hall 0-2 0-0 0. Totals: 15-41 3-6 35.
Gardner-Edgerton (45)
Jaden Sprague 0-1 0-0 0, Kynli Nelson 0-5 1-2 1, Kailey Burger 1-2 0-0 3, Abbey Bilhimer 1-5 0-0 2, Cassidy Androff 6-11 3-4 15, Taylor Carpenter 4-9 1-4 9, Skylar Washington 6-10 1-5 15. Totals: 18-43 6-15 45.
SJA 10 8 7 10 — 35
G-E 18 9 9 9 — 45
Three-point goals: St. James 2-9 (Kempf 2); Gardner-Edgerton 3-15 (Washington 2, Burger). Fouled out: None. Turnovers: St. James 12, Gardner-Edgerton 7.