SM

Northwest sweeps

SMSD

district bowling titles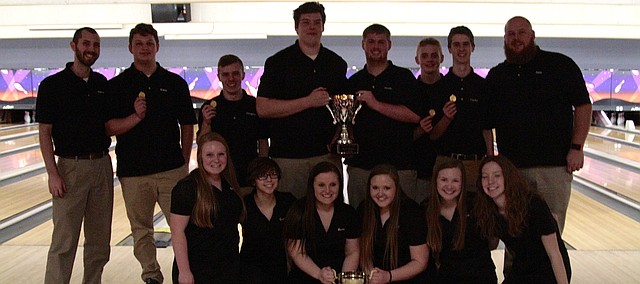 Overland Park — Shawnee Mission Northwest's boys and girls bowlers had a bad taste in their mouths after finishing second last year at the SMSD tournament, and the Cougars were determined to make sure that they would not have a repeat experience on Thursday at College Lanes.
After coming home empty-handed in 2016, the Cougars added two SMSD District Cups to their trophy case after claiming first-place finishes in the boys and girls tournaments.
"It feels really great because we didn't win it last year and we did two years ago, and having this back is really, really nice," junior Alaina Burris said while holding the girls trophy.
Burris led a trio of SM Northwest girls bowlers that cracked the top five after the conclusion of the three traditional games. The Cougars owned a 290-pin advantage over SM North going into the four Baker-format games to conclude the tournament.
One day after coming out on top against Maranatha Christian Academy, St. James Academy and Mill Valley in the Battle of Park Lanes— a quadrangular that consisted of nine Baker games — the Cougars thrived in the rare format again on Thursday. Northwest went on to win the tournament by 402 pins.
Burris rolled games of 197, 195 and 204 to post a series score of 596 — finishing just 14 pins back of SM South's Nichole Thomas for the individual title. The SM Northwest junior was followed in third by her best friend Katy Doleshal (557 series) and junior Hadley Sayers (536).
Burris' success was fueled by picking up her spares when she wasn't able to get strikes, as she only left five frames open through the three individual games.
"The spare pick-ups were really nice because it went toward my pin count," Burris said. "When I opened, I just felt kind of guilty like I was letting someone down."
While Burris and Doleshal have served as a steady one-two combo for the Cougars, all six SM Northwest bowlers stepped up to contribute in winning the district title, as Charlie Queral (ninth place, 468 series), Emilia Batties (10th, 463) and Jackie Sayers (11th, 443) all cracked the top 15. Battles posted a high game of 214 for the Cougars.
The Cougars' confidence is riding high into today's Sunflower League tournament at Park Lanes.
"We see all of these people again tomorrow (Friday) and if we can beat them today (Thursday), I know we can beat them," Burris said. "We've beat most of them in the past."
Burch sisters pace SM North girls
North's second-place finish on the girls side was sparked by top-10 finishes from Jazmin and Sophia Burch, who took fifth and sixth with respective series scores of 535 and 507.
"It was a really good day, and I'm really proud of my teammates for everything we've done," Jazmin Burch said.
The Burch sisters, Madeline Waldack, Julia Hernandez, Jessica Nevins and Crystal Call enjoyed the four Baker games to wrap up the tournament, which were implemented for the first time in the district championships on Thursday. The Baker format — which has five bowlers roll two frames each to compose a game score — will also be used in the league, regional and state tournaments.
North assistant coach Anna Monteer believes that the Baker games will play to the Indians' advantage throughout the postseason.
"The girls have always melded well, and they really worked hard together and really want it for each other," Monteer said. "I think that makes all the difference."
SMNW's Jones garners boys district title
The morale was not high for the SM Northwest boys squad after leaving a few frames open in the final traditional game, but the Cougars were not in as bad of a position as they thought.
The Cougars could themselves in third place behind the Indians and Raiders going into the Baker games, but were only 35 pins out of first. Northwest buckled down in the Baker games to put up scores of 212, 202, 234 and 212 to win the district title by 152 pins over the Indians.
"We were all really hype and really excited. We all had each other's back," SM Northwest senior Kooper Jones said. "If we missed a pin, we just had each other. We knew that even if we messed up that we would be there for each other. It paid off, and we did really well."
Jones felt that the nine Baker games on Wednesday at Park Lanes were really helpful to the Cougars going into the district tournament, and hopes that the trend continues at the Sunflower League Championships.
That really put us over the top so we could get first place," Jones said. "Without those Baker games, we wouldn't have won."
Jones jump-started the Cougars in the three individual games by rolling a high game of 237. The SM Northwest senior added games of 196 and 201 to finish with a 634 series. Jones did not think he had done enough to win an individual district title after falling off in the second and third games, but he beat out SM North senior Travis Wunderlin by 10 pins for first place.
"It turned out that I actually did better than I thought I did, so I got first and I'm so happy," Jones said.
Garrett Bolin joined Jones in the top five after placing fourth with a series of 609. Bolin steadily improved throughout the tournament by rolling games of 199, 201 and 209.
Wunderlin, Rivera lead SM North boys to fourth
There were plenty of high-fives and cheers to go around for Wunderlin and SM North juniors Michael Rivera and Caleb Brooks as they were grouped together for the traditional games, but their momentum faded going into the Baker games.
Wunderlin (second place, 624 series), Rivera (third, 619) and Brooks (558, 18th) had an extended wait to begin the Baker games due to lane problems that Peter Hubenett, Daniel Johnson and Jack Denebeim were having in the traditional games.
"I think we bowled the highest we've bowled in the first three games that we've bowled all season. We were first heading in and then we kind of cooled down a little bit after we had lane problems," Monteer said. "The momentum kind of shifted a little bit. Trying to get back into a groove was a little bit harder for us. We know what we need to work on, though."
Despite falling from first to fourth after the Baker games, Monteer felt there were still plenty of positives from the traditional games that the Indians could take away going into the Sunflower League tournament. Wunderlin and Rivera both finished with a bang by posting respective third-game scores of 230 and 217.
Wundlerlin entered his senior season as the top returner for the Indians, but Monteer said that he's had plenty of help with the likes of Rivera and Brooks making big strides from last year.
"They've been putting forth a lot of extra effort at practice — really working on their spares, trying to improve themselves and really listening more and talking to each other," Monteer said. "The boys are great about helping each other out if they're struggling and saying, 'Hey, this lane is hooking a little more,' and kind of sharing that information. They've grown a lot."
More like this story