Short-handed Cougars falter in second half against
SM

West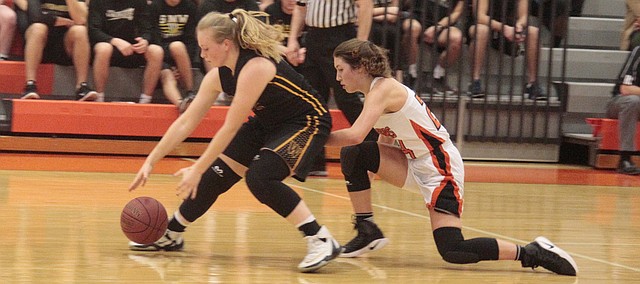 Due to injury and other athletic commitments, Shawnee Mission Northwest's girls basketball team was without three varsity player in its 43-32 loss to SM West on Friday.
The Cougars were able to overcome their lack of depth in the first half, as they took a 19-18 halftime lead into the locker room, but it was all Vikings after the break. After a Gena Ojeda 3-pointer, put the Cougars up, 22-20, the Vikings went on a 14-0 run and never looked back.
"We've just got to continue to take it one possession at a time, continue to get better," SM Northwest coach Tyler Stewart said.
While the Cougars were without Sarah Petersen and Rachel Seibold (concussion protocol) and Megan Nugent (soccer tournament), Stewart was pleased with how Donavyn Hill and Haley Nunnink stepped up to log extra minutes in their teammates' absences.
Nunnink scored three points, and added four rebounds and four steals, while Hill also had a rebound and steal.
"The kids came in and fill those roles and played hard tonight, so I was proud about how hard they played and battled," Stewart said.
Nunnink and Hill saw even more of the court after sophomore Hannah Black picked up her third foul 15 seconds into the second quarter.
Junior Jordann Nachbar carried the load offensively for the Cougars by scoring a game-high 18 points, but she was the only SM Northwest player in double figures.
"She's relentless," said Stewart of Nachbar. "She plays hard and she's a competitor."
Stewart is confident that the Cougars will get all three players back soon, though, and possibly in time for Tuesday's senior night contest against Olathe Northwest.
"They should be back in practice on Monday," Stewart said. "Mostly everybody we'll get back full strength on Monday there."
The Cougars (12-6 No. 8 in Class 6A) will look to snap a two-game losing streak when they square off against the Ravens. Tip-off is set for 5:30 p.m.
SMNW (32)
Abby Winter 0-0 0-0 0, Gena Ojeda 2-6 0-0 6, Donavyn Hill 0-1 0-0 0, Haley Nunnink 1-7 1-2 3, Emmalee Rose 1-7 2-2 5, Hannah Black 0-3 0-2 0, Jordann Nachbar 6-14 5-5 18, Megan Formwalt 0-0 0-0 0. Totals: 10-38 8-11 32.
SMW (43)
Jheda Kennedy 3-9 1-2 9, Emma Beason 3-4 2-2 10, Kayla Henrie 0-2 4-4 4, Ashlyn Henrie 0-2 0-0 0, Kierra Prim 2-6 2-4 6, Khaliah Hines 0-4 0-0 0, Kenzie Loe 7-7 0-1 14. Totals: 15-34 9-13 43.
SMNW 10 9 5 8 — 32
SMW 6 12 18 7— 43
Three-point goals: SMNW 4-11 (Ojeda 2, Nachbar, Rose); SMW 4-12 (Beason 2, Kennedy 2). Fouled out: None. Turnovers: SMNW 13, SMW 14.
More like this story