St. James swim and dive ties for second at state meet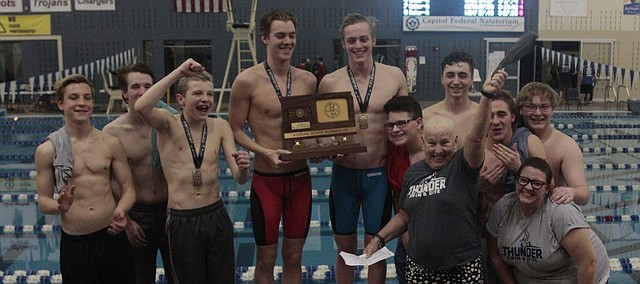 Topeka — St. James Academy swim and dive coach Kellee Hercules could not stop smiling on the podium while taking photos with her athletes following the Thunder's tie for second place at the Class 5-1A state meet on Saturday at Capitol Federal Natatorium.
But when the Thunder swimmers started to step down from the podium, the St. James coach told them to stop and pose for one more photo. Hercules — who is currently going through chemotherapy — took off the gray cancer turban that she was wearing around her head and started waving it in the air while letting out one last loud cheer.
"Isn't it fun? It's so fun because they've been such good guys about everything," Hercules, who had a hysterectomy shortly before the beginning of the season, said. "I'm a little flaky once in a while with this chemo, and they are like, 'OK, OK.' They're just great. I'm really fortunate."
The Thunder shared second place with Maize after scoring 181 points, while Wichita Heights won the team title with 242.
Hercules' squad was led by junior Nick Callahan, who won a state title in the 50-yard freestyle with a time of 21.75. Callahan was seeded fourth going into Saturday's finals after clocking in at 22.10 in Friday's prelims.
"It feels great. I don't know. I'm kind of speechless right now," Callahan said. "Everybody had really good races, and it was really close. I won by six-hundredths of a second, which is insane."
Callahan did not know that he had won or was in contention until looking up at the scoreboard following the race. The St. James junior said that one adjustment made a big difference in breaking the 22-second plateau.
"Usually in 50 frees I try to keep my head up, so I told myself to just keep my head down and swim as fast as I can go and see what happens," Callahan said. "It just turned out well."
Callahan was joined on the Class 5-1A all-state first team by St. James senior Andy Maginn. The St. Louis commit finished as the state runner-up in the 100-yard backstroke with a time of 52.86 after placing third in the past two seasons.
"I felt good. I just wanted to do the best I could do for the team," Maginn, who also added a fourth-place finish in the 200-yard IM, said. "That's really what it is all about."
Maginn was a key piece on St. James' state teams for the past four seasons, as he also helped the Thunder place fifth in 2016, 16th in 2015 and seventh in 2014, and he can't wait to see what is in store for the program in years to come.
"The future is definitely bright," Maginn said. "We've got a lot of guys that work really hard each and every day, so the future is very bright for us."
Part of the bright future that Maginn was alluding to includes freshman Harry Tjaden, who placed fourth in the 500-yard freestyle (4:55.39) and ninth in the 100-yard butterfly after clocking in at 54.77. Tjaden went on to earn second-team all-state honors.
The trio of Tjaden, Callahan and Maginn swam on the Thunder's 200-yard medley and 200-yard freestyle teams that placed third and fifth, respectively. Ryan Jones rounded out the St. James 200-yard medley team, and Zach Kurland completed the Thunder's 200 freestyle relay.
The Thunder also had two divers on the podium after Jack Petz and Spencer Burkhard placed third and eighth, respectively.
"It's awesome. We get points for the team," Petz said. "It makes a big difference for the team as a whole. I'm happy for him (Burkhard), too, because it's his first time on the podium."
Petz rebounded from what he felt was a disappointing semifinal round on Friday by attempting simpler dives on Saturday.
"Today went really well," Petz said. 'Yesterday, not so much, so I was getting a little worried. I just told myself, 'Let's move up a couple of spots,' and I guess it happened."
MV's Willoughby goes out on top
While Petz was pleased to jump up to third place after taking seventh in the 1-meter dive the past two seasons, there was only one goal for Mill Valley senior diver Mitch Willoughby in his final meet.
After taking second in 2016, Willoughby went to Topeka with unfinished business, and he got the job done in convincing fashion with a first-place score of 445.70.
"It's super rewarding," Willoughby said. "It just feels good for all of my hard work to pay off and to be able to get that championship and win state."
Willoughby was the lone diver to score higher than 400 points, and he could not have asked for a better way to end his nearly-decade long diving career.
"It was sad, but it was really rewarding," Willoughby said. "It was a fun way to go out to be able to go out with the win and make that my last meet. It was really special for that to be the end, but yeah, it was definitely kind of emotional and sad being my last meet ever."
The Mill Valley senior is planning to go to Kansas State to get a science-related degree, and pursue a career in the medical field. Willoughby enjoyed being a part of the Jaguars' small, but close-knit team that jumped up from 14th to 11th from 2016 to 2017 in the 5-1A standings.
"We definitely did really good," Willoughby said. "I was really excited to see even though we lost quite a few good swimmers last year that we were able to still give it our all and do better than we did last year. It was really exciting."
While Willoughby was a first-team all-state selection, the Jaguars also had two swimmers who earned second-team all-state honors in sophomore Chris Sprenger and Garrison Fangman.
Sprenger turned in fifth-places finishes in the 100-yard breaststroke and the 200-yard IM. Fangman is confident in handing his leadership role over to Sprenger next season, and believes that fellow state qualifiers Carter Lawson, Colby Beggs, Ethan Forristal and Logan Myers will set the Jaguars up for more success next season.
"Yeah, we had Mitch that got first and that helped us out a lot, but even though we lost some great swimmers last year," Fangman said, "I think we can still rebuild with these new ones and hopefully do well next year."
Fangman closed out his swimming career by taking fifth in the 100-yard freestyle and sixth in the 50-yard freestyle.
"My 50 free, I was just trying to psych myself up and get in the zone," Fangman said. "I was kind of thrown off mentally for the 100 fly because I had to go run up on the podium and then come back down. The 100 fly was just the mentality of leaving it all out there because that was my last real race other than a relay."
Blazo, Webb pace De Soto to 25th
One of Fangman's biggest fans at the state meet was De Soto senior Jarod Blazo. The De Soto standout has enjoyed practicing with his Wildcat teammates and the Jaguars every day for the past four years, and he was glad to experience his final state meet his some of his closest friends.
"It was a great meet for both De Soto and Mill Valley," Blazo said. "Watching Chris Sprenger and Garrison Fangman go at it was just incredible."
Like Fangman and Sprenger, Blazo made his way to the podium as well after taking eighth in the 100-yard backstroke with a time of 57.10.
"Going into the meet, it just seemed like a normal state meet to me," Blazo, who also finished 11th in the 200-yard freestyle, said. "It wasn't until I really got into my races that I started to realize like, 'This is my last high school race.' That was a pretty surreal moment for me to realize that that's it. It's nice. It was a nice end."
One of the things that made the state meet special for Blazo was having some company from one of his teammates in Saturday's finals and consolation finals.
Fellow senior Cameron Webb qualified for the consolation finals in the 50 and 100-yard freestyles after not being favored to do so going off of his seed times.
"It was kind of unexpected that he came to finals, so it was really nice for the first time to have someone come to finals with me," said Blazo of Webb. "That was really nice."
Webb went on to take 13th in the 100 free and 14th in the 50 free with respective times of 51.81 and 23.13 to contribute to the Wildcats' 25th-place finish.
Webb and Blazo were joined by Andre VanMeerhaeghe and Jason Leuenberg in Friday's prelims for all three relays. Although the Wildcats did not advance to finals in any of the relays, Blazo said the experience of swimming with the other three De Soto swimmers one last time was one that he treasured.
"It means more than I can put into words," Blazo, a Milligan College signee, said. "It started out small, and it still is small, but we have a couple more swimmers now than we've had in the past. To see these guys grow with me and see my own times grow when we challenge each other, it's just like nothing else."
SMNW's Klein wraps up freshman campaign
While Blazo made his last state meet appearance over the weekend, Shawnee Mission Northwest freshman Scott Klein made his first.
Klein was the lone individual state qualifier for the Cougars, and he placed 14th in the 200 and 500-yard freestyles to help SM Northwest tie for 20th.
"I felt like it went pretty good," Klein said. "I wasn't expecting to get in the top heat or anything, but I'm pretty happy with my results."
The SM Northwest freshman competed in the 400-yard freestyle relay prelims with Reed Williams, Ben Harrell and Brandon Harrell on Friday, and he was glad to see them and some of his other teammates return to watch him on Saturday.
"It really means a lot to me because they didn't have to come back out here," Klein said.
SM North relays end season at state
Finishing a couple of spots ahead of SM Northwest in 18th place was SM North.
The Indians qualified their 200-yard medley and 200-yard freestyle relay teams for Saturday's consolation finals.
North's team of James Cameron, Harrison Boldt, Clayton McMillin and Carter Jacobson placed 10th in the 200 free relay. Freshman Trey Smith joined Boldt, McMillin and Jacobson for the 200 medley relay, as the Indians finished 14th.
"I'm kind of sad that it's over, but happy at the same time because it just finished so well," Jacobson said.
Jacobson will round out his high school sports career for the defending state champion SM North boys track and field team, but he will always remember the memories he made in the pool with his swimming teammates.
"They're pretty much like my family," Jacobson said.
More like this story