Mill Valley sweeps
EKL

bowling tournaments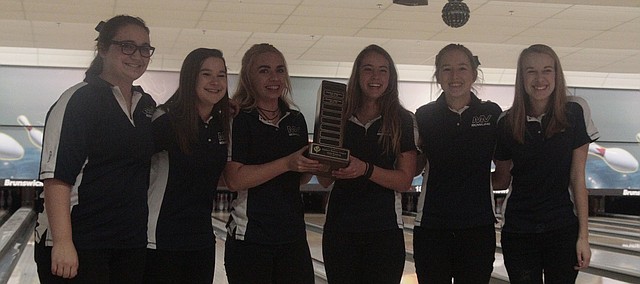 Olathe — The first Eastern Kansas League tournament for the Mill Valley boys and girls bowling teams was one they won't soon forget, as they claimed the traveling trophy on both sides after their respective first-place finishes.
Abby Berner set the tone for the Mill Valley girls team with a Game 1 score of 220, and went on to win the tournament with a three-game series of 530. Berner was the only girls bowler to have a series of 500 or better, as she helped Mill Valley edge St. James by 37 pins for first place.
"It feels really good," Berner said. "It's really exciting."
The breakout performance in Game 1 for Berner was fueled by five straight strikes from the sixth frame to the first ball of the 10th.
Berner was one of three medalists for the Jaguars. Meghan Clark and Bri Laluk placed fifth and sixth with respective series score of 477 and 465. Both Clark and Laluk got stronger as the traditional games went on. Clark rolled games of 143, 145 and 188, while Laluk steadily improved with scores of 140, 153 and 172.
Finishing one spot ahead of Clark was St. James' Meredith Bierbaum. The Thunder's No. 1 bowler posted a three-game series of 491, with her high game coming in the third with a score of 185.
"She's our No. 1 bowler," said St. James assistant coach Alan Dierking of Bierbaum. "I'm going to rely on her big-time (today) because we go to bowl regionals."
The rest of the Thunder's top four bowlers were packed together, as Carla Smith rolled a series of 422, and Carey Lawrence and Murphy Bradshaw followed with scores of 414 and 412, respectively.
The Thunder will compete at the 5A regional tournament today at Gage Lanes in Topeka. St. James will by joined by Augusta, De Soto, El Dorado, Emporia, Lindsborg
-Smoky Valley (boys only), Blue Valley Southwest (girls only), Shawnee Heights, Hayden, Highland Park, Seaman, Topeka West and Towanda-Circle. The top three teams and the six individuals with the highest series not on only qualifying squad will move on to the Class 5A state tournament on March 2 at Northrock Lanes in Wichita.
Mill Valley boys hold off Gardner-Edgerton for boys title
The Mill Valley boys and girls squads both had fairly comfortable leads going into the four Baker-format games to conclude the tournament, but the Jaguars ended up having a close call on the boys side.
The Jaguars used a strong traditional second game to build a sizable lead over the field before holding off a charge for Gardner-Edgerton the rest of the way. Mill Valley clipped Gardner-Edgerton by three pins.
"It's a wake-up call from those missed spares that we had in the Baker games," Hunter Turpin, who led the Jaguars with a 583 series, said. "We need to pick that up and hopefully be better for regionals."
While it was a little too close for the Jaguars' comfort in the Baker games, Turpin was pleased with how they started in the traditional games. Grant Moberly (227), Turpin (223) and Jesse Bowden (213) all had 200-plus games in the second to highlight the tournament for the Jaguars.
"I think everyone just kind of found the right line and stuck with it pretty much," Turpin said.
Turpin said that the Jaguars collectively fell off in the third game and the Baker games due to the oil on the lanes drying out, but he's confident that they'll make adjustments going into their 5A regional on Thursday, which is right back at Olathe Lanes East.
"I can move left and make my target left to try to get my ball in the oil a little more so it doesn't hook as much," Turpin said.
Turpin led the Jaguars with a fourth-place finish, and Bowden was one pin behind him in fifth. The Jaguars are confident that they can build off of their first-place finish in league as they compete against Atchison, Schlagle, Piper, Sumner Academy, Turner, Washington, Lansing, Leavenworth, St. Thomas Aquinas, Maranatha Christian Academy and Bishop Miege at regionals.
"It's big because we needed this momentum going into regionals and state," Turpin said.
One of the other teams that started breathing down the necks of the Jaguars during the Baker games was St. James. The Thunder started strong with scores of 174, 218 and 192, but fell off in the fourth with a final Baker game of 143.
The Thunder did not have a bowler that posted a game of 200 or better in the three traditional games, so the bounce-back performance in the Baker games was encouraging to Dierking.
"The boys, they were just nervous starting off. They came together went they went to bowl the Baker (games)," Dierking said. "This is the first time that we've done Baker for this tournament. We did pretty good. We came back there and kind of crashed at the end, but it was really good."
Grant Huerter was the Thunder's anchor during the Baker games, and he led St. James with a 548 series during the three traditional games.
"He's our No. 1 bowler now. Normally it's a senior, but I've seen it in him," said Dierking of Huerter. "This year he's really put it together everywhere we went. That's why I put him down as our anchor man (in the Baker games) because he's been our best bowler. We have a bunch of young ones coming in, so it's going to be nice next year."