A 'variety' of ways to help
Shawnee-based charity donates life-changing equipment to special needs children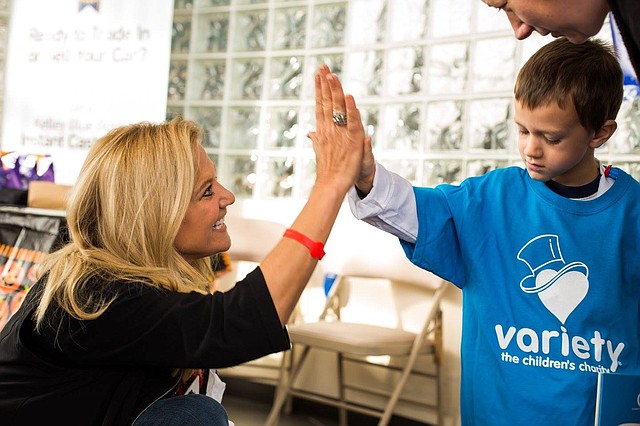 It's the little things that sometimes are the hardest.
Running a quick errand. Going for a bike ride. Finding a parking space.
Those simple tasks, often taken for granted, are daily challenges for the families of special needs children.
Not to mention, the cost of raising a special needs child is astronomical.
Need a van lift? It'll cost you $30,000.
A wheelchair? That will be $5,000 after insurance.
Hearing aids? Those are priced anywhere from $1,000 to $5,000.
Sitting in her home office in Shawnee, Deborah Wiebrecht spends her days, and even nights, thinking of ways to ease the burden off families struggling to raise a child who simply needs a little extra care.
As the executive director of Variety, the Children's Charity of Greater Kansas City, Wiebrecht, and thousands of volunteers, have already helped hundreds of families over the past seven years.
Through their hard work and fundraising efforts, special needs children on both sides of the state line are continuously recipients of generous gifts from Variety.
Those gifts range from adaptive bicycles to prosthetic limbs to walkers.
The charity also partners with Hy-Vee and the Kansas City Royals, among other sponsors, for major fundraising events.
This spring, it will be showcasing its fifth annual variety show at the Midland in downtown Kansas City.
The charity has been so successful that two years ago, the Kansas City area chapter was named the best Variety chapter in the world.
It's almost hard to believe that nearly a decade ago, Kansas City's Variety was practically dissolved before narrowly being saved by a Shawnee mom with a dream.
From showbiz to the Royals
The original Variety charity was founded in 1927 by a group of 11 theatre owners and showmen in Pittsburgh as a social club, before evolving into a charity a year later.
It was created to serve children who live with a serious illness, disability, or disadvantage.
The Kansas City chapter was established in 1934.
Back in those days, the film and entertainment scene flourished in Kansas City, allowing the showbiz-based charity to thrive.
But several decades later, the charity was running thin.
In 2010, Wiebrecht took reign, bringing Variety's homebase to Shawnee.
"I've been passionate about special needs children my entire life," she said. "When I heard Variety might be closing in Kansas City, I knew I had to do something. I needed to resurrect it."
Over the years, she's helped raise money, recruit volunteers, organize events, and create special donations.
Word of mouth quickly spread and Variety is now one of the most popular charities in the Kansas City area.
"It's grown because we're visible," Wiebrecht said. "My goal is to make sure I meet as many people as I can every year.
"Because once people hear about Variety, they can't say they've never heard of it ever again."
Support from some of Kansas City's biggest sports stars has been a boost as well.
In the past, Variety has partnered with the Kansas City Royals for the team's Baseball Fantasy Camp, in which players teach special needs children how to play the game.
Variety has also been the beneficiary of Kansas City Chiefs quarterback Alex Smith's youth camp.
One of it's biggest sources of fundraising, however, is through the Hy-Vee Charity Golf Tournament, which occurs in the summer.
All proceeds from the event benefit Variety.
The past two years, Smith has been the honorary chair of the tournament.
"All this stardom makes us cool, but it's really about the donations and the amount of time people have volunteered to keep us on our feet," Wiebrecht said. "People support us because they meet the kids we're helping and they fall in love. It's about creating special bonds."
Emily's story
One of the special bonds Variety has is with the Paro family from Shawnee.
The family-of-four often volunteers at Variety events, even bringing extended family and friends to join the effort.
Eleven-year-old Emily Paro, who has spina bifida, also starred in a past KCTV commercial for Variety.
The family's introduction to the charity started with a bike.
In May 2013, Shawnee Mission Northwest High School students raised $1,500, and along with a donation from Variety, presented Emily with an adaptive bike.
The hand-pedaled three-wheel bike allows the pre-teen, who is paralyzed from the waist down, to go on rides with her family and friends, an activity she never was able to participate in before.
Since then, Emily and her family have been a few of Variety's biggest fans.
"Once you've been helped by Variety, you become part of the family," said Emily's dad, Dean Paro. "Participating in all of these events over the past few years has generated a lot of awesome memories my kids, our entire family, will never forget," he said. "Emily got to swing a baseball bat with (Lorenzo) Cain and he even taught her how to steal a base. It's absolutely incredible."
More importantly, however, the experiences have boosted Emily's confidence.
"It's so rare when Emily is with other kids like her, so being able to meet other kids with similar issues is huge," Dean Paro said. "She sees they're happy and it has made her realize that being disabled doesn't have to stop you from doing anything you want to do."
He added that he believes the friendships and experiences have also helped her mature.
"When Emily was young and she saw other kids running around and playing, she used to ask us, 'why can't I do that?'" he said. "After Variety entered our lives, she stopped asking questions. She understands now that she's different, but not in a bad way, just different."
What impresses Dean Paro most about Variety, however, is Wiebrecht's unconditional devotion.
"Deborah has this uncanny ability to raise money, but make each event seem like it's all about the kids having fun," he said. "It never feels like a charity event."
Partnering with the community
When it comes to making the Kansas City area more inclusive towards people with special needs, Variety can't do it alone.
The charity relies on partnerships in the community to make changes occur. One of those partnerships is with Hy-Vee.
Currently, every Hy-Vee and car dealership in the Kansas City area, has "Think of me, keep it free" handicap signs, featuring photos of Variety kids.
"When you put the photo on the sign, it makes it personal," Wiebrecht said. "It really makes people think twice about parking there if they don't need to, because it shows real people need those spots."
Now, Variety is working on having those signs placed in parks, hospitals, and schools in the Kansas City area as well.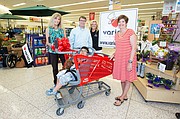 Since 2014, in partnership with Variety, Hy-Vee has also kept Caroline's Cart shopping carts at all of its Kansas City area grocery stores.
The carts, designed for kids with special needs, allows parents to shop in comfort.
"I kept hearing stories from parents about how they couldn't even take their kid grocery shopping," Wiebrecht said. "It's a simple activity that becomes a complete hassle because have to push a wheelchair and a cart around the store at the same time. These parents weren't able to run in the store and quickly grab an item."
The charity also partners with local students on creating adaptable toy ride-on cars for young special needs children.
It's Go Baby Go program features Rockhurst University engineering and physical therapy students working together to create the toddler cars to fit each child's specific need, whether it's an extra harness, better head support, or additional cushioning.
The program started two years ago, and so far, it has donated over 50 cars to area families.
Variety also has inclusive playgrounds built in Independence, North Kansas City, and Olathe, with another one opening in Leawood this spring.
The playgrounds include braille, adaptive swings, soft ground surfaces, and wheelchair ramps.
"Parents get to see their kid be like every other child and that is a feeling you really can't describe," Wiebrecht said.
Currently, a major project she is working on is the charity's fifth annual variety show, which will take place on April 1 at the Arvest Bank Theatre in the Midland. Last year, the show raised $26,000. This year, the goal is to raise at least $300,000.
The show will feature stand-up comedian James. P. Connolly, a circus performance from Quixotic, and musical entertainment from Kansas City native, Alison Borberg, to name a few.
Tickets can be found at varietyshowkc.org.
Variety is also still seeking acts and volunteers. The charity also needs volunteers for many other upcoming events. For more information about Variety, visit varietykc.org.