Wilson wills De Soto past Louisburg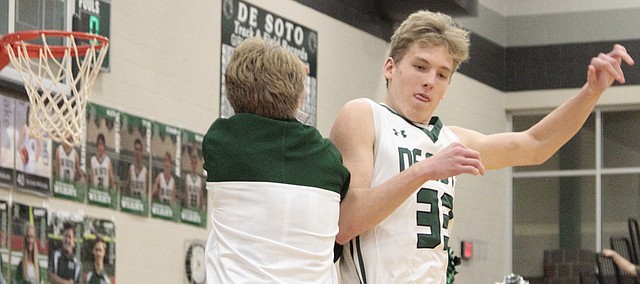 De Soto — De Soto boys basketball coach Matt Rice has seen a new-found energy in his team over the past two weeks, and the Wildcats' fan base got to see an example of that on Tuesday in DHS' 57-40 win over Louisburg that snapped a nine-game losing streak.
"We still have a lot of room to grow, but yeah, I've seen great growth over really just the past couple of weeks all the way across the board," Rice said. "Every kid that gets in the game for us has shown great improvement, so I'm really pleased with that."
Senior Noah Wilson sparked the Wildcats with a double-double, as he poured in 25 points and grabbed 11 rebounds.
"It's feels really good," Wilson said. "We executed well on offense and played good defense. We really stopped (Grant) Harding from scoring."
Wilson was happy to notch a season-high in points and be just two off of tying a career-high, but he was just as pleased with his team's effort on defense. Harding scored 13 points to lead Louisburg, but De Soto limited the open looks for the visiting Wildcats. Louisburg missed all nine of its shots from behind the arc.
"We talked before the game about defense and defense winning games," Rice said. "I felt like we came out early and really set the tone defensively. I was really pleased with that."
While Louisburg was never able to get going from long distance, De Soto was dialed in from the 3-point line in the first half. De Soto made all five of its 3-pointers before the break, as Brannon Bell knocked down two, and Ty Kempf, Levi Hansen and Wilson added one apiece.
"The coaching staff has really been pushing lately the right time to shoot threes — inside out, and the ball gets in the paint and we penetrate and kick. When we shoot in those situations from the 3-point line, we tend to shoot a lot better," Rice said. "When that happens, man, it just feels like every opens up for us. We just feel more comfortable. We feel more confident. They are streaky shooters, so when it starts to go in they start feeling good and good things happen for us."
De Soto (4-15) flipped the tables on Louisburg after losing on the road in their first matchup of the season, 56-40. The Wildcats will try to avenge another loss from earlier in the season when they host Baldwin at 7:30 p.m. Friday for their senior night.
After the regular season finale against Baldwin, the Wildcats will move on to sub-state, where they could be anywhere from the No. 6 through 8 seed since Mill Valley and Blue Valley Southwest are also 4-15 going into Friday. Wilson and the Wildcats are still taking a one-game-at-a-time approach, though.
"We're not really looking into that (sub-state) right now," Wilson said. "We're looking toward Friday against Baldwin."
De Soto is guaranteed to play Pittsburg (17-2), St. Thomas Aquinas (16-3) or St. James Academy (13-6) — all of which are ranked in the top 10 of Class 5A. Rice said that the Wildcats are aware of the possible sub-state match-ups, but he's looking forward to the opportunity for his team to continue making strides forward — regardless of the opponent.
"When you've had the season that we've had, it's all about taking steps forward. Every time we go across the lines and step out to play somebody, we want to get better and we want to see success in that moment. Do we care about sub-state? Sure. Are the kids aware of what we're looking at? Absolutely. But more importantly, we're looking right now at avenging an earlier loss to Baldwin."
De Soto (57)
Exavier Jackson 0-0 0-0 0, Levi Hansen 2-6 0-0 5, Chance Montgomery 2-5 0-0 4, Joseph Schnieders 0-0 0-0 0, Jared Baruth 1-6 0-0 2, Brannon Bell 2-3 2-2 6, Alex Wilcox 1-1 0-0 2, Ty Kempf 2-5 1-4 5, Ethan Thurlow 0-1 0-0 0, Tyler Barkemeyer 0-0 0-0 0, Grant Noll 4-9 0-0 8. Totals: 18-44 4-12 57.
Louisburg (40)
Samuel Guetterman 1-3 0-0 2, Jayce Geiman 2-9 0-0 4, Alex Seuferling 0-0 01 0, Jake Hill 2-2 0-0 4, Desmond Doles 1-1 1-2 3, Dalton Stone 0-1 0-0 0, Grant Harding 5-12 3-6 13, Dalton Ribordy 3-5 0-1 6, TJ Dover 4-11 0-2 8. Totals: 22-51 8-9 40.
De Soto 17 14 12 14 — 57
Louisburg 8 10 12 10 — 40
Three-point goals: De Soto 5-13 (Bell 2, Wilson, Hansen, Kempf); Louisburg 0-9. Fouled out: None. Turnovers: De Soto 13, Louisburg 10.