Black guides
SMNW

past

SM

North, 55-39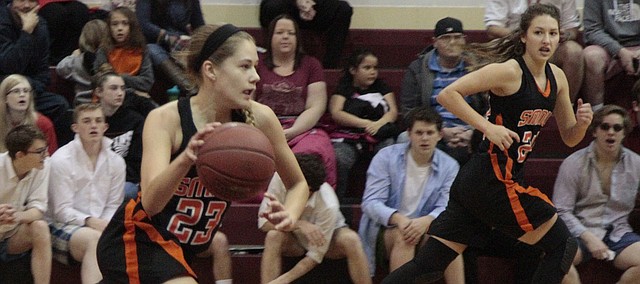 Overland Park — In the midst of a three-game losing streak, the Shawnee Mission Northwest's girls basketball team entered its regular season finale on Friday against SM North with the intention of gaining some positive momentum going into sub-state tournament action.
After SM North freshman LeLe Love made opened the second quarter with a bucket to give the Indians a four-point lead, SM Northwest looked sluggish in the early going, but things quickly changed for the Cougars, thanks to sharp-shooting sophomore Hannah Black.
Black knocked down four consecutive 3-pointers during a 16-0 run, and the Cougars got the confidence they were yearning for en route to a 55-39 victory.
"It felt good," Black said. "After coming from a three-game losing streak, it's good to have a little fire on the court."
The SM Northwest sophomore added another 3-pointer in the third quarter, and finished with a career-high 20 points.
"Hannah is a good shooter. I think she just needed a little confidence," Black said. "We've seen her make a lot of shots in practice, and she's made a few in games, but tonight you really saw her step up, have confidence and do what she is capable of doing."
Stewart believes that Black can become a major offensive threat, and he already considers her to be one of the Cougars' best defenders. However, Black has had problems with being in foul trouble at times this season, and it looked to be the case again against the Indians when she picked up her second foul just one minute and 40 seconds into the game.
Stewart does not want to change Black's intensity on the defensive end, but he does want to continue working with her on staying out of foul trouble when referees are quick with their whistles.
"We want her on the floor and we want her playing hard and continuing to adjust to how they call the game — called tight, called loose, whatever it may be," Stewart said.
The 3-point barrage from Black came as a surprise to SM North coach Brian McIntosh. The Indians' half-court press and zone defense had the Cougars flustered throughout the first quarter, but Black shot them out of it and made them switch to man-to-man.
"We wanted to scramble around and get them out of their comfort zone. I felt like we did that. From what I've seen on film, I don't know how many threes she (Black) has made on the year," McIntosh said. "Credit her for knocking them down when she was open. You want other people to have to beat you. She hit some open shots tonight. That was big for them."
The Indians were able to hold SM Northwest leading scorer Jordann Nachbar without a field goal for the first three quarters. Nachbar got going in the fourth, though, by scoring seven of her nine points to help SM Northwest finish off SM North.
"Jordann is one of those girls that I don't have to worry about her if she doesn't score. She continues to play hard," Stewart said. "Her offense doesn't dictate how she defends and how hard she plays. She does a fantastic job with that."
Northwest junior Megan Nugent joined Black in double figures with 10 points, and Stewart was just as happy with the defensive guard's effort.
"She defended the heck out of LeLe and got in the passing lanes, got in transition, got fouled, knocked down a three," said Stewart of Nugent. "She just really had a complete game of just chipping in where we needed help."
Love and Jones led the Indians with 13 points apiece, but Love struggled to get going offensively after picking up her second foul at the 6:19 mark of the second quarter. Shortly after Love went to the bench, Black began her long-distance shooting clinic.
"At that point we didn't have LeLe and we didn't have Tiana (Lee) in there. Those guys are our best athletes," McIntosh said. "So when we run our half-court trap, they fly around and cover a lot more area than our other girls. I think that's when she (Black) started hitting some shots was when LeLe came out.
"I told the girls that we probably should have went man earlier because I thought we played one of our better games in man. So that's probably my fault, but I think that has a lot to do with it. We lose a lot of length and a lot of athleticism when those two are out."
While Love offers a glimpse of a bright future for the Indians, SM North took time to honor Jones, Katie Stiers, Cadence Ashlock and Sarah Boyce for their senior night.
"They bought in from Day 1, and that was the biggest thing. We didn't have any problems with them as far as buying in and believing in what we were doing," McIntosh said. "It's always hard in the middle of your career to get a new coach, but I thought they adjusted really well and really bought in to what we were doing. Like I told our seniors last year, at some point when the wins on the scoreboard are showing up, we're going to look back and talk about those two classes that really built the foundation for us."
Former SM North basketball players Ashley Ross, Jade Williams, Katlyn Hughes and Briana Farr all returned to watch the Indians take on the Cougars, and McIntosh said that they were and still are an important part of building the culture of his program.
"We had tremendous seniors last year, and we have tremendous seniors this year and to see them come back and support, they know they're always welcome. I stay in contact with them," McIntosh said. "They text me, send me an email or stop by practice. I think that's something that North in general does a really nice job of is keeping it all about your family. It's great to see with those guys coming back, and it's always great to see them and they're doing really well."
The Indians (4-16) are the No. 7 team in their sub-state, and will take on No. 7 Olathe Northwest (13-7) at 7 p.m. Thursday at ONW.
A possible rematch with the Cougars could be in store if the Indians are able to knock off the Ravens. The No. 3-seeded Cougars (13-7) will host No. 6 SM East (5-15) at 7 p.m. Thursday.
SMNW (55)
Abby Winter 0-0 1-2 1, Gena Ojeda 0-4 0-0 0, Rachel Seibold 1-3 1-4 3, Donavyn Hill 1-1 1-1 3, Haley Nunnink 0-1 0-0 0, Megan Nugent 4-8 0-2 10, Emmalee Rose 2-5 0-0 5, Hannah Black 7-9 1-2 20, Jordann Nachbar 3-8 4-7 9, Sarah Petersen 3-3 0-0 6. Megan Formwalt 0-0 0-0 0, Megan Hanson 0-0 0-0 0. Totals: 21-41 8-18 55.
SMN (39)
Michelle Zehr 0-0 0-0 0, Mireyah Bortka 0-0 0-0 0, Sarah Boyce 1-2 1-3 3, Noel Rivera-Watkins 0-1 2-2 2, Ariana Quijas 0-0 0-0 0, Tiana Lee 0-1 0-0 0, Mackenzie Vielhauer 0-0 0-0 0, LeLe Love 5-11 3-5 13, Alexis Jones 5-8 3-6 13, Hannah Redick 1-4 0-1 3, Cadence Ashlock 1-2 0-0 3, Katie Stiers 0-0 0-0 0, Madison Rosas 0-0 0-0 0, Keagan Stiers 0-1 0-0 0, Noel Rivera-Watkins 0-1 2-2 2. Totals: 13-31 11-19 39.
SMNW 7 20 15 13 — 55
SMN 9 8 12 10 — 39
Three-point goals: SMNW 8-21 (Black 5, Nugent 2, Rose); SMN 2-6 (Ashlock, Redick). Fouled out: None. Turnovers: SMNW 14, SMN 16.
More like this story