Maranatha boys end season with 69-45 loss to Seabury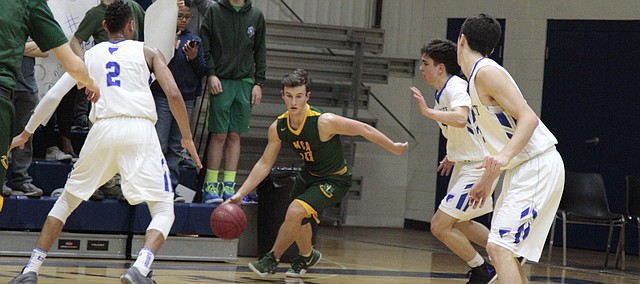 Lawrence — The Maranatha Christian Academy boys basketball team took a few more strides forward in the second year of the Travis Thompson era, but the Eagles saw on Monday night that they still have a long ways to go to get to where they want to be at after a 69-45 loss to Bishop Seabury Academy in the Class 2A sub-state quarterfinals.
The No. 6-seeded Eagles could not crack the code to Seabury's zone defense of three-quarter court trap, as they committed 22 turnovers. Many of the Eagles' turnovers led to points at the other end for the Seahawks.
"Seabury, man, they are just absolutely athletic," Thompson said. "They play hard for their coach. They play hard together. They're long, they're quick and they move as a unit. It's tough to penetrate on that. Their close-outs are phenomenal. They scouted us well."
Thompson's squad tried to shoot the Seahawks out of their 2-3 zone, but the Eagles were only able to knock down 8-of-26 from 3-point range. Junior Roland Hou finally got the hot hand when he knocked down three 3-pointers in the third quarter for nine of his team-high 13 points, but it was too little too late for the Eagles.
"We've got to work in the offseason definitely," Hou said. "We've just got to get in the gym, start working on our skills."
The Eagles had a difficult time getting the ball inside against the Seahawks' zone, as they only made five shots from inside the arc. Despite his team's offensive struggles against the No. 5-ranked team in 2A, Thompson had plenty to be pleased about after the Eagles wrapped up their 8-11 season. The eight wins was the most for Maranatha since the 2002-03 campaign.
"I'm so proud of the boys, man. The way they fought through adversity and depended on each other," Thompson said. "We teach that wins and losses don't define you as a man. How you live your live defines you as a man. Just to see what it was and now what it is, it's all a testament to their hard work."
Hou and Jax Holland scored in double figures for the Eagles with 13 and 10, respectively, but they could not slow down the Seabury guard combo of Mikey Wycoff and Zach McDermott. Wycoff and McDermott poured in 23 and 16 points, respectively.
The season-ending loss to did sit well with how, and he's eager to get back in the gym to work toward a winning season next year in his senior campaign.
"We played pretty well, but there were some games that we should have won," Hou said. "I'm not completely satisfied with the season, but I'm kind of happy with how the season went."
Seabury (69)
Mikey Wycoff 9-16 3-3 23, Amir Shami 0-1 0-0 0, Cobe Green 2-3 0-0 4, Zach McDermott 6-13 1-2 16, Thomas diZerga 3-5 2-4 8, Max Easter 1-5 0-0 3, Bansi King 3-13 0-0 8, Austin Gaumer 1-3 0-0 2, Chris Green 2-3 1-1 5, Luke Hornberger 0-0 0-0 0, Oliver Xu 0-1 0-0 0. Totals: 27-63 7-10 69.
Maranatha (45)
Roland Hou 5-13 0-0 13, Jax Holland 3-14 2-2 10, Andrew Fortin 1-2 1-4 3, Nate Raydo 0-0 0-0 0, Brock West 1-2 4-4 7, Jason Friesen 0-1 3-4 3, Mitchell Peacher 0-3 0-0 0, Zeru Fitsum 2-4 1-2 6, Billy Rao 0-1 0-0 0, Nathan Burdette 0-0 0-0 0, Jordan Linderer 0-0 0-0 0, Drew Utech 1-2 0-0 3. Totals: 13-42 11-16 45.
Seabury 16 15 23 15 — 69
Maranatha 7 9 10 19 — 45
Three-point goals: Seabury 8-28 (McDermott 3, Wycoff 2, King 2, Easter); Maranatha 8-26 (Hou 3, Holland 2, West, Fitsum, Utech). Fouled out: None. Turnovers: Seabury 6, Maranatha 22.
More like this story