Mill Valley wrestling rolls to 61-12 victory over Blue Valley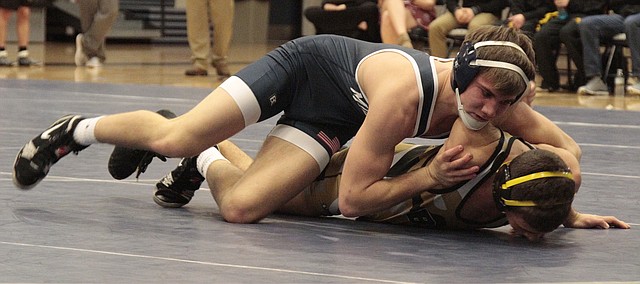 After going up against some of the toughest competition in the Midwest in its three tournaments before winter break, the Mill Valley wrestling team got the chance to take the mat in front of a home crowd on Wednesday in a dual against Blue Valley.
The Jaguars pounced on the Tigers early and often, as they earned a 61-12 victory.
The freshman duo of Zach and Austin Keal — the sons of Mill Valley coach Travis Keal — jump-started the Jaguars with two wins by fall to begin the dual. Zach pinned Clayton Gabel with three seconds left in the first period to win the 106-pound match, and Austin — a 113-pounder — followed with a win by fall in 3:47 over David Kim.
"It's going pretty good," said Austin of his first season at the high school level. "We've got a couple of big tournaments coming up, but the tougher part of the season is past us. We're just waiting for state to come."
The Keal brothers accounted for two of the Jaguars' five wins by fall. Forty-eight of the Jaguars' 61 points were scored via the five pins and three open spots in Blue Valley's lineup.
Everyone else in the Jaguars' lineup wrestled up a weight class, but most of them were able to rise to the occasion. The Jaguars received back-to-back pins from juniors Conner Ward and Jarrett Bendure in the 138 and 145-pound matches. Ward won by fall in 1:35 over Grant Boehringer, and Bendure pinned Michael Stark in 3:17.
Ward — who is ranked No. 1 in Class 5A in the 132-pound weight class — narrowly missed pinning Boehringer earlier in the first period, but he stayed on the attack to take care of business.
"I just kept wrestling. I knew that I was going to be able to dominate that match," Ward said. "I just knew to keep wrestling and that I'd find a way to get the pin."
Ward's season has been highlighted so far by winning his weight class at the Council Bluffs Wrestling Classic.
"He's a kid that just tries to get better every day," said Travis Keal of Ward. "From last year, he's just way better at his hand-fighting and his leg attacks and on top and bottom, so he just tries to improve all of his positions daily. When you do that, you will improve daily."
Bendure has wrestled his way to the top tier of his weight class as well this season, as he is ranked No. 2 in 5A at 138 pounds. The Mill Valley junior was amped up to wrestle at home for the first time this season, and extended the Jaguars' lead to 37-0.
"Just pushing through and looking at all of the people in the stands, and thinking, 'I'm not going to let these people down. I'm going to go out there, and I'm going to win no matter what it takes,"' Bendure said. "I'll do anything to win."
Even in the two matches that the Jaguars lost, Keal saw quite a few positive things to take away from them. Mill Valley senior Joey Gray was a second away from winning by decision, but got pinned by Alex Totta in the final second of the third period.
Keal was also impressed by the efforts of sophomores Sage Sieperda (195 pounds) and Christian Roth (220 pounds). Sieperda edged Blue Valley senior Cameron Frank by a 4-3 decision, and Roth got a take down against senior Baker Lister before getting pinned late in the first period.
The most convincing win of the night for the Jaguars came from junior Hayden Keopke, who only needed 25 seconds to pin Mitchell Bartsch in the 182-pound match.
Juniors Devon Handy (126 pounds) and Bryson Markovich (132 pounds) and senior Austin Crocker (160 pounds) helped round out the Jaguars' convincing victory. Handy and Crocker both won by decision. Handy won a 3-1 decision over Ethan Meuret, and Crocker shut out Wesley Damron, 3-0. Markovich won by an 11-1 major decision over Ben Mullinnix.
"I think our team is looking a lot better than we even thought we were going to look at this point of the season," Ward said. "We knew we were going to be good, but we're looking a lot better than what we thought we were so I'm excited for the rest of the year."
The Jaguars will be back in action Friday and Saturday at the Derby Tournament.
More like this story