Serious injury reported in Interstate 435 crash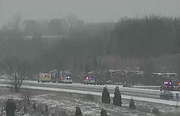 The Kansas Highway Patrol is investigating after a sport utility vehicle crashed on northbound Interstate 435 just north of Johnson Drive just after 9 a.m. Thursday.
Shawnee Firefighters arrived to find the SUV had left the Interstate and crashed in the ditch. Troopers say a 39-year-old man from Kansas City, Kansas was seriously injured in the crash.
The injured man was transported to an area hospital by Johnson County Med-Act.
Troopers investigated and determined that the 2005 Chevrolet Suburban was northbound on Interstate 435 when the driver lost control and struck an embankment off the right side of the Interstate. The preliminary report does not say if weather or road conditions contributed to the crash. No other vehicles were involved.
The crash was near the bottom of the ramp from Johnson Drive to northbound Interstate 435 and did not cause any significant traffic delays.
---
Operation 100 News provides overnight news coverage for the Shawnee Dispatch. Follow on Twitter for real-time updates.