Head's up, Shawnee: Kansas City Restaurant Week kicks off this weekend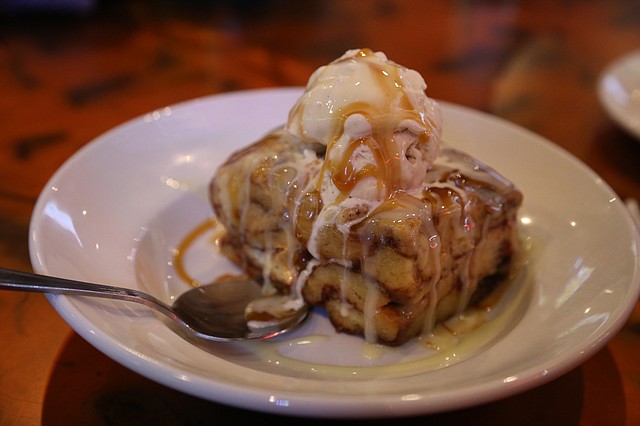 It is one of the most anticipated culinary events of the year.
Perhaps a sweet potato pot pie for lunch? Or delectable truffle mac and cheese for dinner? Winter spice cake for dessert?
Yes, Kansas City Restaurant Week is quickly coming upon us.
Returning for its eighth year, the fundraising "week" is being held from Friday to Jan. 22.
More than 180 restaurants from across the Kansas City metro area are participating.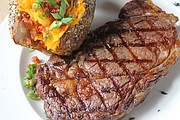 And this year, that list includes a few Shawnee area restaurants, showcasing the best of their menus, and even offering more adventurous fare.
All participating restaurants will offer lunch and dinner menus under two price tiers: $15 and $33.
Ten percent of all the proceeds from KCRW will benefit five local charitable beneficiaries.
Over the course of its seven years, the event has raised more than $1.4 million for local charities.
One of the greatest aspects of KCRW is that it benefits the entire community, said Derek Klaus, the spokesperson for Visit KC, one of the organizations hosting the event.
After all, in addition to raising money for charities, the event helps boost revenue to restaurants during an otherwise tough time.
"January is a slower period for restaurants because it's coming off the heels of the holidays," Klaus said. "People have resolutions to save money or cut down on eating out."
Plus, KCRW helps propel Kansas Citians out of their comfort zone, encouraging them to try cuisines they normally wouldn't consider or visit different neighborhoods miles away from their home.
Over the past several years, KCRW has really spotlighted the nation's cowtown as a foodie destination, Klaus added.
"Kansas City has gained a reputation for being a barbecue town, but Restaurant Week has proven that we are so much more," he said. "We're proud of our barbecue heritage, but we also have such a huge variety of different cuisines right at our fingertips."
For Hereford House in Shawnee, the 10-day event is a way to highlight customer favorites, as well as introduce new menu items.
The popular restaurant, located at 17244 Midland Drive, has participated in Restaurant Week since the beginning.
This year's lunch menu includes the Hefburger, a hearty burger with bacon, cheddar cheese and a fried egg.
The lunch menu also features country fried chicken and a steak salad.
The dinner menu includes the up-and-coming Sweet Bourbon Glazed Chicken.
Of course, customer favorites, such as carrot cake and Hereford House's famous steak soup are offered on both menus.
"We really appreciate Restaurant Week because it fills restaurants during the slowest time of the year," said Mark Hembrey, the manager of the Shawnee Hereford House. "It's cold outside and nobody wants to go out to eat."
Over the past several years, Hembrey has watched with excitement as KCRW has grown more and more popular.
"I've talked to customers who go to a new restaurant all ten days, and some even do both lunch and dinner, which I think is really neat," he said. "We're really happy to be a part of it and we look forward to it every year."
One of the newcomers to KCRW is Brewbakers Bar & Grill, located at 9482 Renner Boulevard in Lenexa.
The restaurant, which opened in 2012, has quickly become a hotspot.
"The community has really welcomed us with open arms and done so much for us, that will wanted to give back and say thanks," said Robert Reed, the chef.
For its lunch menu, Brewbakers is offering a savory meatloaf burger or a hearty salad with grilled or fried chicken.
Its dinner menu includes a fried chicken dinner and pan roasted salmon.
A scrumptious cinnamon roll bread pudding or triple chocolate mousse is offered with each.
When coming up with the menu, Reed said he thought outside the box.
"In the midwest, a lot of people grow up eating meatloaf, so we thought it would be fun to put it on bread," he said. "It's a twist on a classic, but still makes you feel like you're right back at grandma's."
Other area restaurants participating include Renee Kelly's Harvest, 12401 Johnson Drive in Shawnee, and Grand Street Cafe, 8815 Renner Road in Lenexa.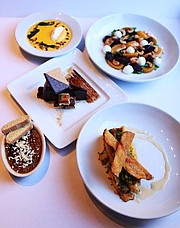 Lunch offerings for KCRW at Renee Kelly's Harvest include a chicken pot pie or meatloaf. Dinner includes braised brisket with German potato salad, chicken and waffles or veggie pasta.
At Grand Street Cafe, cornmeal crusted trout or a grilled pork chop are part of the lunch menu, with dinner taking it a step further with a s'mores cheesecake or espresso creme brulee being offered as dessert.
"We like to participate in Restaurant Week to raise money for the participating charities, as well as promoting diners to visit locally owned restaurants," said Lori Lubin, the general manager for Grand Street Cafe in Lenexa.
To browse restaurant week menus, foodies are encouraged to download the KCRW app, which is available for both iPhone and Android.
The app offers a search option for special dietary restrictions, such as gluten-free, nut-free, vegan, and vegetarian. It also allows users to create, save, and share a list of their favorite restaurants.
The charities benefitting from KCRW this year include BoysGrow, Children's Center for the Visually Impaired and Cultivate Kansas City.
For a complete list of Kansas City area restaurants participating in KCRW, along with more information about each charity, visit www.kcrestaurantweek.com.