Love leads
SM

North girls hoops in loss to

ONW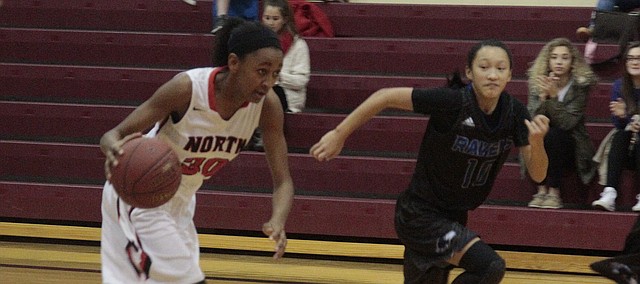 Overland Park — The Shawnee Mission North girls basketball team lived up to its team motto of "GRIT" as the Indians fought their way back into Tuesday's game against Olathe Northwest, but they couldn't overcome a 15-point halftime deficit.
The Indians fell to the Ravens, 49-32, but they did not go quietly in the second half. North pulled within four at 26-22 after an 11-0 run over in the first three minutes of the third quarter.
"We talked about getting deflections and we talked about our rotations in our zone-press there. We were giving up a couple of different rotations, but I thought we came out and we played extremely hard and we rotated quick," SM North coach Brian McIntosh said of the Indians' halftime adjustments. "I think that caused them to have some turnovers, and that's what we were wanting. Their turnovers led into our offense at times. When you don't have to work as hard in the half-court set to get points, that's what you want and that's kind of what our press created there."
Freshman LeLe Love scored six of her team-high 22 points during the 11-0 run to open the third quarter. Love was limited to eight points because of foul trouble in the Indians' loss Friday to SM East, so McIntosh was happy to see her bounce back on Tuesday.
"Having her on the floor the whole game, you're able to do a lot more," McIntosh said. "I think she got a little frustrated at the East game, but it was nice to see her come out and make plays, catch the ball where she needed to catch it and she's a good player."
The SM North post players also chipped in in forcing turnovers by taking charges. The Indians took seven charges on the night — three of which came from senior Sarah Boyce.
"Sarah is the gritty player. (She is) the blue-collar player that sets great screens, that gets rebounds when she shouldn't," McIntosh said. "She did a good job of guarding the Gueldner girl (Sarah Beth Gueldner) when we were in man. Anything I ask her to do, she's going to do. She's not going to hesitate to do it. She's a charge-taker. She's tough."
Gueldner matched Love with 22 points, but no other Raven had more than seven. The Ravens shot just 25 percent from behind the arc (four of 16), but two of those 3-pointers swung momentum in their direction. Sami Marks beat the buzzer to end the third quarter, and Gueldner drilled a 3-pointer to open the fourth to push Olathe Northwest's lead from six to 12.
The Indians' top threat from 3-point range was not 100 percent going into Tuesday night, but she still took the court. Junior guard Hannah Redick broke her nose against SM East, but she was still one of the first SM North players to get on the floor for loose balls against the Ravens.
"Hannah is tough. She just breaks her nose on Friday, comes back today wearing a mask and playing," McIntosh said. "There are a lot of other kids who would say, 'Heck with that.' And if they did play, I don't know if they would have been as aggressive to stick their face in there because it hurts to break your nose and get it hit. It's nice to see the toughness out of those kids, especially after Friday — where I didn't feel like we were as tough as what we could be."
The Indians (3-5) will have a tough test coming up when they travel to Leavenworth at 5:30 p.m. Friday. The Pioneers are 7-1, and ranked No. 2 in Class 5A.
SMN (32)
Michelle Zehr 0-0 0-0 0, Mireyah Bortka 0-0 0-0 0, Sarah Boyce 0-5 0-0 0, Noel Rivera-Watkins 1-1 2-6 4, Ariana Quijas 0-1 1-2 1, Tiana Lee 1-3 0-0 2, Mackenzie Vielhauer 0-1 0-0 0, LeLe Love 10-20 2-4 22, Hannah Redick 1-6 0-0 3, Katie Stiers 0-0 0-0 0, Madison Rosas 0-0 0-0 0. Totals: 13-37 5-12 32.
ONW (49)
Maddi Heise 3-4 0-2 4, Sami Marks 2-9 1-4 7, Sarah Beth Gueldner 9-12 3-3 22, Christen Curry 1-1 0-0 2, Joan Reiber 0-0 0-0 0, Shayna Espy 0-0 0-0 0, Erika Boeh 2-6 2-2 7, Mary Reiber 0-1 1-2 1, Kaylie Kappelmann 1-4 1-2 3, Jenna Wilkins 1-1 0-0 3, Liz Thomas 0-0 0-0 0. Totals: 19-38 8-15 49.
SMN 4 7 13 8 — 32
ONW 10 16 7 16 — 49
Three-point goals: SMN 1-7 (Redick); ONW 4-16 (Marks 2, Gueldner, Boeh). Fouled out: None. Turnovers: SMN 21, ONW 19.
More like this story