St. James girls basketball looks for consistency, falls to
BVSW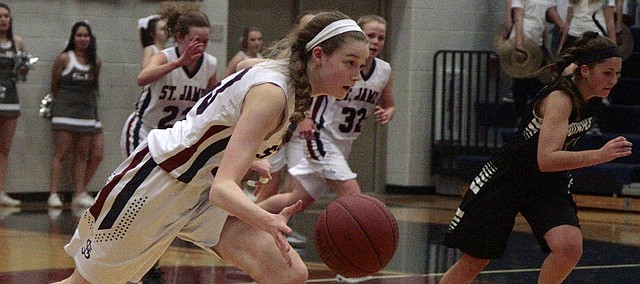 Lenexa — After facing two defending state champions in St. Thomas Aquinas and Bishop Miege in two of its first three Eastern Kansas League games, the St. James Academy girls basketball team was eager to face a comparable opponent on Thursday in Blue Valley Southwest.
The Thunder were neck and neck with the Timberwolves for three-plus quarters, but BV Southwest pulled away midway through the fourth to top St. James, 44-34.
"We have our ups and downs, and we were on a roller coaster ride," St. James coach Greg Hohensinner said. "Sometimes we play really well, and sometimes we don't. We have to find that consistency in our ball game, and that's just one of the things that we haven't been able to do lately."
St. James was in an offensive slump for the first five and a half minutes of the third quarter, but Hohensinner got a glimpse of what his team was capable of in the rest of the period. The Thunder only made one field goal in the third — a Courtney Setter layup — before freshman Katelyn Hall buried a 3-pointer at the 2:12 mark. Hall's trey end an 8-0 BV Southwest run, and gave a much-needed spark to the Thunder.
After Hall's trifecta, junior Mary Goetz hit a 3-pointer of her own to pull the Thunder within four. Goetz get her foot on the gas pedal on the Thunder's final possession of the quarter, and converted a traditional 3-point play to cut the Timberwolves' lead to 34-31 going into the fourth.
"We needed a switch in the way to play, and we just needed one player to bring that and that was Katelyn. We really appreciated that," Goetz said. "She just started the momentum buildup. That was a big play."
The offensive surge for the Thunder did not carry over into the fourth, though. The Thunder's lone points in the final quarter came on a bucket from Goetz and a Hall free throw.
Goetz led the Thunder with nine points, and senior Emily Kaufman followed with eight points — all of which came in the first half. Hohensinner credited Kaufman for setting the tone offensively so far this season, but said that Thursday's game even showed that the senior forward can take her game to another level.
"She's got to find that consistency as well because we need that kind of same scoring in the second half," Hohensinner said. "When the going gets a little tougher, then we need her to be able to dig down deep."
After winning their season opener against Eudora, the Thunder have lost six straight. St. James was set to square off against St. Teresa's on Saturday in the Best of the Midwest Showcase at Johnson County Community College, but the showcase was postponed due to the potential of inclement weather. The Thunder will be back in action on Tuesday for their first game of the Blue Valley North tournament.
"These girls are giving it everything that they've got every single day," Hohensinner said. "We're coming up short, and sooner or later it's going to pay off for us."
SJA (34)
Emily Kaufman 4-9 0-2 8, Torri Kempf 1-8 0-0 3, Brianna Streeter 0-0 0-0 0, Courtney Setter 3-6 0-0 6, Maddie Russell 0-0 0-0 0, Audrey Jones 0-0 0-0 0, Karissa Duker 1-4 0-0 2, Mary Goetz 3-13 2-3 9, Katelyn Hall 1-5 3-6 6, Anna Feldkamp 0-1 0-0 0. Totals: 13-46 5-11 34.
BVSW (44)
Peyton Renzi 3-5 5-6 11, Cassie Forcellini 3-8 0-4 7, Ashley Loeffelbein 2-8 1-2 6, Avery Appleby 1-1 0-0 2, Arielle Sargent 4-9 3-4 11, Maggie Fowler 3-7 0-2 7. Totals: 16-38 9-18 44.
SJA 8 10 13 3 — 34
BVSW 10 10 14 10 — 44
Three-point goals: SJA 3-13 (Goetz, Hall, Kempf); BVSW 1-5 (Forcellini). Fouled out: Goetz, St. James. Turnovers: SJA 13, BVSW 11.