SMNW

's Klein,

MV

's Willoughby,

DHS

' Blazo highlight

OS

swim and dive quad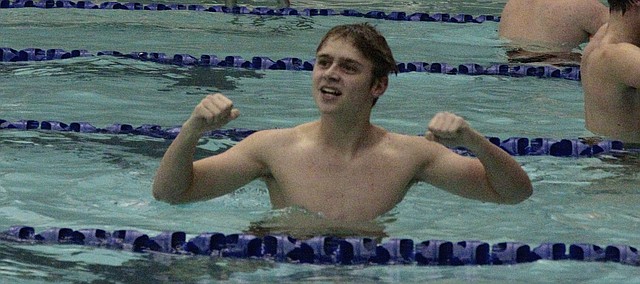 Olathe — Shawnee Mission Northwest freshman Scott Klein garnered two more first-place finishes Tuesday at the Olathe South quad at Chisolm Trail Middle School.
Klein's first win came in the 50-yard freestyle, which he swam a personal-best time of 22.99. The mark for the SM Northwest freshman was sixth-tenths of a second slower than the time on the board immediately after he touched the final wall, but it still proved to be a state cut.
When Klein made the turn at the half-way point, he had a good feeling that he was putting together something special.
"I could tell because I was pulling away from the guy who was just right there with me at the beginning, and I knew that this could be it," Klein said.
Klein followed up his victory in the 50 free with a first-place finish in the 100-yard backstroke after clocking in with a state-consideration time of 1:02.18.
The Cougars received another first-place performance from Brandon Harrell in the 100-yard breaststroke. Harrell also earned a state-consideration mark of 1:08.01.
Klein and Harrell were joined by Reed Williams and Will Hauser in clinching a second-place for the Cougars in the 200-yard medley relay to kick off the meet. Hauser, Williams, Klein and Drake Clark also put together a second-place swim in the 400-yard freestyle relay to end the quad.
The Cougars placed third in the team standings with 159 points.
Willoughby dives into action to lead Mill Valley
Mill Valley senior diver Mitch Willoughby has a pretty simple goal for his final high school season. The Jaguar diver finished third at state as a sophomore and second as a junior, so the only thing left for Willoughby to do now is to win it. With 2016 state champion Jacob Stockton — a Bishop Miege alumnus — now graduated, Willoughby will be returning as the favorite to stand at the top of the podium at state.
Willoughby made his season debut on Tuesday, and started it off with a bang by winning the meet with a score of 220.85 points — which locked up another state berth.
"Pretty good for a first meet," Willoughby said. "There were a few dives that were a little rough, but overall I think I did pretty well."
Willoughby started out the competition strong, but then had a couple of dives that did not go as planned. The Mill Valley senior was able to bounce back to secure the first-place finish in convincing fashion.
"I try to ignore every dive after I'm done just to kind of brush it off and move on so I don't get hung up on it and mess up later," Willoughby said.
Mill Valley also had a first-place finish in the swimming events. Chris Sprenger, Ethan Forristal, Garrison Fangman and Colby Beggs clocked in with a time of 1:50.90 to win the 200-yard medley relay.
Sprenger and Fangman also had second-place individual finishes. Sprenger was the runner-up in the 500-yard freestyle with a state-qualifying time of 5:21.25. The standout sophomore added a state-qualifying mark of 1:57.28 in the 200-yard freestyle, which was good for third place.
Fangman followed Klein in the 50-yard freestyle to take second with a time of 23.95. Fangman, Sprenger, Beggs and Carter Lawson also came in second in the 200-yard freestyle relay.
The Jaguars finished just ahead of the Cougars in the team standings with 170 points. Olathe South won the meet with 239.
Blazo paces De Soto
De Soto senior Jarod Blazo swam the 100-yard freestyle for the first time of the season on Tuesday, but he was already in mid-season form. Blazo touched the final wall in 53.28 for one of his two second-place finishes.
The 100 free marked the second state-qualifying mark for Blazo as well. Blazo clocked in at 1:57.00 in the 200-yard freestyle to narrowly edge Sprenger for second.
The best event for the Wildcats was the 100-yard butterfly, as they placed two swimmers in the top three. Cameron Webb took second with a time of 1:04.43, and Jason Leuenberg followed in third at 1:06.14.
Webb, Leuenberg, Blazo and Andre VanMeerhaeghe added a third-place finish and state-consideration time of 1:42.92 in the 200-yard freestyle relay.
The Wildcats finished fourth with 84 points.