Turning the next page
Johnson County Library inches closer to constructing new Monticello Library, helps promote higher education in Kansas City metro area
A new library for western Shawnee has been in the works for a decade, and at last, the building is set to be constructed this spring.
After years of reaching out to the public and tossing around ideas, Johnson County Library is putting the finishing touches on the last chapter of design before illustrations turn concrete.
In addition to the new building, the library system is also starting to focus more on education for the entire county.
By partnering with Mid-America Regional Council and the Ewing Marion Kauffman Foundation, it is striving to educate the public on a new level.
Monticello library design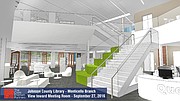 Modernity was key. Convenience was vital.
The clean, modern structure, set to sit near Kansas 7 Highway and Shawnee Mission Parkway, will be an iconic view for western Shawnee, Johnson County Library officials told the Dispatch.
"This is one of our branches that will have tons of natural light," said Christopher Leitch, community relations coordinator for the library system. "Two sides of the building are a majority glass wall."
On the east side of the library, there will be an interactive children's learning walk, incorporating aspects of the library's 6 by 6 program.
It will feature activities children and parents can do together, such as rhyming or looking for letters of the alphabet.
The library will also feature a drive-thru, for patrons to drop off items or pick up holds.
Inside, the two-story library will feature a grand central staircase, of which half will be carpeted, serving as a collective gathering space for future events.
There will be 10 meeting rooms and typical library amenities, such as self-checkout kiosks and a service desk.
There will be a teen space, which can be zoned to other uses during school hours, and a children's area which is 15 percent bigger than most locations, since there are so many families residing in Western Shawnee.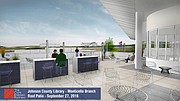 One of the most unique aspects of the new library will be a rooftop terrace on the east side, with comfortable seating and heaters during the spring.
While there will be a desktop area upstairs, the library will have laptops available for library-use only checkout.
Another interesting feature of the Monticello branch will be a digital makerspace, featuring a cluster of iMacs offering state-of-the-art programs, such as Photoshop or Final Cut.
It was important for the library to offer a place where patrons could learn programs which are unaffordable for many people, Leitch said.
After all, to have a job in 21st century America, you need to be familiar with different technology, he pointed out.
"There is a big digital literacy gap we're seeing," he said. "A lot of jobs applications are online only now and this may be hard to believe, but not everyone has an e-mail address in today's world."
It's a similar sentiment which has encouraged library officials to take a further step in playing an educational role in the community.
Promoting higher education
Recently, Johnson County Library joined forces with the Mid-America Regional Council, the Ewing Marion Kauffman Foundation, and several other community partners, to participate in KC Degrees.
The program focuses on helping adults with some college experience return to school to finish a high quality certificate or degree.
Currently, there are more than 300,000 Kansas City area residents who fit the description.
Johnson County Library officials point out that a person with a Bachelor's degree can expect to make 66 percent more than a high school graduate during his or her lifetime.
Plus, kids or grandkids of college graduates are more likely to pursue higher education themselves.
"We're the place where people come to do their homework and become self-educated," said Sean Casserley, county librarian for the Johnson County Library. "It made sense for us to partner with academic institutions to reach those millions of people who come through each of our locations."
As part of the program, starting in March, a college success navigator will be at the Central Resource Library, 9875 W 87th St, Overland Park, to help potential adult students navigate the college process.
After all, actions like filling out a college application or applying for scholarship, can seem daunting to someone who has little experience.
In addition, Johnson County Library is a partner for the KC Scholars program, which is a college scholarship and support program for high school freshmen and juniors and adults hoping to return to college.
The program will assist those who qualify with navigating the scholarship application process.
KC Scholars will award a minimum of 500 scholarships annually.
From 6 to 8 p.m. on Feb. 2, Johnson County Library and the KC Degrees program are hosting a KC Scholars scholarship application workshop at the Central Resource branch.
Workshops will also be held there on Feb. 7, Feb. 22, and Feb. 23.
To partner with such life-changing programs was an easy decision, said Leitch.
It fits with the library's evolving role in the community.
"The library is a place for opportunity and for minds to grow," he said. "It's a place for civic engagement and a place where your voice can be heard. You always think of a library as being invisible in a community, but I think it's our role to be visible. And it's our role to make other communities visible to each other."
To learn more about KC Degrees, KC Scholars, and the Johnson County Library, visit the following sites: