SMNW

wrestling finds "small victories" in dual loss to Free State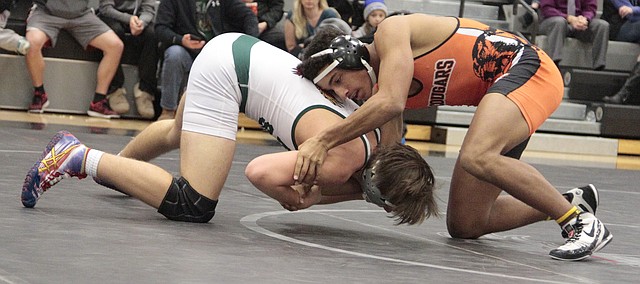 Lawrence — The Shawnee Mission Northwest wrestling team was a long ways away from a dual victory against a much more experienced Free State squad on Wednesday, but Cougars coach Howard Newcomb has been preaching about "small victories" to his young grapplers this season.
While the Cougars only won two of the 12 matches in a 64-10 loss to the Firebirds with Devonte Smith pinning Joey Eddis and Charles Brockmann earning a major decision over Garrett Bradley, Newcomb did get a few of those moral victories that he was looking for, too.
One of the most notable ones came from 138-pounder Julian Gutierrez. The SM Northwest grappler had to go up against Tate Steele, who is a defending state champion. While Gutierrez lost by tech fall, he did not allow Steele to pin him.
"Absolutely a small victory, yes. That's what we said on the bench is, 'That's a win,'" Newcomb said. "That was a win for him. He's struggled at times. His experience or lack of is what really gets him in trouble."
Newcomb added, "And gosh, Tate is such a great wrestler. I was really proud of Julian. He just never gave up, and just kept battling. He knew what he was up against, too. He knew it all day long. He had all day to think about it, and he went out there and battled with him."
The SM Northwest coach also lauded the efforts of 106-pounder Dominique Brooks and 145-pounder Jackson Burnett. Both Cougars were pinned, but Brooks took the mat despite being sick, and Burnett stepped up to the varsity level after competing mainly at JV.
"She (Brooks) had been a little bit under the weather and stuff, and she wanted to go wrestle. I was like, 'This guy is pretty dang good,' and she's, 'Oh, I'll wrestle him,'" Newcomb said. "(Newcomb said), 'OK, I'll let you do it.' That's a testament to her attitude. I was just proud of her for doing that. Jackson stepping in from JV, and he did alright. We just need our young guys to keep stepping up and doing what they do."
While Free State's lineup was loaded with upperclassmen, Newcomb was happy to see that Smith — one of the few seniors on his team — rose to the occasion on Wednesday as well.
"I think it's that senior-type attitude. He wasn't prepared to lose. He's kind of always like that. He just battles and keeps battling," Newcomb said. "Tonight, same thing. He just did an outstanding job. I bumped him up a couple of weight classes, which I don't know if he was really happy about, but he didn't say a word. He just went out there and did what he had to do."
Smith normally wrestles at the 145-pound weight class, but competed in the 160-pound match. The SM Northwest senior trailed 2-0 early on in the first period, but he did not allow Eddis to score from that point on, and eventually pinned him in the third.
"Just knowing that the first takedown was his, but it was my mistake. Just knowing that he didn't get anything from me. I gave it to him," Smith said. "So then I just kept on battling back and he got more tired and more tired. I got the pin when he was really tired. The win really goes to what we're doing in the room because two weekends ago, I was not in shape and now I'm in perfect shape."
The next dual for Smith and the Cougars will be senior night on Wednesday against Shawnee Heights at 6 p.m. in the SM Northwest auxiliary gym.
"Hopefully our seniors can get some wins and feel good about what they've accomplished this season, and then it's strictly tournament time," Newcomb said. "We don't have any more duals or anything like that."