Indians, Vikings tie for first on
SM

North swim and dive senior night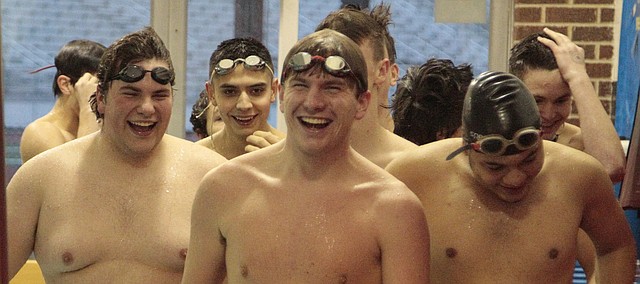 Overland Park — After 12 events took place and 10 Shawnee Mission North seniors were honored, an overall team champion could still not be crowned on Thursday at the SM North triangular.
Shawnee Mission North and SM West were tied going into the 400-yard freestyle relay, and they remained deadlocked afterward, as they both finished with 229 points. Shawnee Mission Northwest followed in third with 158 points.
"The team's performance was really good today. I really believe it was good," said SM North junior James Cameron, who suggested that the Indians and Vikings should play water polo to break the tie. "It was a good meet. I really wish we would have got first. I think this is the first time in my high school swimming career that I've ever experienced a tie in a meet."
Cameron had a roller coaster meet of his own in the Indians' home triangular. The SM North junior started off the day by winning the 50-yard freestyle with a time of 24.29 seconds — edging Indians senior Harrison Boldt by just .18.
"It was just hard hours in practice, getting on the grind and just working hard during practice," Cameron said. "It all pays off during a meet."
Next up for Cameron was the 100-yard freestyle. Despite taking second with a time of 56.17, Cameron was frustrated that he did not come closer to another victory.
Cameron didn't get down on himself for too long, though. He was the anchor for North's 200-yard freestyle relay, and he put the finishes touches on a first-place finish for the Indians. However, the victory was only a small part of why Cameron, Boldt, Clayton McMillin and Carter Jacobson were pumped up. North's 200 free relay team clocked in with a total time of 1:36.54 to qualify for the state meet.
The same SM North foursome were back in the pool for the 400-yard freestyle relay to round out the meet, and there was a lot on the line with trying to help the Indians claim the team title on senior night. North's top two relay teams finished second and fourth, respectively, while West took first and sixth.
The team of Cameron, Boldt, McMillin and Jacobson had a seed time that was nearly 10 seconds slower than SM West's 'A' relay, but they made things interesting. The Indians were only three seconds behind the Vikings, but they realized afterward that they were also only .23 away from qualifying for state again.
"That's all things to work on during practice," Cameron said. "It comes down to how you practice. If you practice hard, you're going to do good in a meet."
The Indians still had quite a bit to celebrate besides tying for first with the Vikings and qualifying their top 200 free relay team for state. Following the 1-meter dive, Boldt, Jacobson, Pedro Amorim, Giancarlo Cardona, Bob Collins, Jackson Drakulich, Antonio Gutierrez, Fritz Kiteck, Sam Thompson and Kaden Venard were all honored during North's senior night ceremony.
North coach Cody Fothergill has the tradition of having his seniors gather at the south end of the pool, and swim to the north end to give flowers to their parents or close family members. Each North senior was recognized individually before they swam together back to the other end.
"They are a great group of guys. You can hear from what they are involved in at North — they do everything," Fothergill said. "They are leaders of this school. They're leaders on the team as well. It has been a pleasure. We've got a great month of swimming left."
The diversity among the 10 seniors was very apparent as Fothergill listed all of their accomplishments, the activities they were involved in and their future plans.
The first senior to be recognized was Amorim, who is a foreign exchange student from Brazil.
"For me, it means really, really good friends and trying to go and learn how respect can help you," Amorim said. "Right now, I swim here and I really start respecting my team. I know how good my team is, and I believe in the loyalty I have in my team because this team really means a lot for me."
This has been Amorim's lone season of competitive swimming, but he has loved every minute of it because of how his teammates have welcomed him with open arms.
"With this team, I feel a second home," Amorim said.
The 10 North seniors also included quite a few Indians who have been on the swim and dive team for three or four years. Boldt fits into that category, but he has done much more during his time at North aside from being a captain of the swim and dive team. Boldt helped North win a NJROTC national championship last year, and was a pole vaulter on the boys track and field state title team in the spring.
"Everyone is involved in something else, so as a team we're able to bring in multiple different talents and just ways of looking at things to attack problems," Boldt, who has aspirations to be a naval officer, said.
While Boldt and a few of the other seniors figure to play big roles for the Indians for the remainder of the season, they also have some underclassmen that have been stepping up, too. Freshman Trey Smith has been a bright spot for Fothergill's squad, and he accounted for the Indians' other first-place finish with his victory in the 100-yard butterfly. Smith added a second-place finish in the 100-yard backstroke.
Collins also garnered two second-place swims in the 200-yard IM and the 100-yard breaststroke to highlight his senior night.
SMNW takes third
Although the Cougars were a distant third from the Indians and Vikings, they had a number of performances that they were pleased with from Thursday's triangular.
Northwest freshman Scott Klein followed up his two victories from Tuesday's Olathe South quad with a dominating first-place finish in the 200-yard IM. Klein clocked in with a state-consideration time of 2:14.30, and won the event by nearly 22 seconds.
Klein was close to giving the Cougars a comeback victory to begin the meet, too, when he anchored the 200-yard medley relay. After Reed Williams, Brandon Harrell and Will Hauser put the Cougars in solid shape to take second, Klein made a furious charge in the final 25 meters to give the Vikings a run for their money. West senior Grant Turner out-touched Klein by .04, though, and it went on to be one of five second-place finishes for the Cougars.
Junior Drake Clark did the distance double by swimming the 200 and 500-yard freestyles, and he took second to West's Will Dvorsky in both.
The Cougars 200-yard freestyle relay team of Matthew Nolan, Ben Harrell, Brandon Harrell and Klein also finished second.
Northwest's final runner-up performance came in the 1-meter dive from Jaden Karnes. The Northwest junior posted a score of 195.10, which was good enough to qualify for state for the second straight year.
"I just took advice from my coach (Northwest diving coach Mallory Ayers), mentally visualized myself doing the dives as well as practicing," Karnes said. "By doing that, I was able to qualify for state. The thing is with diving, it's mostly 85 percent mental and 15 percent physical."
Visualization has been the driving force to Karnes' diving success during his high school career. Karnes had some mixed results on Tuesday at the Olathe South quad, but he cleaned up his mistakes to post steady scores across the board on Thursday.
"I had a little bit of rust my last meet with my board work and whatnot," Karnes said.
Karnes was the lone diver for the Cougars at the varsity level last year, but he's had some company this season from fellow junior Evan Alexander, who took third with a score of 130.85.
"It's really great, you know. We motivate each other in no matter what we do," said Karnes of Alexander. "We push each other to become better, and that's what is all about."