De Soto girls basketball wins Tonganoxie Invitational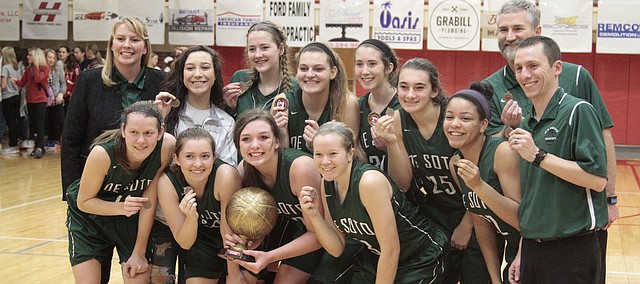 Tonganoxie — The De Soto girls basketball team has not used its zone defense very often this season, but with foul trouble plaguing the Wildcats against Silver Lake during the Tonganoxie Invitational championship game on Saturday, they went to it in a time of need.
De Soto's zone flustered Silver Lake in the second half, as the Wildcats turned a one-point halftime advantage to a 10-point lead with 2:30 to play en route to a 46-37 victory over the Eagles.
"We said from the very beginning that we want to pride ourselves on being a great defensive team. We really don't work on our zone a whole lot," De Soto coach Ryan Robie said. "We have it in our back pocket in situations where we feel like we might need it. We got into foul trouble tonight. That was a killer for us, and that was a way for us to kind of save some kids and keep some of our more offensive threats on the floor. They executed really well with very limited time of working on it."
The Wildcats led 23-22 at the break, but they only allowed three field goals — all from Kayla Lane — for the first 13 minutes of the second half. De Soto did just enough offensively to pull away after the half, and Madison Plake put the game away by knocking down seven-of-seven from the free-throw-line in the final 90 seconds.
"Maddie is our toughest kid. She had a little setback in our opener on Tuesday night," Robie said. "(She) rolled her ankle, so we sat her for the week. She's kind of working her way back in. She is by far and away one of the toughest kids that we have in our program and it shows making free throws down the stretch like that. It's incredible how tough she is."
Plake and the Wildcats improved to 9-2 with the victory over the defending Class 3A champions, and won their second tournament of the season. The Wildcats won their home tournament — the Huhtamaki Hardwood Classic — back in December, but they have had the Tonganoxie Invitational circled on their calendars for a while.
De Soto lost to Silver Lake, 48-42, in the Tonganoxie Invitational title game last year — giving the Eagles one of their toughest challenges during their 26-0 season.
"We got second last year, so it was nice to come back and play the same team and get first this year," Plake said.
The seven free throws down the stretch were Plake's only points of the night. Plake and her backcourt effort made a conservative effort to get the ball inside to Mariah Grizzle and Julia Johnson, who scored 15 and 13 points, respectively.
The veteran front court did most of the damage for the Wildcats for the final three quarters, but De Soto sharp-shooting freshman Mackenzie Shupe sparked the Wildcats out of the gates. Shupe knocked down two 3-pointers and scored all eight of her points in the first quarter.
"Our coach wanted us to make sure we got it inside and then out so that people could shoot," Grizzle said.
Whether it was Shupe during the first quarter, Grizzle and Johnson during the middle stages of the game or Plake in the closing minutes, the Wildcats got the ball to the player with the hot hand.
"We're a veteran group. We have four seniors that start, and Mariah has been starting for two years," Robie said. "We definitely don't rely on one kid, so that makes my job a whole lot easier. Mackenzie as a freshman has really started to come into her own, and play with a whole lot of confidence."
Confidence was the word that summed up the night for Robie. His Wildcats still have a little over a month before they compete at sub-state for the first time as a 5A school, but winning tournaments like the Tonganoxie Invitational and Huhtamaki Hardwood Classic have them believing that they can make this season a special one.
"It builds confidence. There is no question about it. We talked to our seniors before this game that we got one under our belt and that our seniors at most have the opportunity to get three more championships," Robie said. "We got our second, and we're looking to kind of continue to build. We've got a sub-state chance, and then our goal is just like every other school in the state — win a state title."
De Soto (46)
Mariah Grizzle 6-10 3-6 15, Tanith Beal 1-8 0-1 2, Sydney Jones 0-8 1-3 1, Mackenzie Shupe 3-9 0-0 8, Julia Johnson 6-8 1-4 13, Madison Plake 0-2 7-7 7, Ellie Bream 0-1 0-0 0, Linnea Searls 0-0 0-0 0. Totals 16-46 12-21 46.
Silver Lake (37)
Marissa Bates 5-13 1-2 11, Torey Burkhardt 1-3 0-0 3, Kayla Lane 7-12 3-5 18, Riley Calderwood 1-4 0-2 3, Macey Clark 1-6 0-0 2, Nicole Gerber 0-1 0-0 0, Jade Mountain 0-2 0-0 0, Daryn Lamprecht 0-2 0-0 0, Lyndsey VandeVelde 0-0 0-0 0. Totals 15-43 4-9 37.
De Soto 16 7 8 15 — 46
Silver Lake 13 9 5 10 — 37
Three-point goals: De Soto 2-13 (Shupe 2); Silver Lake 3-8 (Burkhardt, Lane, Calderwood). Fouled out: None. Turnovers: De Soto 7, Silver Lake 16.
More like this story