Mill Valley teacher named Kansas Horizon winner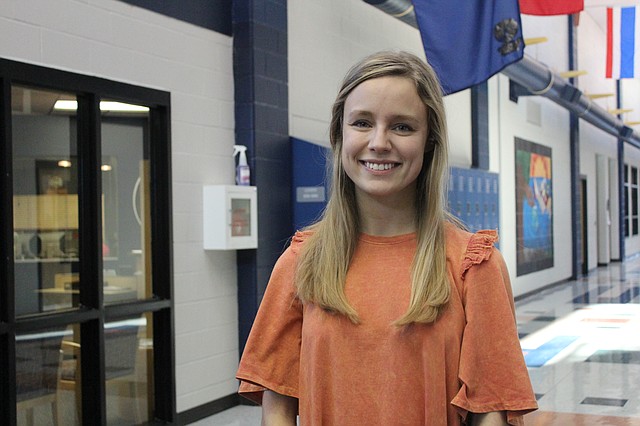 Sometimes it just takes a leap of faith to find your passion.
At least that's how it turned out for Heathyr Shaw.
A few years ago, she was a college student trying to figure out what to do with her life.
Now, she's a respected high school English teacher who was recently named a Horizon Award winner by the Kansas Department of Education.
The Horizon award program recognizes first-year teachers who exemplify excellent teaching and perform in a way that distinguishes them as outstanding.
Shaw, a sophomore and senior English teacher at Mill Valley High School, will be recognized, along with 31 other Horizon winners from around the state, at a ceremony during the 2017 Kansas State Educators Conference in Topeka on Feb. 9-10.
"I'm really looking forward to it," she said. "It will be neat to connect with other teachers around the state."
When the superintendent, and other school and district officials, surprised Shaw with the news, by popping into one of her classes, the young teacher was surprised.
To earn such a prestigious accomplishment so early in her career means a lot to Shaw. Especially because she didn't know she wanted to be a teacher until a few years ago.
Like most college students, Shaw mulled over a wide variety of majors. Being smart and leadership-oriented, she had several opportunities at her disposal.
While a student at the University of Kansas, she was a volunteer leader, overseeing various projects, from tutoring to a food pantry.
"I was talking to my adviser and when I was describing all the things I loved to do, it hit me in that moment that education was my passion," she said. "I already was teaching in so many aspects of my life."
She chose to be an English teacher because not only does she love reading and writing, but she greatly admired all of her English teachers growing up.
After graduating in May 2015, she quickly received a job offer at Mill Valley.
Now, she's loving every minute of her career.
"I feel blessed to work in this school," she said. "There is a genuine school spirit at Mill Valley. The teachers are close friends and students from all social groups come together to support each other. There is a small-town feel about it."
And choosing English as her vocation was the best decision she could have made, she added, with a smile.
"As an English teacher, there's a lot of flexibility," Shaw said. "Of course, there are standards we need to meet, but we have room to be creative. With each assignment, I have the opportunity to learn about each student's personality."
She loves to create assignments where her students can prove they know the content, but also have a way to express their opinion.
Last semester, for instance, her students did a research project on banned books and had to write a letter to someone arguing why a certain book should or shouldn't be banned.
"They were really passionate," she said. "It was cool to see their opinions"
Another project she did, alongside a couple other teachers, was the "This I believe" project, based on NPR's popular series, which encourages people to write or discuss what guides their life.
Her students reflected on everything from their upbringing to the excitement and fear of going to college.
"The rest of the class really cared about what each student had to say," she said. "It was inspiring."
Now that she's in her second year of teaching, Shaw has learned her job is more than teaching words on paper.
"Before I started teaching, I thought I would probably like working with kids, but now, I understand the actual importance of it," she said. "There are a lot of kids who could potentially get looked over, because maybe they have low self-esteem or maybe they're going through a personal issue, and as a teacher, you have the opportunity to help them see their value."
Her passion for helping students has not gone unnoticed at Mill Valley.
Mill Valley principal Tobie Waldeck told the Dispatch in an e-mail, "Heathyr is a professional educator. She is reflective about not only the performance of her students but her own performance. In addition, she truly cares about her students and their interests."
Even though Shaw has already earned a major accolade in her education career, she insists she still has plenty of things yet to learn in her career. .
Plus, the goals she set for herself during her first year of teaching haven't changed: she still wants to engage her students, push them academically, and keep her assignments fresh.
To Shaw, that is the secret to educational success.
"I want all my students to leave the classroom confident, ready to move on to the next aspect of their life, whether it's another English class or the workforce," she said. "I feel like what I do is important on so many levels, because you need to read and write in any career."