Reviving Shawnee's silver screen
Shawnee couple hopes to restore former glory to historic Aztec Theatre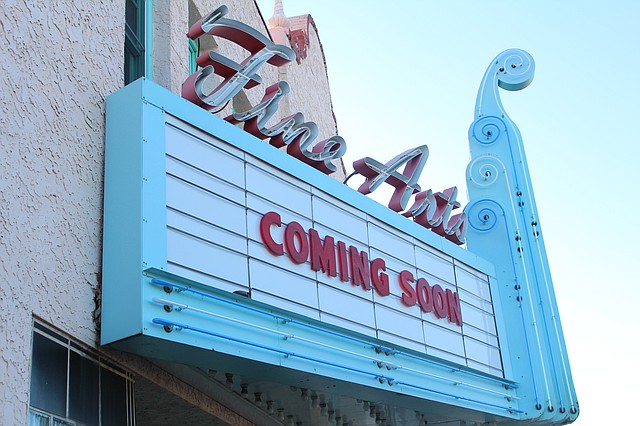 For a small farming town, the glamorous little movie theater on Johnson Drive was a place to escape.
You could get lost in Clark Gable's smoldering eyes. Laugh uproariously at the wacky shenanigans of the Three Stooges. Sing along with Elvis Presley on the beach.
As a teenager, it was the cool place to be with your friends.
Maybe put your arm around a girl for the first time. Practice throwing Milk Duds in your mouth.
The glowing marquee was a comforting sight for drivers passing through downtown.
Those nostalgic days have been gone for quite some time, however.
For the last few decades, the former Aztec Theatre, 11119 Johnson Drive, has sat vacant, as nothing more than a beautiful reminder of the past.
But now, new owners Liam and Marie Tripp are planning to bring the one-screen theater back to life, with the hope that new memories will soon be made there.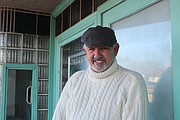 The Shawnee couple, under a non-profit organization named the Shawnee Fine Arts Foundation, recently purchased the movie theater from its previous owner, Wade Williams, for an undisclosed amount.
They're planning to keep it a theater, albeit, an unconventional one.
The possibilities are endless and the couple is tossing around ideas for what they want to incorporate.
Perhaps a silent movie night? Live theater? Acting classes for kids and adults? Maybe an adjacent wine bar or a cafe some day in the future?
To introduce their plan to the public, the couple is holding an informational meeting at 6:30 p.m. on Jan. 31 at the Shawnee Library, 13811 Johnson Dr.
They're hoping residents will come equipped with their own ideas or suggestions as well.
"We want as much community involvement as possible because this theater is a huge part of Shawnee's history," Marie said. "People who grew up here have their own memories of the place. Not just of the movies they saw, but of the friends they were with."
Liam, who grew up in Shawnee, agrees.
"We want to see this theater open and it won't succeed without the community's support," he said.
Right now, the couple is also seeking board members, volunteers, and community partnerships.
They estimate it would take 90 days to restore the 250-seat theater. They hope to open its doors in June.
They're going to have a new roof installed. The interior will include new carpeting, plus antique chandeliers and the original velvet seats from the old Glenwood movie theater in Overland Park.
With the Nieman Road improvements on the horizon, the couple sees the theater's second life as part of the downtown revitalization effort.
Liam would like to see downtown Shawnee become a thriving arts community.
Marie hopes the theater will preserve the area's small-town charm.
Downtown business owners are delighted with the news of the sale, and the possibilities it brings.
"We've been waiting for that theater to open for the last 20 years," said Mike Unterreiner, owner of Hartman Hardware and chairperson of the Downtown Business Association. "It's a key place that could bring a lot of traffic and business to downtown. I'm excited that there are plans in the works because to have it be open again would be huge."
For other downtown business owners, the sale brings back welcome memories.
After all, the theater is an integral part of Shawnee's history.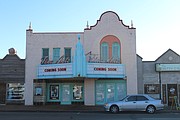 When it was built in 1927 by former Shawnee Mayor M.A. Summerour, it was named the Mission Theater. It was renamed to the Aztec in the 1940s.
As reported in a Sept. 2012 Dispatch article, Williams purchased the theater in 1998 and the name was changed to the Fine Arts Theatre in 2002.
In the past decade or so, there have been attempts to bring the theater back to life, but plans never materialized.
For Pat Donovan, owner of Donovan's Service in downtown Shawnee, the theater was the background of his young adulthood.
In 1970, at the age of 15, he became the theater's new projectionist. His older sister already worked at the candy counter.
"The current projectionist was getting ready to head to Vietnam, so I was asked if I wanted the job," recalled Donovan. "I jumped at the offer because it was a lot different than working on cars. Plus, it was fun to see all my friends there on the weekend."
He told the Dispatch the Aztec was the cool place to be seen back then, if you were a teenager or a kid.
When asked if he had any favorite stories to share from his movie theater days, Donovan laughed.
"Every weekend was a different story," he said. "Everyone knew everyone in Shawnee back then, which made it a great neighborhood theater. It's a shame that it has sat empty for so long."
He added that he would love to see it open this summer and he hopes the revitalization is successful.
"To have that marquee lit up on Friday and Saturday nights in Shawnee again would be priceless," he said. "That's what I am looking forward to the most."
It is those same type of memories that encouraged Liam to buy the theater.
Although he grew up in Shawnee, he ended up moving to Ireland later in life. Three years ago, he moved back to be closer to family.
He often told friends and relatives he wished something would be done with the empty theater. Then one day, he decided to just do it himself.
Some of his greatest memories took place behind that dazzling marquee, he said.
He fondly recalls going to see John Wayne film, "The Green Berets," with his friends in 1968.
While in junior high, Liam even had his first kiss in the theater, second row from the screen
"Some guy came by and told us to go to the back," he said, chuckling.
His wife, although she didn't grow up in Shawnee, appreciates the sentimentality behind the theater.
As a former entertainment writer, she's also a film buff and has a few close friends with impressive Hollywood careers.
So far, when the couple tells people about their plans for the theater, the response has been positive.
They hope to keep that spirit alive and the momentum going.
"I think what speaks volumes is that nobody has anything bad to say," Marie said. "People very much want to see the theater open again and succeed."