Maranatha boys hoops keeps it simple in 63-48 win over Immaculata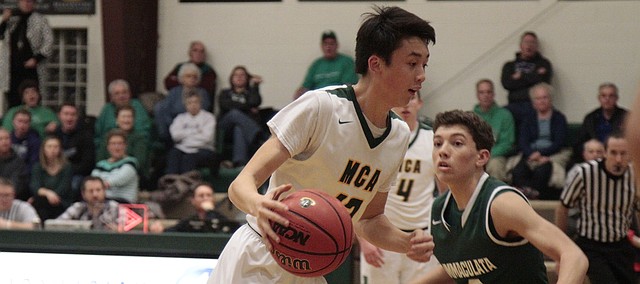 Maranatha Christian Academy's boys basketball team has excelled this season in some difficult facets of the game — such as shooting it at a high clip from 3-point range — but the Eagles have struggled in a few simpler areas.
Free-throw shooting and layups have been two weaknesses for Maranatha of late, but they were two major strengths for the Eagles during their 63-48 win over Immaculata on Tuesday.
Junior Roland Hou felt like he played his best game of the season to lead the Eagles, as he scored 23 points on 6-of-10 shooting from the field. Hou also knocked down all 10 of his free-throw attempts.
"It just gave me a spark, so I just kept attacking, kept getting to the line and I didn't miss that many layups tonight," Hou said.
The Eagles (4-5) didn't have one of the best nights of long-range shooting, just making 6 of their 17 3-point attempts, but it their perimeter defense that they felt was the difference in the game.
The Raiders had a red-hot start with Alan Robinson Jr. knocking down back-to-back 3-pointers to open the game, but the Eagles made some halftime adjustments to shut down Immaculata's long-range shooters. The Eagles went to a triangle and two defense, which primarily had Jax Holland guarding Robinson and Mitchell Peacher on Zach Schwinn.
"We haven't really worked on it too much in practice this season, but coach (Travis Thompson) just trusts us to go shut the players down," Holland, who scored 19 points, said.
The Eagles led 25-21 at halftime, but they were sputtering offensively going into the break — making just two field goals in the second quarter. Peacher felt that the triangle and two also helped the Eagles pick up their play on the offensive end.
"It kind of got our team going offensively, too, because we were going at a quicker pace and our team was taking it down and scoring," Peacher said.
Maranatha will try to push its winning streak to three games Tuesday in a road contest against Sherwood (Mo.).
Maranatha scoring: Roland Hou 23, Jax Holland 19, Andrew Fortin 9, Nate Raydo 8, Brock West 2, Augustine Morgan 2.
Immaculata scoring: Alan Robinson Jr. 18, Zach Schwinn 8, Ben Vardiman 8, Jackson Todd-Nichol 6, Damjan Bugarski 4, Dylan Smith 2, Matt Keys 2.