Maranatha girls hoops rallies past Immaculata for first home win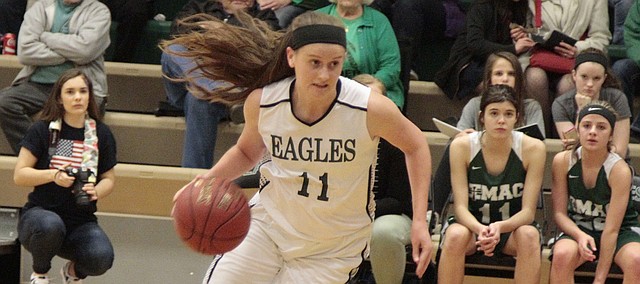 When first-year Maranatha Christian Academy girls basketball coach Reggie Hines took the helm after a winless 2015-16 campaign for the Eagles, the first point of emphasis for him was to get a fully-committed effort on the defensive end.
Hines saw his squad buying into what he has been preaching on Tuesday night, when the Eagles defeated Immaculata, 39-33, for their first home win of the season. The Eagles held the Raiders scoreless in the fourth quarter until a free throw from Jordan Sachse with 43 seconds remaining.
"We've worked really hard on our defense," junior Maggie Friesen said. "We do shuffles every day, so it's been a really big point in our game that the team who has the best defense wins."
The Eagles did not claim their first lead until midway through the third quarter, and trailed 16-4 after the first eight minutes. Friesen was scoreless in the first quarter, but scored 10 of her game-high 16 points in the second to cut Immaculata's led to 23-18 going into the break.
"Between our defensive emphasis and our emphasis to trying to get the ball to our posts, that's part of the game plan. Making sure that our posts work hard, and then we reward them for that hard work by getting the ball to them," Maranatha assistant coach Rodney Wilcox said. "Not just Maggie, but Alyssa (Buettner), Molly (Welch), Anita (Eckhardt) and several others down low have done a great job in really buying into that whole concept of boxing out, getting some rebounds, getting some quick and easy buckets that way along with getting our guards some shots that go in, so that's great for us."
The Maranatha post players set the tone in the second half, as Buettner battled down low for the first bucket of the third quarter while getting fouled in the process. Although Buettner missed the free throw, Friesen was there for the put-back to pull the Eagles within one.
The Raiders had a brief answer on the following possession when Ally Campbell knocked down a 3-pointer, but Friesen and Welch responded with back-to-back buckets to tie it at 26-all.
From there, senior Kayla Crowder went into takeover mode. The 5-foot-7 guard scored nine of her 11 points in the second half, and was responsible for four of the Eagles' last six field goals.
"She provides a tremendous amount of knowledge on the court, but more importantly a tremendous amount of leadership," said Wilcox of Crowder. "As we're a growing team, she provides some of that leadership because of her playing in soccer and basketball. She just kind of understands a lot of the game, so it's been a great privilege for her and for us to have her out there and kind of help to lead some of the other girls who are growing into that role."
The win for Crowder and the Eagles was a little bit more special than their two previous victories this season against Bishop Seabury because they were able to come out on top on their home court for the first time since February of 2015.
"It means a lot — especially getting the first home win," Crowder said. "We'll hopefully keep going on in the season and we have momentum. Going into the next couple of games, I think we can win and get our record up for the postseason."
The Eagles improved to 3-6 on the season with the victory over the Raiders. Friesen said that a lot of the credit for the strides that the Eagles have made should go Hines, Wilcox and assistant coach Stan Walker — who are all in their first season of coaching at Maranatha.
"It's been a really big deal because we've had hard coaches in the past, it's really cool to see our coaches want to work with us and put effort into every single one of us and want to see us get better," Friesen said.
Hines, Wilcox and Walker have been appreciative for the efforts that the Eagles have put in during their first few months at Maranatha, and they also have been gracious to their fans for sticking with them.
"It is tremendous for our fans because they're been there to support us the entire time," Wilcox said after Hines insisted that he be interviewed following the game. 'It's fantastic for our girls also because they get the opportunity to have that support, feel that godly pride of hard work that comes into a reward."
Maranatha scoring: Maggie Friesen 16, Kayla Crowder 11, Alyssa Buettner 6, Emma Powell 2, Shelby Adcock 2, Molly Welch 2.
Immaculata scoring: Jordan Sachse 16, Mikayla Cross 10, Ally Campbell 5, Eleanor Melero 2.
More like this story