BVSW

edges Mill Valley wrestling, 34-33, on Jaguars' senior night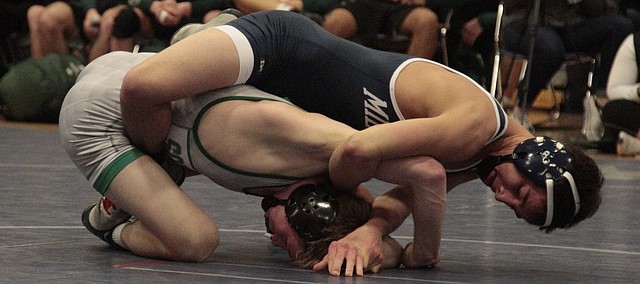 Mill Valley seniors Jett Bendure and Dylan Gowin had some brief satisfaction with winning their respective matches in the Jaguars' senior night dual against Blue Valley Southwest on Thursday, but it was short-lived after the Timberwolves rallied for a 34-33 victory.
The top-10 Class 5A match-up between the No. 3-ranked Jaguars and No. 9 Timberwolves lived up to its billing by going down to the wire.
The Timberwolves jumped out to a 10-0 lead after the first two matches, as Brandon Madden won by a 9-1 major decision over Mill Valley freshman Austin Keal, and Justin Williams won by fall over Jaguar freshman Cameron Schwegman.
While Mill Valley coach Travis Keal has high hopes for the freshman duo and the other underclassmen on his team, he had no doubt that Gowin would turn the momentum toward the Jaguars in the 120-pound match against Joseph Dennison. Gowin won by fall in the first 30 seconds of the second period, and started a streak of five straight victories for the Jaguars.
"That speaks high of him as a wrestler and as a person," said the Mill Valley coach of Gowin. "Like, 'I'm going to get this going in our way with a pin.' Anytime you can get a pins, it's good."
A pin was the only outcome that Gowin had in mind when he took the mat. Gowin seized control of the match with a takedown less than 30 seconds into the first period, and used a fast start in the second to get the pin.
"That was just my goal going in," Gowin said. "The whole time I just wanted to get a pin, help the team out and get six points instead of three, four or five."
The five-match winning streak for the Jaguars was capped off by a Mill Valley senior as well, when Joey Gray notched a first-period pin of Broc Putnam in the 145-pound match.
Sandwiched between Gowin and Gray's pins were victories from the junior trio of Bryson Markovich, Conner Ward and Jarrett Bendure. Markovich and Bendure both won by decision, while Ward won by tech fall in the third period.
The Jaguars' streak was halted when senior Austin Crocker was pinned by Mike Stack, but Jett Bendure was able to push Mill Valley's lead to 27-16 with a 10-2 win by major decision over Drew Hill. Bendure had a 6-2 advantage going into the third period, but by pushing his lead to 10-2 in the late stages of the third, he was able to win by major decision instead a decision to get four points for the Jaguars rather than three.
"I just pushed the pace. I just thought of the crowd, and I couldn't give up. I just thought to myself, if I was in regionals or state, just keep pushing through," the Mill Valley 160-pounder said." This is my last year. I always try to tell myself, 'I can always do more.' Even if I'm going for that state championship, I can get a national championship. Just keep doing more. I tell myself that."
Also on Bendure's mind throughout the night were his senior teammates, and the other Jaguars that he's wrestled with long before starting high school since a majority of the Mill Valley varsity wrestlers competed in the kids club program under Keal.
"I started out when I was in third grade wrestling with Austin Crocker, Joey Gray, Conner Ward and all of them in the Mill Valley wrestling room," Bendure said. "It's really been humbling with how far and how much of a bond we've had to keep going and growing up together wrestling and having fun."
While there were five weight classes remaining after Bendure bested Hill, Blue Valley Southwest had an open spot at 285 pounds and Mill Valley had a late scratch at 195 pounds due to sophomore Derek Wiedner being sick to leave three matches left to be wrestled.
The first of the three proved to be the closest match of the night, and the only one that would go into overtime, as Mill Valley junior Hayden Keopke and BV Southwest's Jake Christie were tied at 1-1 at the end of regulation. Christie went on to win by sudden victory after getting the winning takedown in the first 30 seconds of the 1-minute overtime period.
Sophomore Sage Sieperda was up next for the Jaguars in the 182-pound match against BV Southwest's Johnnie Kramer. The Timberwolves' senior grabbed the lead early, and went on to win by a 7-1 decision despite some close reversals from Sieperda.
Kramer's victory cut Mill Valley's lead to 27-22, but the Timberwolves took the lead at 28-27 due to the 195-pound weight class being open for the Jaguars.
Mill Valley senior Blaine Boudreaux — who is only in his second season of wrestling — was pitted up against a 2016 state qualifier in BV Southwest 220-pounder Cordell Duhart. The experience for Duhart paid off, as he pinned Boudreaux in the first period.
Duhart's pin gave BV Southwest the six necessary points to push the lead to seven, so that forfeiting the match against Mill Valley senior heavyweight Alec Derritt wouldn't make the difference.
The one-point loss left a sour taste in the Jaguars' mouths, and helped them realize that they'll have to work that much harder to achieve the goals that they've set out by season's end.
"It's a tough loss but we're still hungry. We're ready for league, regionals and state," Bendure said. "We have (the) Chanute (tournament) coming up this weekend. We're just going to go back and work in the practice room and try to get better."