Pittsburg pushes past De Soto boys hoops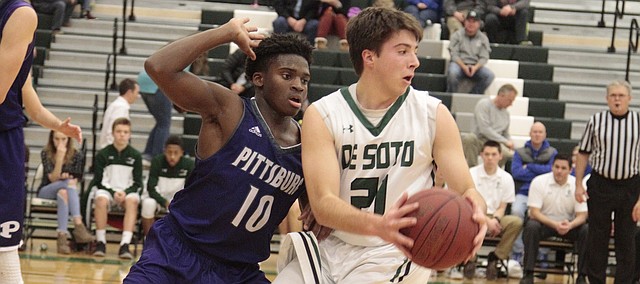 De Soto — Between getting more minutes for talented underclassmen and trying to overcome some injuries to a few of his senior leaders, the season has not quite gone how De Soto boys basketball coach Matt Rice had envisioned it thus far.
The Wildcats have finally been back at full strength in their last few games, and after a fourth-place finish at the Tonganoxie Invitational last weekend, Rice was hoping that his team might be able to give Pittsburg a tough test on Friday.
De Soto was still no match for the No. 6-ranked team in Class 5A, tough, as the Dragons scored 20 unanswered points and never looked back en route to a 75-39 victory.
"To be honest with you, after our home tournament (Huhtamaki Hardwood Classic in December) we went through four games where we were playing short-handed. Noah Wilson sliced his hand and missed a couple of games," Rice said. "Alex Wilcox had an appendectomy, and was out for a month. It was Christmas break, but when he came back, he wasn't even close and just out of shape. Then Grant Noll missed a game when he was sick and these were all against league teams. We had some pretty good momentum coming out of the tournament, and we lost it really quickly so we're trying to get it back."
The Wildcats remained with striking distance in the first quarter, but they committed 16 turnovers before the break to help the Dragons build a 44-11 lead going into the locker room.
"Especially against pressure, we've got to do a better job of getting good shots and that starts with valuing the basketball," Rice said. "I thought we really handled their press — their half-court press and full-court press — pretty well. It was when we got into the half-court and they got into lanes, their help defense was very aggressive and we just struggled with that."
De Soto was able to cut down its turnovers in the second half — only coughing it up eight times — and better play on the offensive end followed. Levi Hansen hit two of the Wildcats' six 3-pointers in the second half, and tied Grant Noll for a team-high eight points. Wilcox, Wilson, Brannon Bell and Jared Baruth accounted for the other four 3-point makes in the second half.
As a 6-foot-5 sophomore Noll is one of the main reasons why Rice believes that there are better days ahead for his program. Noll has been one of the top offensive threats on the offensive end for the Wildcats this season, and he's felt more comfortable as the season has gone on.
"I played a little bit as a freshman, and then just practicing with the varsity squad year-round and over the summer and in a lot of scrimmaging and weights with them."
While the Wildcats have struggled to a 4-9 record in their first season in Class 5A, Noll thinks that the growing pains they're experiencing right now will eventually pay off.
"We think our team is really going to build," Noll said. "When we're seniors, this sophomore class is going to be really good."
The Wildcats will go for their first Frontier League win on Tuesday on the road against Baldwin.
De Soto scoring: Grant Noll 8, Levi Hansen 8, Jared Baruth 6, Alex Wilcox 5, Noah Wilson 5, Brannon Bell 3, Exavier Jackson 2, Tyler Barkemeyer 2.
Pittsburg scoring: Marque English 15, Chase Curtis 14, Drew Roelfs 12, Elijah Harris 10, Alex Kafka 6, Jerek Butcher 5, Gavyn Elkamil 5, Ty Roark 3, Isaac Leverenz 3, Trenton Austin 2.