Shawnee police take the plunge
Team raises $7,500 for Special Olympics athletes in Kansas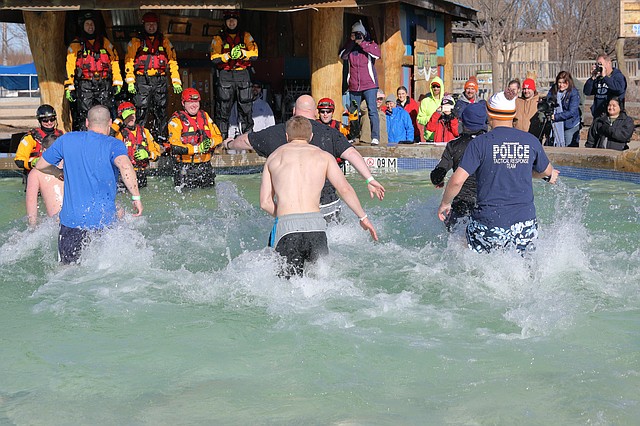 Seven brave members of the Shawnee Police Department plunged into the ice cold waters of a shallow pool this weekend at Schlitterbahn.
Don't worry, it was for a good reason.
They were participating in the annual Polar Plunge, which took place at the Kansas City, Kan. waterpark on Saturday morning.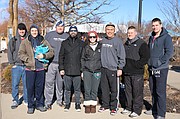 Plunge participants across the state raised over $94,000 for Special Olympics of Kansas and participated in nine different plunges this year.
The chilling events raised money for Special Olympics athletes in Kansas to train and compete in sports and receive basic health screenings.
The Shawnee Police Department fundraising team of 11, comprised of both current and retired police department members and their families, raised $7,500 this year and is listed as the top fundraising team in the state, a title the department has held for several years.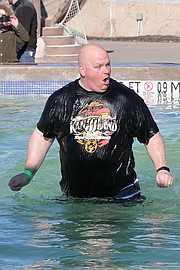 Retired Police Detective John Wells was the top fundraiser for the team, collecting more than $2,500.
Not far behind was 14-year-old Kate Herrmann who raised just over $2,200. Kate is Detective Craig Herrmann's daughter and has participated in the plunge for the last four years with her dad.
Just before the plunge, as the first team waited in a warming tent, a Schlitterbahn employee announced that the water temperature was 32 degrees.
After the plunge, Shawnee Police Chief Rob Moser, a first time plunger, said he's not committing to taking the icy plunge again next year.
"I've got 364 days to commit," he joked.
Herrmann, team captain and participant in the plunge for the last 10 years, said he thinks the water was colder this year than it has been in years past at Shawnee Mission Park lake.
"It looks worse out there," Herrmann said. "They're chainsawing ice. Here, it's just a pool."
The Polar Plunge is one of three events that the department participates in each year for Special Olympics of Kansas.
The others are the Torch Run and the Heroes Pull, which is scheduled for Sunday, March 12 at Splash Cove, 5800 King Street.
More information on these upcoming events can be found on the city's website at www.cityofshawnee.org or visit www.heroespull.org.
For more information about the Polar Plunge and how it benefits the Special Olympics of Kansas, visit www.plungeks.org.
More like this story