Shawnee residents learn to save lives with
CPR

training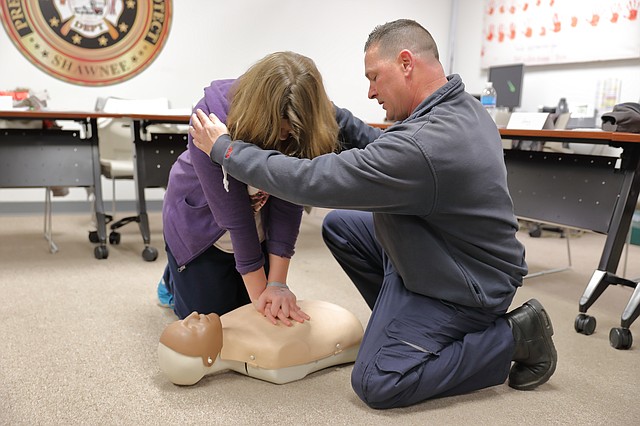 Learning to save a life is an invaluable lesson.
And now, the city is offering it to residents.
The Shawnee Fire Department held its first HeartSaver First Aid CPR & AED Training this past weekend.
Shawnee firefighter Larry Beets, a 22-year veteran of the department, instructed the class of a dozen Shawnee residents on the basics of first aid, as well as proper technique for CPR and how to use an automated external defibrillator.
The training covered use for infants, children, and adults.
A grant from the Firehouse Subs Public Safety Foundation covered the cost of new equipment and education materials. The grant will provide training for 120 residents and Beets says the department plans to extend the program even after the grant money has run out.
"The city would like us to do a sustainable program for our citizens," Beets said. "These classes are filling really fast."
The free classes are open to Shawnee residents ages 16 and up. Each class requires at least six participants in order for the session to be held.
The next two classes, scheduled for March 11 and March 18, reached their 15 citizen limit within hours of being listed on the city's website.
Classes are held at the John B. Glaser Fire Station, 6501 Quivira Road.
Beets said the city has the option of applying for additional grants to continue the program and hopes to offer the classes about once a month.
The Firehouse Subs Public Safety Foundation was created in 2005 to help fund the purchase of life-saving equipment, and educational opportunities to first-responders and public safety organizations. Through the non-profit 501(c)(3), Firehouse Subs has given $24 million to first responders in 44 states, Puerto Rico and Canada, including more than $104,662 in Kansas.
Donations to the foundation can be made at the Firehouse Subs restaurant located in the Shawnee Village shopping center, 6415 Quivira Road.
Additional training dates and any openings in scheduled classes will be announced on the city's website at www.cityofshawnee.org and the city's Facebook page.