All hands on deck: several people come together to get pool for SuperBo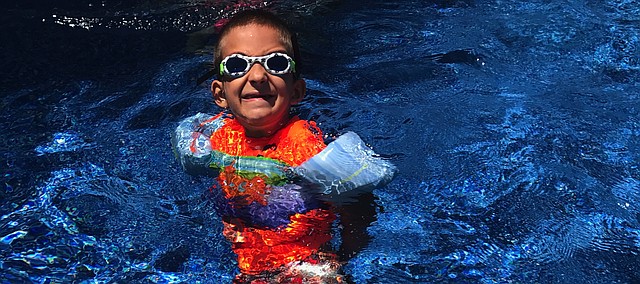 Roeland Park — Conditions were far from ideal for building a pool deck after heavy rain fell on Thursday afternoon across the Kansas City metro area, but that did not bother Seth Kelso and his McCarthy Mortenson NBAF A Joint Venture co-workers.
The only thing that was on Kelso's mind was making life a little bit easier for 7-year-old Bo Macan. Swimming is one of the few activities that Macan — who has rheumatoid arthritis, diabetes, epilepsy and growth hormone deficiency — can do without pain. Macan's condition is so rare that doctors from the National Institute of Health simply called it, "Bo's Syndrome."
"For us complaining about it being wet and soppy and walking through mud is nothing compared to every day that he goes through," Kelso said. "We definitely think about putting that into perspective."
While Macan did not have many words to say about his new pool, his smile spoke volumes about what it meant to him. Macan, who goes by the nickname of "Super Bo," has already been able to enjoy the pool despite the deck being a work in progress.
The original plan was put into place to build a pool for Macan last winter, but it did not work out how his family had hoped. Carolyn Macan, Bo's mother, was approached by a non-profit agency about the possibility to build the pool in their back yard, but the main person who was coordinating it went on to try to capitalize on the situation for himself rather than for the family, and eventually wound up in jail.
The emotions of the Macan family went from the highest of the highs to the lowest of the lows, but not for long.
Enter St. James Academy volleyball coach Nancy Dorsey, whose husband, Bryan Dorsey, played basketball with Carolyn's husband, John Macan, at Baker University. Nancy went to meet Carolyn to pick up a couple of 'They Call Me SuperBo' books, which were published by Ethan Bryan to benefit Bo, when she found out about the pool situation.
"She just kind of told me everything that happened with the pool the first time around and how somebody promised this to her kids and ended up in jail for using a kid's image and his story to take money from people. I just sat there in the parking lot of Target listening to her tell the story and was like, 'This is not real. This is not a real story. There are not people this evil out there,'" Nancy said. "I went home, I read the book to my kids and I was lying in bed and was thinking, 'This is the most awful story I think I've ever heard. What a horrible person. How could you do this to this poor, little 6-year-old boy — this critically ill kid — and his parents and his siblings?'"
Bo's predicament was unlike any Nancy had been confronted with in coaching volleyball, but she set out a game plan, found a couple of possible key players and the rest was history. Dorsey deflected all of the credit to the organizations that she contacted, such as Pools By York and Starr Homes, and those who have donated to the cause through the YouCaring link — https://www.youcaring.com/macanfamily-783436 — that she set up.
"He doesn't really even know what to do with himself, I don't think," Carolyn said. "Last night he got it the pool for a little bit and he was like, 'This is so nice, mom.'"
Despite only being 7 years old, Bo has already undergone 64 surgeries and spends an average of 100 to 250 days in the hospital each year. Carolyn acknowledged that it has been difficult to ask for support for Bo from the same groups of people, so for several new acquaintances to lend a helping hand in the process meant the world to her, John, Bo, her older son Johnny and daughters Leksi and Brooklynn.
"It's kind of nice because we nickel and dime the same people. (Bo) has the same community, which is wonderful — the Shawnee Mission North community, the Roseland community. The Shawnee Mission North community — obviously Seth went to North with us — is bar none the best thing," Carolyn said. "They're wonderful. We always have the same people that help us, so the Starr Homes was new. McCarthy Mortenson lumber is new. Kind of getting the word out there to other people is nice so we're not relying on all of the same people to help."
It wasn't just the support from so many people that overwhelmed Carolyn and Nancy, but the amount given by them. Nancy reached out to Bob Osterlund, the vice president of Starr Homes, and was just hoping that the company that built her home might be able to pitch in with some lumber for the pool deck and fence. Instead, co-owner Kit Starr and Osterlund decided that they would put on a fundraising event for Bo at one of their model homes that would include a moon bounce, face painter, bake sale, raffle items and a big brunch. The event, which received significant support from some corporate sponsors that Starr Homes contacted, far exceeded Nancy and Carolyn's expectations by raising around $7,000.
"So we were going in and thinking, 'Oh, $500 would be great.' We got there and he was like, 'I think I have about $5,000 in corporate sponsors,'" Dorsey said. "I looked at Carolyn and was like, 'Wait, what? Are you kidding me?' I was obviously so glad that I had the gut feeling like, 'I'm just going to call them. They're good people. I know they work with kids charities. I'm just going to give it a try.'"
Next up on Nancy's list of who to contact was Kevin York, who owns York Companies – Pools By York.
"He is my sister-in-law's neighbor. I knew he was doing a pool for someone I work with and my husband had recommended him to my co-worker," Nancy said. "It's kind of a weird circle basically known through my brother and sister-in-law. They always talk about what a nice guy he is and how he's always willing to help everybody. I was like, 'I know he's a pool guy. Maybe he can hook me up with somebody who does above-ground pools.'"
Not only did York come through, but he agreed to get Bo his pool at cost and have his team do the groundwork and instillation for no charge.
"It means a lot to us to be able to come out and help Bo and his family with him being able to swim when he hasn't been able to before," Pools By York operations manager Terry Edmondson said.
Even though the pool was already installed, Edmondson returned to the Macan home on Thursday to check in on the progress that Kelso and his co-workers were making on the deck. The workers from McCarthy Mortenson — who primarily work out of Manhattan for a project they're doing for the Department of Homeland Security — had planned to get the deck finished on Thursday in a 10-to-12 hour work day, but Kelso said they'd likely return this Friday to complete the job.
"We do a lot of community projects. We call it 'Heart Hats,'" Kelso said. "Both companies — McCarthy and Mortenson — are both supportive and encouraging for us to take time away from work to do it. Really the staff loves doing it because it feels good to them to give back to the community."
While everyone involved has been quick to say how happy they are to help out Bo, they've also felt good about giving him an activity that he can do with his siblings. Bo is unable to swim in public pools after he got an infection a couple of years ago, so he hasn't been able to share that experience with Leksi, Johnny and Brooklynn.
"It's so amazing. My bigger kids are so excited," Carolyn said. "They can just go out there and have some fun with him because he's just not the kid you can take to the park because he gets worn out. He just needs that time. He can get out if he gets tired and go inside for a little while and then go back."
Rheumatoid arthritis is one of the primary causes of Bo's pain, and swimming helps to relax his joints.
"It forces him to have to use his arms and legs. It keeps that range of motion better and keeps him moving because there are days in the winter time where he won't get off the couch, he won't leave the house — he does nothing," Carolyn said. "This kind of forces him to and we can make it fun for him. Throw the ball at him, jump off the deck and do all of these things."
The joy that Bo has had has rubbed off on Carolyn and the rest of the Macan family in the past couple of weeks. After it looked like Bo would not get his pool after a Grinch-like act around Christmas time, the Macans and those close to them have felt blessed to see so many people go out of their way to grant him his wish.
"I think sometimes we get inundated with awful stories of people in the news and just the ugliness of our world sometimes and we forget that everybody, I think for the most part, is doing the best they can and there are a lot of good people out there," Nancy said. "Between Bob and Starr Homes and Kevin York at York Pools, all of the people are stepping up to help and all of the people that donated. It's been a nice reminder to all of us that you know what? There are good people in the world."