St. James basketball standout Fitzmorris commits to Stanford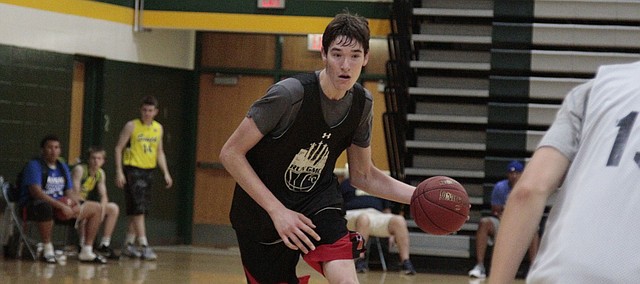 Stanford has been at the top of St. James Academy senior Keenan Fitzmorris' college basketball wish list for much of the recruiting process, and he came one step closer to suiting up for the Cardinal.
According to Rivals National Basketball Analyst Eric Bossi, Fitzmorris verbally committed to Stanford after a recent visit.
"I've always known that it's a great school and a great program with great people," Fitzmorris told Rivals. "Throughout the recruiting process I was always impressed with the character of the coaches there and it's the greatest school in the world."
The 6-foot-11 senior has been a force in the paint for the Thunder, but he's also been working hard on his shooting touch from the perimeter, which has not gone unnoticed by Stanford head coach Jerod Haase and the rest of his staff.
"They really value versatility with their players," Fitzmorris said. "For me it would not only be playing inside but also shooting the three, dribbling, passing and playing fluidly with their other players. I see myself as a player who can stretch the floor and hopefully be dominant inside."
Fitzmorris and the Thunder posted a record of 14-8 last season. St. James suffered a 60-53 loss to St. Thomas Aquinas in the sub-state championship game. Fitzmorris will try to get the Thunder over the hump to the state tournament in his senior season, and is looking forward to the challenge even more so now that his college commitment is behind him.
"It feels incredible. It's a lot off of my shoulders," Fitzmorris said. "It's bittersweet to end things with so many great coaches that have recruited me. It's nice to focus on school and basketball this last year."
Part of what attracted Fitzmorris to Stanford in the first place was his sister, Audriana Fitzmorris, playing for the Cardinal volleyball team. Audriana Fitzmorris and fellow 2015 St. James alumna Jenna Gray helped Stanford to a national championship in 2016.
"It doesn't hurt that my sister is there," Keenan Fitzmorris said.
Stanford went 14-17 last season in Haase's first year at the helm. Haase, who played his college ball at Cal and Kansas from 1992-97, came to Stanford after a four-year stint at UAB. The second-year Stanford coach guided UAB to a NCAA Tournament berth in 2015, a 2016 Conference USA title and an 80-53 overall record over four seasons.