The primary election is right around the corner.
Shawnee city council positions are hot commodities right now, with a staggering seven candidates vying for two open seats.
Four contenders are competing in Ward 4, the mainly southern part of the city, and three are competing in Ward 3, the northwestern area.
The Aug. 1 primary will narrow the field for both races, with voters selecting the winners at the general election on Nov. 7.
In Ward 4, the candidates are incumbent Brandon Kenig, Lindsey Constance, Tony Noble and Ajay Sood.
In Ward 3, candidates are incumbent Jeff Vaught, Justin Adrian and Dave Myres.
Going straight to the general election this fall will be incumbent Dan Pflumm and Matthew Zimmerman, competing for a Ward 1 seat, while incumbent Mike Kemmling is running unopposed in Ward 2.
With councilmembers making key decisions that affect the daily lives of residents, whether it be about taxes or city codes or public safety, the selection process of these elected seats is vital.
"It's important for people who live in our community to make sure they have a hand in the future of our city," said Shawnee City Manager Carol Gonzales. "Voting allows you to give your opinion about how you think Shawnee should operate now and for years to come. These local elections have a big impact on our day-to-day lives and having a voice in that process is critical to our City's success."
To learn more information about advance voting or to register to vote, visit jocoelection.org.
To find out your voting location, Text VOTEKS, your address and ZIP to 74574. Within 60 seconds a return message will display your polling place's name and address.
Here is a closer look at the candidates:
Ward 4
Brandon Kenig
(incumbent)
Kenig wants another chance to serve the residents of Ward 4.
The marketing director and business owner was appointed to the Shawnee City Council in 2015, to fill the vacancy Michelle Distler left behind when she became mayor.
He is now the current Council President.
He also served on the Shawnee Planning Commission for three years beforehand.
"I'm very invested in our city and I want to see it thrive," said Kenig, who has lived in Ward 4 for eight years. "I want to see our commercial base grow."
If elected, the 31-year-old said he wants to continue making a positive difference for Shawnee residents.
His top priorities will be to maintain public safety in the city, keep taxes low, reinvest in older parts of Ward 4 and draw new restaurants and retail to the western part of his ward, near Shawnee Mission Parkway and Kansas Highway 7.
Public safety, in particular, is an issue very important to him.
Kenig, a graduate of Shawnee's volunteer police academy, thinks it is vital to invest in the city's fire and police departments.
While on the city council, he supported the hiring of seven new police officers and 17 new firefighters, the building of the new fire station in northwest Shawnee and the purchase of new equipment for the police department, such as body cameras for officers.
"We need to make sure we give them the tools and resources they need to do their jobs so they don't feel shortsighted or hamstrung and they are able to protect us." said Kenig.
Investing in older parts of town is also vital, he told the Dispatch.
Whether it's repairing aging streets or helping to revitalize semi-vacant shopping centers, such as Westbrooke Village, Kenig emphasized that maintaining the eastern part of his ward is one of the main ways to help the city stay safe and vibrant.
If elected, Kenig also wants to continue his support for entrepreneurs and startups in Shawnee.
Last year, he made headlines when he proposed a tax incentive program aimed to attract high-growth startups to the city. The "Startup Workforce Relocation and Expansion Program," focusing on both tax and lease assistance, was passed unanimously by the council.
His next goal would be to draw those businesses to downtown Shawnee, another part of town he thinks has exciting potential.
He hopes voters elect him so he can continue making a positive difference in Shawnee.
Lindsey Constance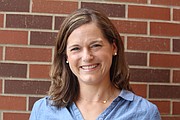 Constance, an educator in the Shawnee Mission School District, said she is running for city council because of drastic changes occurring at the federal level.
"I feel right now, our political landscape as a country is so polarized that it will come down to the local level to solve problems," she told the Dispatch. "For example, with the possibility of people losing health care coverage and the federal government rolling back environmental protections, and potentially fewer services for those with disabilities and mental health challenges, it will be critically important to have compassionate leaders at a local level who can solve problems to create a better quality of life for residents."
The married mother of two also wants to make positive changes in Ward 4, an area she has called home for four years.
She says that business development should be a top priority for the city, so it helps maintain a stable and broad tax base.
"Shawnee can accomplish this by pursuing fair taxation with development projects through a balanced approach, structured in a way that does not endanger school funding or stick taxpayers with an unfair obligation," she said.
Constance also said it is vital to remain competitive with neighboring cities, so Shawnee does not become overshadowed in terms of economic development.
She also wants to help the city improve its energy efficiency and sustainability, by making areas more walkable and bikeable. In doing so, it could improve health and wellness in the city and improve the sense of community, she added.
The 36-year-old also wants to help the city seek ways to make information more accessible to residents and encourage community engagement.
"We have so many people in our community with great ideas, passions and expertise, and by empowering all people to share ideas and help solve problems, our city will be even better in the long run," Constance said.
She believes her skills and experience as an educator will help her succeed as a councilperson, if elected.
"I have the skills necessary to solve problems and work together with many types of people around common goals," she said. "On average, teachers make 1,500 educational decisions in one day, and have the ability to weigh many different factors and listen to multiple perspectives. I will take the skills I have developed as an educator and apply those to city governance."
Tony Noble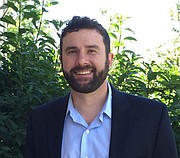 Noble, a commercial sales manager, feels his business skills make him a good fit to represent Ward 4 residents.
Responsible for overseeing a group of engineering and business professionals, he's involved in an array of projects and by being the boss, he's become an expert problem-solver.
After all, an effective leader doesn't shy away from tough conversations, he pointed out.
"I feel this applies to city councilmembers because one needs to be able to communicate to the different managers and division heads within the city when they're not getting the job done or when things need improved," Noble told the Dispatch.
But Noble isn't just running because he feels qualified; he's running because he doesn't believe there is good fiscal leadership with the current city council.
The 40-year-old is unhappy with the tax increases citizens have experienced, along with what he feels is wasteful spending in city government.
The biggest issue facing the city, he said, is the city council's willingness to engage in economic development at any cost.
"The city is bending over backwards for developers in this town and citizens are left holding the bag with these horrible deals," said Noble, who has lived in Ward 4 for two years. "...the worst part is the city comes back to the taxpayers for more taxes to pay for core needs of the city because we don't have enough money due to improper budgeting and planning. It's frustrating and most likely not going to stop with the current leadership in place."
If elected, Noble said, he would get rid of corporate welfare and help the council re-prioritize how it spends the city's resources and put core functions, such as police, fire and infrastructure, back on the top.
As he is fiscally conservative himself, the Ohio native said he would help look at ways to save money within the budget.
It's a task that might seem cumbersome to some people, but for Noble, it would be fun.
In his career, he's become a numbers guy who reviews and understands complex budgets, a trait which he thinks is important for a councilperson to have under their belt.
He hopes voters agree with him.
"To be a proper city leader, you need to understand the budget," he said. "You need to understand the basics of how we're spending our money."
Ajay Sood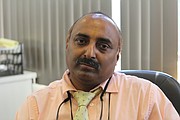 Sood, who has lived in Ward 4 for 25 years, has numerous creative ideas he wants to see implemented throughout the city.
He also holds a plethora of jobs.
Sood owns a matchmaking business, called the "Love Guru," he is a freelance interpreter and he teaches Indian cooking and yoga classes.
Running for city council is not Sood's first campaign. He ran for president of the United States last year and he plans to run again in 2020.
If elected to represent Ward 4, one of the main issues he wants to address in Shawnee is the landfill odor.
"A lot of people complain about the smell," he said.
To his interview at the Dispatch office, Sood brought a Sansevieria plant, otherwise known as a snake plant, which he explained is the ultimate solution.
He said based on his research, he believes if landfill owners planted the snake plant around homes near the landfill, it could alleviate the odor.
Sood would also like to address what he considers to be unnecessary traffic ticketing along Shawnee Mission Parkway, from Lackman to Nieman roads.
"Shawnee Police is always giving tickets and we waste a lot of tax dollars by taking people to court," he said, in exasperation. "The city needs to come up with new ideas and plans to generate more tax dollars."
Offering Shawnee residents more transportation options is another passion for Sood.
He said if elected, he will reach out to officials in Kansas City, Mo. to see if the streetcar route can be brought to Shawnee Mission Parkway.
He thinks it would be beneficial for residents to have another way to get downtown and it could reduce drunk driving incidents.
Sood told the Dispatch he is also concerned about people living in a halfway house in Shawnee, because he often sees them sitting outside rather than doing anything productive.
He would like to incorporate a program where they do lawn work for elderly people, or drive elderly people around town to places such as doctor's appointments or shops.
Other ideas Sood has include placing a Starbucks inside the Office Depot, and having both the store and coffee shop be open 24 hours, establishing city-wide yoga at public parks and teaching college-aged residents business classes in a city-funded program.
"I'm friendly with all communities and I am just an open-minded person who works with all kinds of people," Sood said. "I'm here for you."
For a look at the Ward 3 council candidates, click here.