The Dispatch recently sat down with the Ward 3 candidates.
Here's a closer look at their views and qualifications:
Jeff Vaught
Incumbent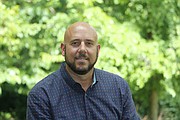 Vaught, a Shawnee business owner, is no stranger to the public eye.
He was elected to the city council in 2010 and he was re-elected in 2013. He also ran in the mayor's race in 2015, but did not win that seat.
The married father-of-three has lived in Shawnee since 1993, with the last 13 of those years being in the Crimson Ridge subdivision.
He chose Ward 3 as his home because of the great schools, picturesque landscape, quick access to highways and because he felt it was the perfect spot to raise a family.
After seven years of serving Ward 3 residents, Vaught hopes to be re-elected again to continue the progress he has made during his tenure.
While on the council, Vaught has helped advocate for the new fire station which is set to be built in Ward 3, he enthusiastically supported the creation of Erfurt Park, and he was instrumental in bringing the new Monticello Library to the western part of the city.
"Since being elected, I have continually voted for budgets that have maintained an AA1 credit rating and provided revenue for the progress we've seen," he added.
He thinks the city of Shawnee is in good shape, but elected officials need to focus on moving forward.
"It's imperative to increase the commercial tax base in Shawnee to help the city thrive," said Vaught, who is president and owner of Vaught Group, a commercial real estate company.
He believes the city needs to focus on economic development by bringing in new business and commercial construction.
"Not just retail, but industrial and office too," he pointed out.
He also thinks another top priority should be maintaining the city.
"I don't believe in endless spending, but you have to protect your infrastructure," he said. "You have to spend money to maintain the city, whether it's paving the roads or fixing our stormwater system."
Vaught wants voters to know he's not interested in sugarcoating issues.
"I'm at the point in my life where I'm not going to tell people what they want to hear," he said. "I don't represent a party or special interest, and I don't want to be tied to someone else's agenda. I just want to do what's best for Shawnee."
Justin Adrian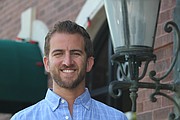 Adrian, a married high school history teacher, sees a lot of untapped potential in western Shawnee.
He moved to Ward 3 one year ago because of its peaceful and tightknit community.
"I feel like I have a fresh set of eyes in the area," he said. "When you live somewhere a long time, you don't always see what's wrong. I bring a new perspective."
While he loves the area, he thinks western Shawnee could be brought to a higher point.
"We need to bring in smart local growth and be more selective when it comes to new residential or commercial development," he said. "For the city to grow and flourish, we need to have an updated vision for western Shawnee that is innovative."
One of his ideas is to bring more upscale mixed-use concepts out west, rather than typical shopping strips.
He uses Mission Farms in Leawood or City Center in Lenexa as examples.
After all, he emphasized, shopping strips are dying.
High-end condos, atop retail and restaurants, could draw young professionals or baby boomers who don't want yards but crave suburban amenities, he added.
"We have the space, we just need the vision," he said.
He pointed out that Stag's Creek, a new development being built on the eastern entrance to the city, near Shawnee Mission Parkway and Goddard, is a good example of a positive step forward.
"It would be cool to see something similar be brought to western Shawnee," he said.
While visiting Ward 3 residents door-to-door, Adrian said the main concern he hears is the lack of restaurants and shops in the area. He agrees.
If elected, he would seek to bring more commercial development to the area, particularly more locally-owned businesses and another grocery store.
"There needs to be more amenities out there because people have to drive a distance for the shops or restaurants they want," he told the Dispatch. "When people shop elsewhere, our tax dollars go elsewhere."
He hopes voters will decide he is a good fit to represent them.
"As a teacher, I make dozens of decisions every day," he said. "I have a fresh, young perspective and problem solving skills."
Dave Myres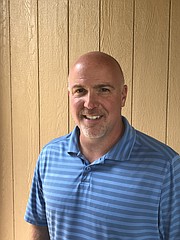 Myres, a veteran, is running for city council because he believes his priorities and principles best reflect the voters of Ward 3.
The married father of four said he chose western Shawnee as his home eight years ago because of its peaceful neighborhoods, strong sense of community and conservative values.
If elected, he hopes to protect the fabric of western Shawnee and ensure the people out there have a voice on the council which speaks for them.
"Whether the issue is apartments, tax rates, public safety, roads, or incentives to preferred citizens, people are growing concerned about what their local government is doing and they want someone who will fight for them," stated Myres, who works in pharmaceutical sales. "It's also important we approach these issues with respect, not rancor."
He told the Dispatch there is a grave concern in Ward 3 about the explosion of apartments throughout Johnson County.
"People chose to live in Ward 3 for a reason and those reasons would be undermined by more high density development," he said. "Beyond that specific issue, there is a desire to have the city return to its focus on core services, such as parks, roads, and public safety. The latter two have certainly become an issue on Clare Road."
Myres also said he believes people have hit their limit on taxes.
"Local, state and federal taxes and fees have all gone up over the last few years and at some point, we have to draw the line and I'm drawing it," he said.
He told the Dispatch his record of service to the United States and community, his business skills and values would make him a good councilman.
He also emphasized that he believes in the importance of citizen engagement and listening before speaking and also speaking in a way that is clear and respectful.
After all, that is critical for local government to function in a productive way, he added.
Myres currently serves as the Republican Precinct Committeeman in Ward 3.