Police respond on 94 fireworks complaints, six cited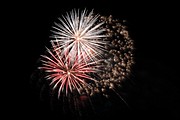 Shawnee Police say they issued six citations over the July 4th holiday.
Major Dan Tennis says police received a total of 94 calls for service regarding fireworks between Sunday and Tuesday.
During that time, officers wrote six tickets.
The numbers fall in line with years past in Shawnee. In 2015, Tennis says officers issued five citations and received 68 complaints.
Shawnee Fire Marshal Corey Sands says firefighters did not respond on any fire or medical calls that were caused by fireworks.
The Shawnee City Council last reviewed the fireworks ban in 2015 after Ward II Councilman Dr. Mike Kemmling raised the issue. At that time the council committee voted 7-1 in favor of keeping the fireworks ban in place and placing the question on the 2015 citizen survey.
Possession, manufacture, storage, sale, handling and use of fireworks in Shawnee has been illegal since 1972. Anyone found in violation of the ban faces a fine of up to $500 fine and/or six months in jail. The fireworks ban does not include snakes or caps.
---
Operation 100 News provides overnight news coverage for the Shawnee Dispatch. Follow on Twitter for real-time updates.