SJA

's Howes,

SMNW

's Oliver reach finals of

HOA

18s junior clay court championship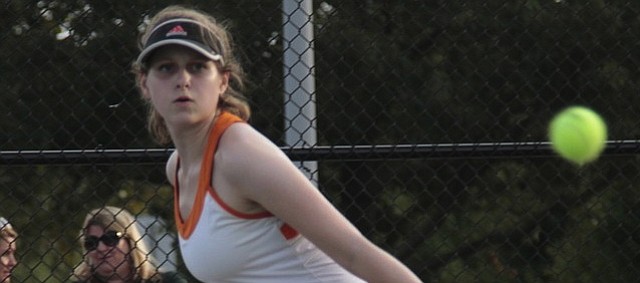 St. James Academy senior Isaac Howes and Shawnee Mission Northwest senior Lillian Oliver got the chance to test their respective games on a different playing surface for the Heart of America 18s junior clay court championships on June 22-23 at Overland Park Racquet Club, and they did not disappoint.
The two local standouts finished as the runners-up in their respective divisions.
Howes' run to the title match got off to a sluggish start after he dropped the first set to Free State's Sawyer Nickel, but the St. James senior bounced back to take the second and force a tiebreaker. The momentum from the second set carried over into the tiebreaker, as Howes prevailed with a 1-6, 6-3, 10-4 victory.
Next up for Howes was Pembroke Hill's Nathan Turtledove in the semifinals. Howes needed to go the distance again to defeat Turtledove. The St. James singles player upended Turtledove 6-2, 1-6, 10-7.
Howes had a tall task at hand when he reached the finals, though. Awaiting Howes was Overland Park native and five-star recruit Murphy Cassone, who is ranked 24th in the nation and first in Kansas by tennisrecruiting.net.
Cassone made quick work of Howes by defeating him in straight sets, 6-0, 6-2.
Howes will try to improve on his sixth-place finish at the Class 5A state tournament when he returns to the court for the Thunder next spring for his final high school season.
Oliver also had a strong showing at state the cap her junior campaign last fall, but she did so in a different fashion than that of Howes. After being paired up with 2017 SM Northwest alumna Tamerra Horton late in the season to play doubles, Oliver and her partner went on to win the Sunflower League tournament and place fourth at state in 6A.
Oliver showcased her skills in singles play again at the junior clay court championships by only dropping five games between her quarterfinal and semifinal matches.
The SM Northwest senior coasted past Raymore-Peculiar's Josephine Moore 6-0, 6-1 to advance to the semifinals against top-seeded Caro Bush. Oliver stayed consistent against the SM East senior with a 6-2, 6-2 victory to clinch a spot in the finals.
Oliver came close to forcing a tiebreaker against Blue Valley Northwest's Evan Bail in the finals, but went on to fall in straight sets 6-3, 7-6.
Oliver and Howes will both go back to playing on a hard-court surface for their respective high school seasons.
The four clay courts that were used for the junior championship tournament were installed at the Overland Park Racquet Club back in April.