Area anglers reel in big catches at state, national bass fishing tournaments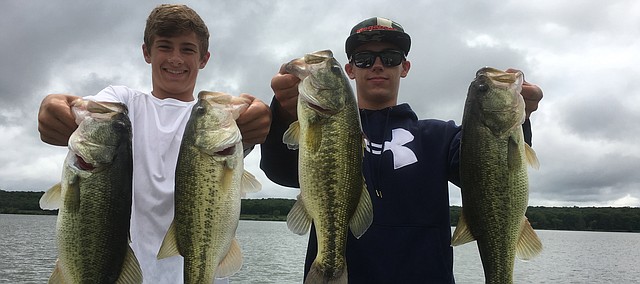 Bass fishing has been special to De Soto senior Connor Nimrod since he picked up the hobby as a toddler, but this past year has been even more memorable for him thanks to his new teammate.
After several casts in his younger brother's direction over the years, Connor finally got Dylan Nimrod to nibble and join the De Soto Bass team, which is coached by their father, Steve Nimrod.
Despite just having a year of experience under his belt, Dylan teamed up with Connor to take 60th place out of 225 boats at the Costa Bassmaster High School National Championship, which took place from June 22-24 at Kentucky Lake in Paris, Tenn.
"It went all right. We were sitting in a better position after Day One," Connor said. "We were hoping to capitalize and take top 10, but it doesn't always work out that way. We fished our hardest the second day, but it was still a really fun experience to have."
Connor's love for fishing was sparked at the age of 2 or 3 between spending time at the Lake of the Ozarks and his grandparents' marina dock. The De Soto senior has enjoyed the opportunity to share his favorite pastime with his brother.
"It's been really awesome to watch him grow and progress in what he knows and being able to teach him a lot of stuff, but it's even more special being the only team in Kansas, that I'm aware of, that is a sibling team — especially that has qualified for the national championship," Connor said.
While the national tournament was the first for Dylan, Connor had competed in it before with fellow De Soto senior Trevor Watts. Dylan credited Connor for helping him prepare for the biggest tournament of his young career.
"He's taught me so much. Just being a brother like that, I couldn't ask for anyone better to be able to teach me stuff like that," Dylan said. "In the boat, I know what he needs whenever he needs it. It's really easy to be able to pick up on that."
The time for Dylan and Connor to practice throughout the spring was limited, but they had plenty of motivation with preparing for the national tournament after placing sixth out of 180 boats at the Central Open on March 11 at the Toledo Bend Reservoir in Many, La. Dylan and Connor are both spring-sport athletes for De Soto. Dylan plays for the De Soto baseball team, while Connor is a pole-vaulter for the DHS track and field squad.
"It gets really crazy, especially because we have two to three track meets a week and on top of that I try to get out once, if not twice, out on the water a week," Connor, who was a state qualifier in the pole vault, said. "I also have to balance all of my sponsors, media posts and getting in touch with them and figuring out what I need to do to help benefit the companies."
The Nimrod brothers will be fishing partners for one more year before Connor heads off to college. The De Soto senior is currently planning to go to Louisiana-Monroe and join the fishing team there.
"Louisiana-Monroe just kind of fits more of my ideal school. It's a smaller school," Connor said. "It only has about 8,000 to 9,000 students, and I didn't want something really big like K-State or KU to go to. They've historically had a really great bass fishing team, and they care for their fishermen really well. That's also appealing to me."
While the thought of fishing at the collegiate level excites Connor, he wants to cherish his final year of being coached by his father and competing with his brother, Watts and De Soto Bass teammates Brayden Brummer, Kolby Minor, Gage Hiebert and Grant and Cole Moberly. Brummer and Minor both go to De Soto High, while the Moberlys and Hiebert respectively attend Mill Valley and Olathe North.
The competitiveness of the sport is what has driven Connor to reach the level he is at today.
"Just from the first bass I can remember catching, I was always addicted to how hard they fought and how much of a challenge it is to go out and find the fish themselves, be able to put those fish in the boat and weigh them in at the end of the day," Connor said. "You feel proud that you were the one that went out and found them and that you know how to catch them better than anybody else does."
Finishing just two spots ahead of the Nimrods at the national tournament was another Kansas tandem in Shawnee Mission Northwest alumnus Zach Vielhauer and Yates Center native Remington Wagner, who are teammates on the Kick Back High School Fishing Club.
Vielhauer, who has fished with Kick Back since he was 10, is good friends with the Nimrods and several other fishermen on the high school scene in Kansas. The SM Northwest alumnus will be staying somewhat close to home as he heads to Kansas State this fall to study mechanical engineering and compete on the fishing team.
"I'm excited. It's not even funny," Vielhauer said. "K-State's got a really good reputation. They've won a few national championships in the last couple of years, so hopefully I can help keep it going by getting back to the national championship and see if we can win one."
After Vielhauer and Wagner's strong showing at the national championship, they teamed up for one last high school tournament when they went to the Bass Federation World Finals on June 30 at Pickwick Lake in Florence, Ala. Vielhauer and Wagner were somewhat discouraged that they missed advancing to the final day of the tournament by three places, but they felt that their 33rd-place finish put nice touch to the end of the summer.
"That was our last high school tournament that we'll ever fish together," Vielhauer said. "It's kind of bittersweet because we'll be moving on, but it kind of closes one chapter and opens the door to the next. We're fishing in some adult tournaments together now."
Even though Vielhauer is ready to head to K-State to continue his fishing career, it isn't out of the question that he and a few of his future teammates might come to a Kick Back club meeting. Some of the most exciting non-tournament experiences for Mill Creek sixth grader Parker Phillips have been getting a few tips from pro fisherman Brent Chapman and members of the K-State fishing team.
Phillips acknowledged that the advice he's learned from Chapman and the K-State fishermen, as well as what he has picked up from YouTube videos, has helped him immensely as he continues to become passionate about the sport.
"My grandpa used to take me fishing a lot and then I watched YouTube videos of people fishing and I pretty much just learned how to fish off of YouTube," Phillips said. "I'd watch people and they'd always catch big fish. They tell you how they caught the big fish and what lure they caught it on. I watched that the whole winter and then I fished a lot that summer."
Phillips started fishing non-competitively at the age of 6 or 7 before joining Kick Back at the end of the 2016 season. It didn't take long for him and his partner, Paola native Max Douglas, to find success. Phillips and Douglas won the Kansas BASS Nation Youth State Championship on May 7 at Big Hill Lake in Cherryvale after catching 12 pounds and 3 ounces worth of fish.
"It was really good," Phillips said. "We were celebrating after we won. We got our last fish 30 minutes before we had to weigh in and we were all celebrating."
Although Phillips and Douglas earned an automatic berth to the Junior BASS National Championship, they were unable to attend because their boat guide was unavailable. Phillips has not let the disappointment of not competing at nationals overshadow what him and Douglas accomplished in their final tournament of the season.
"I was really happy when we won," Phillips said. "I was freaking out when we won because it was my first state tournament win."