A kid-friendly movie experience opens at B&B Shawnee 18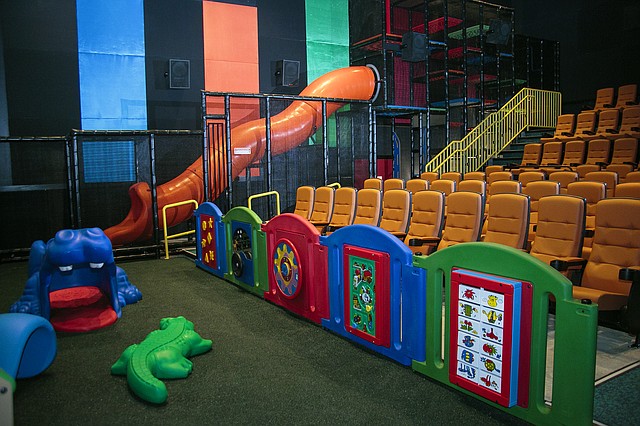 When children play in a movie theater, parents might get frustrated and other moviegoers might get annoyed.
At a new theater experience in Shawnee, child play is entirely expected.
With a colorful interactive toddler play area and a giant orange slide, children are encouraged to play out their energy before a film at the new ScreenPLAY auditorium at B&B Shawnee 18, 6301 Midland Drive.
The concept is a first in the region and only one of three in the nation.
The family friendly 66-seat auditorium features vibrantly colored seats and wall coverings, and a full-size climbing playground.
ScreenPLAY invites guests to arrive 20 minutes before showtime for fun and play, while music and other entertainment is onscreen.
An informational video will instruct kids how to properly behave in a movie theater and a countdown to the movie will be visible.
After the 20-minute play block is over, guests will take their seats and the lights will go down for a family friendly feature.
There will also be a 15-minute intermission at each showtime.
The ScreenPLAY experience is recommended for children ages 2 to 11.
B&B Theaters president and CEO Bob Bagby told the Dispatch that the experience is a great way for kids to get their energy out before a film.
"We're very excited and happy with the turnout," he said. "I'm looking forward to seeing kids play and have fun and come back to the movies."
Last Wednesday evening, the ScreenPLAY auditorium played Despicable Me 3 for invited guests, to try out the new experience.
Enza Ketcham, a mom blogger from Liberty, Mo., was one of the lucky parents to test out the concept with her kids.
She told the Dispatch it was amazing.
"The last movie we went to, my little one wanted to get up to go to the bathroom two or three times," she said, with a laugh. "So to have the scheduled break is awesome."
Her friend, Keri Haverland, of Kansas City, Mo., agreed.
She had a pleasant experience with her 2-year-old daughter.
"I've never taken her to a movie before because I know she couldn't sit for the whole thing, so this is great," she said. "I like that you don't have to worry about your kid disrupting the movie for others. I wish more theaters had this concept."
The fee for the ScreenPLAY experience is the price of the movie ticket plus a $2 upcharge.
The ScreenPLAY theater can also be rented out for birthday parties.
For more information, visit bbtheatres.com/location/shawnee-18.
More like this story