On Aug. 1, voters living in the Shawnee Mission School District will have an important decision on their hands.
Five Johnson County residents are vying for the open Shawnee Mission Board of Education at-large seat in the primary election this summer.
The top two contenders in the primary will move on to the general election Nov. 8.
Last week, all five of them participated in a candidate forum, presented by the Shawnee Mission Area Council PTA, at the Center for Academic Achievement in Overland Park.
Kyle Palmer, of KCUR, served as the host for the event.
Topics ranged from administrative raises to special education.
Candidates are incumbent Cindy Neighbor, a former educator who has been in the at-large seat for two decades; Mandi Serrone Hunter, an attorney who thinks the current school board needs a parent's voice; Heather Ousley, an attorney who became a public education advocate when her daughter's class size drastically increased; Robert Roberge, a 1979 Shawnee Mission East graduate who says he doesn't have an agenda and Fabian Shepard, who says he wants to help re-establish Shawnee Mission as the standard bearer for the nation.
Here are the candidates' thoughts on topics facing the district:
Safety pins
Back in November, the school district drew nationwide controversy when it asked teachers to refrain from wearing safety pins. The act was intended to be a sign to students that they're in a safe place, but the district worried it would be seen as a political statement.
When asked on their opinion of the district's stance, the candidates differed.
Shepard said he felt the situation was blown way out of proportion.
While he feels every teacher should already be a safe person and every school should be a safe place, he said the district's stance about safety pins should be respected by educators.
"Right now, I don't have a boss in front of me, but there is an organization chart," he said. "And if somebody up in that organization chart says, 'don't do this,' then guess what, I'm not going to do it."
Hunter saw the situation as a possible first amendment violation.
"Both teachers and students have a right to free speech until it is determined it is disruptive," she said. "In this case, based on the information I had and the information that was presented, I didn't see that it was disruptive."
But Neighbor felt otherwise.
"This was a very tough issue because I think teachers wanted to do the right thing, but I think the understanding was that some kids, seeing the safety pins, did not feel safe and that took it out of free speech," she said.
Ousley echoed concerns about a first amendment violation, but said she felt the district made a bigger deal out of the situation than it should have.
"I think that making a stink about it exacerbated the issue and drew negative attention to the district and I don't think it was worth the time and effort everyone had to put into it," she said. "I think it would have dropped eventually."
Roberge said he didn't see the wearing of safety pins as a threat and teachers should have been given a choice to wear one.
"If certain students complained or had a problem with it, we need to talk to them and help them understand why it's OK," he said.
Administrative raises
Eyebrows were raised in the district last month when the school board approved a $34,500 raise for the deputy superintendent Kenny Southwick, who is taking over the role until a new superintendent is hired.
One of the audience questions in regard to the issue was, "How do you feel about administrators receiving raises while teachers have not in years?".
Shepard said it was a situation that needed to be fixed.
"Folks, I think it's important to compensate people for their education and their expertise, but I think when it's at the detriment of the other folks in the district, then we have a serious problem and we've got to make an adjustment," he said.
Hunter agreed it was difficult to think of administrators getting raises while teachers were not.
"I appreciate the work our teachers have done and we respect them, but when an administrator is getting a raise and the people who are interacting and the people who are implementing our curriculum do not get one, I think that's difficult," she said. "I can understand the reason why teachers are concerned."
Neighbor pointed out that Southwick received the raise because he's doing two jobs.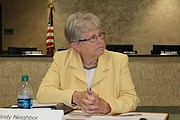 "How many of you work 365 days a year during the day and at night pro bono?" she asked the audience. "Not many. That's what our superintendent does, whether it's an activity at a middle school or there's an activity at a high school, our administrators are out there and in attendance."
Ousley, however, pointed out that Shawnee Mission teachers who are receiving additional students in their rooms are probably not getting similarly compensated for the extra work.
She said that while she respects what administrators do and she knows the district needs quality administrators, she wants to see fairness and equal treatment.
Roberge agreed that teachers need more money, but he stressed they also need a good working environment.
Title 1 schools
Another popular audience question was, "As the population of Shawnee Mission shifts, more buildings are being classified as Title 1. What do you propose to support these schools to ensure all students in SM receives an equal education?"
Roberge said he believed every child has the right to education.
He would like to see the district focus on its services for English language learners, special education students and children from low economic households.
Shepard said he believes it will take an intense study to see how the district should handle the area's changing demographic.
Hunter said she specifically would like to see the district create a diversity council.
Neighbor agreed something needs to be done to protect students in Title 1 schools. She pointed out that with the federal government making drastic cuts to Medicaid, it will affect many students, such as those with disabilities, and it could affect the district financially.
Ousley said the district needs to be more careful when it drafts boundary changes around Title 1 schools.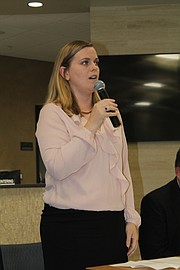 Earlier this year, when the district created new boundaries for numerous elementary schools, it looked into possibly creating lines that would take single family homes out of a school primarily populated by apartment complexes, therefore concentrating economic hardship at a greater percentage at a Title 1 school.
Ousley said it is possible to allow students to experience peers from different economic backgrounds without creating segregation.
Special education
One of the last questions of the evening focused on a topic affecting several candidates: special education.
A majority of them have special education children in the district.
The question was, "With a national push towards full inclusion for special education students and federal cuts to special education funding, what will you do to protect our special education students to ensure they get the individual attention they need?"
Neighbor said that if the district no longer receives funds from the state or federal government, it has the responsibility to use regular funds to ensure those students continue receiving the best education.
Ousley said there needs to be advocates for special education to ensure the cuts don't go through.
Roberge said if the government won't fund the need, the district shouldn't make cuts to services.
"We need to figure out a way to make it work," he said.
Shepard agreed with his fellow candidates.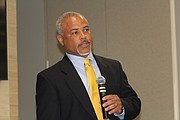 "When people are looking at cutting things that are critical and not providing the resources we need to be able to support something like special needs students, that when everybody needs to get together and kick down the doors and say 'enough, we're not going to let this happen.'"
Hunter said cuts at the federal level would be devastating for the district's special education program.
"The board has the ability to provide support, to provide curriculum, and implement policies and procedures that will attract and retain special education teachers and our para professionals who support those individuals," she said.
Closing statements
At the end of the forum, each candidate was given the opportunity to state why they were a good pick for the open at-large seat.
Hunter said that as a school board member, she would like to help resolve issues facing parents and community members.
"I don't have a conflict of interest," she said. "This board needs someone who is nonpartisan and doesn't have a conflict, who can advocate and collaborate and move this school district forward."
Neighbor, who also represents District 18, said her government status gives her a bigger perspective. She hopes to have the opportunity to continue her tenure on the school board.
"I am a collaborator and yes, I am a legislator, but what that gives me is insight into what challenges are before us," she said.
Ousley said she wants to shake things up on the school board.
"There is a time and a place for appropriate respectful dissent and I am delighted frequently to be the dissenting voice," she said, adding that dissent can lead to better solutions.
Roberge said he wants to help the district move forward.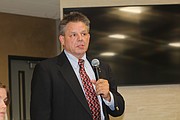 "There's not a clear vision in this district and there has not been other than 'let's just keep doing what we're doing,'" he said. "We need one that starts with the public, the community, the educators."
Shepard said it is time the school board starts to reflect the demographic of the community.
"If you look at our board, you'd think everyone in the community was old and white," he said. "Should you vote for someone because he's Hispanic or black? No. You vote for that person because you believe he can do the better job. That's what I think I can do."