Shawnee convenience store robbed early Wednesday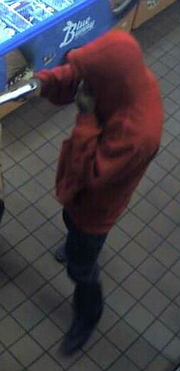 UPDATE: July 17 - Police have now released several surveillance images of the suspect they're still trying to locate.
Since this incident, the Temp Stop was robbed again on Sunday July 16. Major Dan Tennis tells Operation 100 News that the two robberies are not believed to be connected.
"All of the other cases have been cleared by an arrest and charged by the Johnson County District Attorney's office," Tennis said.
Original report: Shawnee Police confirm they are investigating after the Temp Stop convenience store, 13515 West 63rd Street was held up early Wednesday morning.
Major Dan Tennis says officers were called to the business around 3:30 a.m.
"The suspect, who had his face covered, was described as a black male wearing a red hoodie and blue pajama pants," Tennis said. "He was armed with a handgun and stole an undisclosed amount of cash."
Tennis says officers established a perimeter in the area and then used the K-9 unit in attempt to locate the suspect. No one was located in the search.
The store employee was not injured and no customers were inside the business at the time.
"There is surveillance video, but we would only release that to ID a suspect," Tennis said. "We are still looking at it to see the quality."
The Temp Stop, billed as a "high-class" convenience store, opened in late 2012 and has been the scene of seven robberies according to Shawnee Police.
Major Tennis confirms to Operation 100 News that the store was robbed three times in 2013 (February 12, May 9, May 14), May 2014, October 2016, March 31, 2017 and July 12, 2017.
Anyone with information regarding this incident is asked to contact Shawnee Police at 913-631-2150 or the TIPS Hotline at 816-474-8477.
---
Operation 100 News provides overnight news coverage for the Shawnee Dispatch. Follow on Twitter for real-time updates.