Two injured in Interstate 435 crash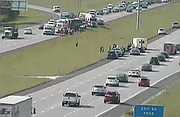 Two people were transported to area hospitals following a crash on Interstate 435 Wednesday morning.
Kansas Highway Patrol Troopers say they were notified of the crash on the southbound side of Interstate 435 just north of Shawnee Mission Parkway around 9:05 a.m.
Troopers arrived to find Shawnee Police, Fire, and Johnson County Med-Act already on scene with several lanes of the interstate blocked.
The Highway Patrol's crash log states that a 2007 Mazda6 was parked on the left shoulder of southbound I-435, with a 34-year-old Kansas City, Missouri woman behind the wheel.
A 61-year-old Kansas City, Kansas man, also traveling southbound on I-435 suffered a "medical episode" behind the wheel of his 2004 Ford Taurus. The southbound Ford ran off left side of the roadway and struck the side of the parked Mazda.
The Ford came to rest in the inside lane of northbound I-435 after crossing through the grassy median. No other vehicles were involved in the crash.
Johnson County Med-Act transported both drivers to an area hospital with minor injuries.
Troopers say both drivers were wearing their seat belts at the time of the crash.
Operation 100 News will not be releasing names of either driver involved as this crash involved a medical issue with one of the drivers.
---
Operation 100 News provides overnight news coverage for the Shawnee Dispatch. Follow on Twitter for real-time updates.