Down to Earth: Summer Musings
It is full-on summer.
The earth has just tipped past its solstice and the days have already begun to get shorter, but for a while we seem to hang suspended in long, languid sunlit days whose calm is shattered by sudden, violent storms with hurricane winds, torrents of rain and bright cracks of lightening.
For gardeners like me it has been a blissful summer so far.
A long, early spring with ample, timely rains gave me plenty of days to accomplish everything I wanted to do in my garden — divide and transplant perennials that had outgrown their spaces , sow seeds, fill new beds with annuals from the nursery, clean and condition the soil in my pots and try out new combinations of plants in them.
Every summer these are the tasks I try to complete before the punishing heat sets in and the mosquitoes take over the backyard.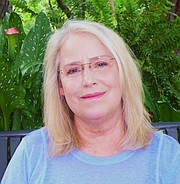 But this year, although there have been some really hot days, there have also been plenty of mild ones, plenty of days when all I wanted to do is go out and dig in the dirt. And the swarms of mosquitoes have not materialized.
I don't know what mysterious phenomenon is at work here, but I am grateful, since mosquitoes love me.
Tonight it was cool enough to wear long pants and a light sweatshirt as I gathered larkspur seeds before pulling up their yellowing stalks, and I could work without spraying myself with bug repellant.
The air was still and soft, the neighbors, gone, the street, quiet.
As dusk set in the birdsong began to die down and the fireflies began to blink on and off.
More and more of them began to fill the dark corners of the backyard.
One would pause in front of me, seeming to check me out before flitting away, and then another would appear, hover, and fly off.
I just stood for a while, breathing in the sweet night air, the gold flashing lights bringing back memories of summers when we were kids and would capture the bugs in jars, or sometimes even tear off their lights and paste them on our fingers for rings.
Silently I asked their forgiveness.

Summer often means vacation, a getaway.
My friends on Facebook have been posting photos of the places they are visiting — seashores, mountains, country sides, quaint villages and big-city attractions, architectural wonders of the world.
We don't travel much; we tend to stay pretty close to home.
I sometimes feel envious of my well-traveled friends.
But tonight, as I stood cutting stalks in my compost bin into smaller, more easily digested pieces, getting in one more task before dark because when you are a gardener there is always, always something to tend to, and as I stopped to watch the fireflies before going inside, I realized I was perfectly content.
At that moment there was no place I'd rather be than in my own backyard, in my garden, on this summer night.
— This is the first installment of a monthly column, "Down to Earth," written by Janet Rossbach, the co-vice president of the Garden Club of Shawnee.
More like this story