Theater company now calls Shawnee home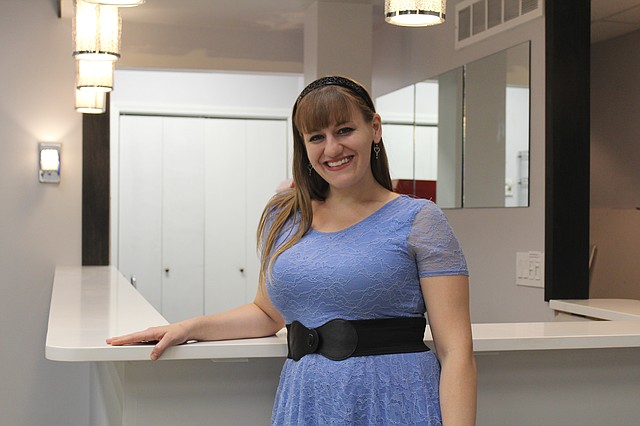 A popular musical theater company is now calling Shawnee home.
Immeasurable Productions has moved into the former Grace Christian Fellowship church building, 13622 W. 62nd St., as renovations are currently underway.
The lobby is undergoing a redesign, with a wet bar, ticket window and fireplace wall being built.
In the auditorium, mega screens are being added to the walls and stadium seating is being placed in the balcony.
Construction is expected to be complete by late summer.
The new space is a big improvement for the small company.
After being founded in 2011, the company spent the past six years without a home.
Auditions, rehearsals and shows took place at various churches and theaters across the Kansas City area.
Immeasurable Productions owner and artistic director Mindy Moritz used to prep for each show in her own home.
Putting down roots in Shawnee was a no-brainer for Moritz, who grew up in the area. The 2005 Shawnee Mission Northwest High School graduate now lives in Shawnee and she treasures the idea of bringing live theater to northern Johnson County.
"There's nothing else like this in Shawnee right now," she said. "I chose this area because it's safe and family-friendly."
Immeasurable Productions puts on four shows per year, paralleling with school breaks. Actors are typically between the ages of 12 and 19. The musicals are showcased after only a week of rehearsal time.
"It's kind of like musical theater boot camp," Moritz said, with a laugh.
The upcoming show for this weekend and next weekend will be Shrek, a colorful campy comedy featuring a different cast for each weekend. Nearly 70 kids are involved total.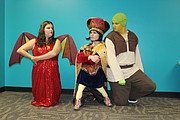 Last week, a few cast members stopped by the new space to try on costumes.
"It is huge, oh my gosh," exclaimed Katie Kaminski, a 15-year-old from Smithville, while gazing around the expansive basement. "I love that we now have plenty of space to rehearse. It looks gorgeous."
Matt Robison, a 17-year-old from Shawnee who plays Shrek this weekend, agreed.
"Most of the time, you end up going downtown if you want to see a show, so it's very cool to have a place right in my hometown," he said.
Robison met Moritz last year when the outgoing theater owner was choreographing a musical at his school, SM Northwest.
In fact, many of the youths starring in Shrek met Moritz the same way. She helps choreograph musicals at various schools on both sides of the state line.
"She's always manages to gather the most amazingly talented, nicest people you will ever meet in your life," Robison said. "I don't know how she does it."
Moritz chalks it up to a positive environment and pure luck.
"I work with the nicest kids in Johnson County," she said. "None of them are divas and nobody is rude or arrogant. I'm really about being positive, because I experienced a lot of negativity in theater growing up, and I don't think yelling at kids or being disrespectful should be part of a theater experience."
Moritz hopes to keep that momentum going.
She also has big plans for the building housing Immeasurable Productions.
The building was bought in February by her family and they hope to use it as both an event space and a rental home for other theater companies.
The building will also be used for its original intention each weekend.
The Shawnee branch of Life Mission Church will soon be renting the auditorium to have its services there each Sunday. Currently, the church meets at the Shawnee Civic Centre.
For information about renting event space, or to learn more about the upcoming production of Shrek, visit iptheater.com.