Shawnee woman returns class ring lost for 20 years
Kay Durham, of Shawnee, played Good Samaritan recently by reuniting a class ring she'd found years before in a pair of thrift shop jeans with a Liberty, Mo., woman who'd lost it in Topeka two decades ago.
How the ring traveled from the state capital to the Shawnee Goodwill inside the pocket of blue jeans Durham purchased is anyone's guess.
When she first found the ring in the late 1990s, she'd searched online unsuccessfully for the name engraved in it: Julie Merckling.
But she had no way to know the ring's owner was by then going by "Jules" and her married name.
Having no luck, Durham tucked the mystery ring away in an old jewelry box, where it remained from Bill Clinton's second term in office until earlier this month, when she rummaged through closets for a neighborhood garage sale.
"When I saw that ring again I knew that somehow, some way, we had to find the owner," Durham said. "It was the right thing to do."
Thanks to the power of social media and a little persistence from Durham's daughter, the Durhams and the Mercklings were new BFFs within just four hours.
A post on Topeka Swap and Shop's Facebook page was spotted by a family member of Merckling's.
The next morning, Merckling drove to Shawnee, where Durham was tending her garage sale.
Running to Durham, Merckling hugged her on sight and was still shaking when she slipped on her dainty silver and garnet ring.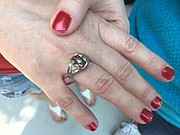 "I can't believe they went to so much trouble to track down a complete stranger," Merckling said. "I'm in shock, and just so grateful. My mom bought this ring for me, which made it special."
A 1994 graduate of Hayden Catholic High School in Topeka, she'd lost the ring after only a few years.
"When I bought class rings for my own girls, I wondered again what the heck had ever happened to mine!"
The special moment was treasured by both women.
"It was so exciting to see the joy in Jule's eyes when she saw her long-lost class ring," Durham said. "And it still fit her finger perfectly."
More like this story