Shawnee City Council approves $19.5M incentive package for Bellmont Promenade project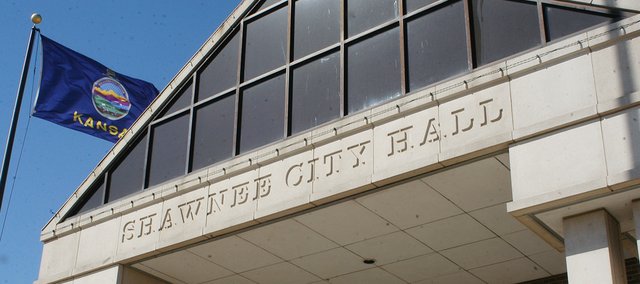 Many residents opposed the Bellmont Promenade project, but that didn't stop the Shawnee City Council from giving developers a green light.
At its meeting Monday night, in a 6-3 vote, the governing body approved a $19.5 million incentive package for the development of a new shopping center at the southwest corner of Shawnee Mission Parkway and Maurer Road.
It is the only corner of that intersection not developed yet, due to its significant grading issues.
The $59 million Bellmont Promenade project will tentatively have a 150,000 to 200,000 square-foot shopping strip, along with five to seven pad sites.
Developers for the project include Dan Lowe and Keaton Knott, of Legacy Development, and Steve Beaumont.
The incentive package includes a Community Improvement District (CID), which will impose a 1.3 percent additional sales tax for the shopping center and will include a property tax assessment as well, to raise $9.3 million.
It will also include a Tax Increment Financing (TIF) plan expected to raise $10.2 million.
Councilmen Mike Kemmling, Dan Pflumm and Eric Jenkins were the opposing votes.
The agenda item drew dozens of residents to the meeting, with many having to stand against the walls of the council chambers, because the room was so packed.
During the public hearing, some residents, including a few teenagers, vocalized support for the project, emphasizing it would bring more employment to the area, nicer restaurants and closer shopping opportunities.
One of those residents was Ben Snyder.
"I have to drive about 20 minutes in each direction to get somewhere I want to eat or shop that's better than McDonald's," he told the council. "So having this area right down the street from my house would be greatly appreciated."
Others thought the council should jump at what they considered a rare opportunity for new development in the city.
"I think we should support people who want to invest $60 million in our city," said resident Justin Nichols. "There's not a lot of people who want to."
Many residents in attendance, however, fervently protested the project, saying it would increase traffic in the area, retail was a dying industry and it wasn't a project worthy of incentives.
Mary Landis, who has lived in Shawnee for 45 years, was one of the residents very concerned about a potential increase in traffic, especially on Maurer Road.
She worried the shopping center traffic could even impact her own street, Midland Drive.
"We already have a tremendous amount of traffic on Midland Drive," Landis told the council. "We have five hotels down the street from us. To turn that traffic up to Maurer and all that traffic trying to get into that area is ridiculous."
A few residents quoted news articles they found which stated brick and mortar retail stores and malls are steadily on the decline.
Resident Don Lysaught told the council he thought the city should only grant incentives to projects that were exceptional, not basic retail, especially when the industry's future was questionable thanks to booming internet sales.
"We can do better than this," he insisted. "I'm very afraid we're going to line up with more humdrum stores and another couple of fast food places."
Another resident, Marlin Cooper, had more specific concerns.
His home on Maurer Road sits adjacent to the south side of the proposed development.
He told the council he is not against the project itself, because he agrees it will bring more employment and new businesses to the area, but his biggest concern is how the development will affect drainage into his large pond.
"The entire property currently drains into my pond, the entire topography," he said. "Now if we take a property like this and level it out and put other things, it's going to be a mess."
He pointed out his pond is the water source for all of the wildlife within the 80-acre property.
He also said an engineer he hired to study the pond told him the new development would destroy his pond, a theory which dismays Cooper.
"I would hope that you don't throw me under the bus for the sake of taxes," he implored the council.
In response to the residents' concerns, project attorney Greg Musil said developers are working with the Coopers and other nearby residents on stormwater issues and heavy landscaping.
But those details won't be ironed out until the project is designed, he pointed out.
"We don't know exactly what the traffic is going to look like along Maurer Road, but we know most of the traffic is going to come from north from Shawnee Mission Parkway, not from south on Maurer Road," Musil said. "But those will be things that go through your natural process, which is as rigorous as any city in Johnson County, and you'll have a chance to look at those and say we didn't get it right."
A majority of council members supported the project.
"We're competing with other cities to bring these developments here," said Councilman Mickey Sandifer. "I think this is going to be a fantastic development."
Councilman Brandon Kenig said he believes the Bellmont Promenade project could be a catalyst for more exciting developments to come to the city in the future.
Also vocally supportive of the project was Councilman Jim Neighbor who pointed out that if former governing bodies didn't go through the same angst with Bayer or Perimeter Park, those successful developments wouldn't have happened.
"Projects like this don't come along every day," he said.
The three councilmen who voted in opposition disagreed with their peers.
Kemmling announced he was against incentives in general.
Both Jenkins and Pflumm said the amount of incentives involved made them uncomfortable.
A final plan for the project will come before the council for approval at a later date.
As for the project itself, Knott had told the Dispatch back in May that the tenant mix at Bellmont Promenade could be similar to other Legacy Development projects around the Kansas City area, such as Liberty Commons in the northland and Truman's Marketplace in Grandview.
Liberty Commons shopping center includes an Academy Outdoor and Sports, a Natural Grocers and a Five Below.
Truman's Marketplace includes a Burlington, Ross Dress for Less and a Shoe Carnival.
As for the pad sites, the hope is to attract a coffee or smoothie shop, a couple fast food restaurants, and sit-down restaurants which are not in Shawnee already.
"We want names that will pop," Knott had said.