Shawnee Temp Stop robbed for second time in four days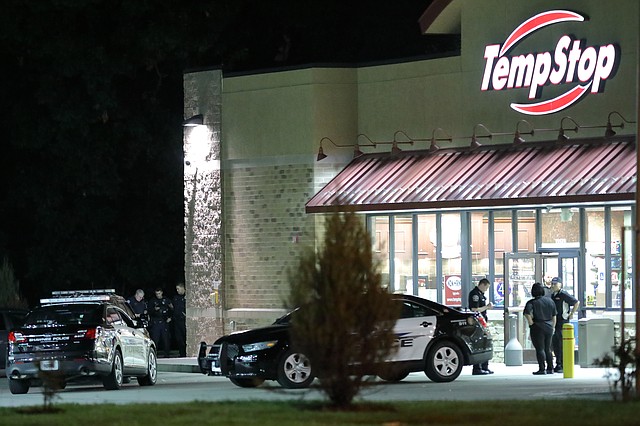 Shawnee Police are investigating after the Temp Stop convenience store, 13515 West 63rd Street, was robbed early Sunday morning.
In a news release, Sergeant Tom Lynch said officers were called to the business about 1:45 a.m.
Police say two suspects entered the store, one of them was armed with a handgun.
"The suspects exited the store after obtaining an unknown amount of cash, and fled on foot west from the Temp Stop," Lynch said in the release. "A police canine was deployed, but the suspects were not located."
On Monday, Major Dan Tennis told Operation 100 News that the suspect with the handgun was described as a black male, approximately six feet tall and 165lbs. At the time of the robbery, he was wearing a blue jacket with a scarf over his face. The second suspect is only described as a black male and is not pictured in any of the surveillance images that the department has released.
No injuries were reported in the incident and detectives continue to investigate.
Anyone with information regarding this incident or the identity of the suspect is asked to call Shawnee Police at 913-631-2150 or the TIPS Hotline at 816-474-8477.
The Temp Stop, billed as a "high-class" convenience store, opened in late 2012 and has been the scene of eight robberies according to Shawnee Police.
On Wednesday, July 12, Major Tennis confirmed to Operation 100 News that the store was robbed three times in 2013 (February 12, May 9, May 14), May 2014, October 2016, March 31, 2017 and July 12, 2017.
Tennis told Operation 100 News the July 12th and July 16th robberies are not believed to be connected.
"All of the other cases have been cleared by an arrest and charged by the Johnson County District Attorney's office," Tennis said.
---
Operation 100 News provides overnight news coverage for the Shawnee Dispatch. Follow on Twitter for real-time updates.