Celebrating a milestone: Donovan's Service turns 80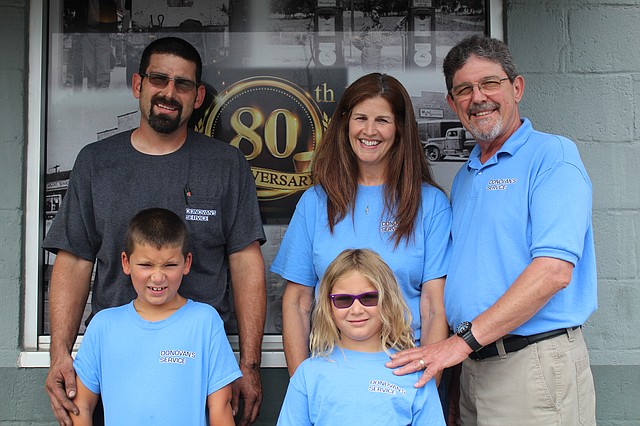 Newspaper headlines blasted about the disappearance of aviator Amelia Earhart. Pint-sized Hollywood film star Shirley Temple charmed movie audiences across the nation. Tourists flocked to San Francisco to admire the newly built Golden Gate Bridge.
And on July 3, 1937, a familiar sight in Shawnee was born.
On that day, 41-year-old husband and father, William "Al-Babe" Donovan, opened Donovan's Service near the southwest corner of 5th and Main streets.
Years later, those street names would change, of course, with 5th Street becoming Nieman Road and Main Street becoming Johnson Drive.
His brand new business proudly featured two gas pumps and a ditch, he dug himself, to work on cars.
An Iowa native, Donovan moved to the Kansas City area in 1932 for better job opportunities. Plus, he had a cousin living this way.
His background with cars was decent, having started during World War I when he worked on a motor pool for the military in 1918.
In 1934, he was running a gas station in Shawnee when he realized a row of dilapidated cabins was for sale. It seemed the perfect opportunity to start his own business a few years later.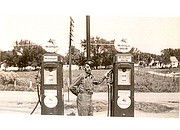 Donovan and his family lived in a house on their newly bought property and used one of the old cabins as an office.
Although Shawnee was a sleepy farm town with a population of around 300 back then, Donovan's Service was open 24/7 to serve travelers.
In the 1940s, Donovan tore down the shabby cabin to build an actual office, plus he constructed a proper garage.
When he wasn't busy working on the Ford Model A's and Model T's stopping by his humble shop, Donovan and his family were immersing themselves in the community.
Donovan's grandson, Pat, who now runs the family business, fondly recalls his grandfather telling him that across the street there was a field with 14-foot tall weeds. Donovan and a few buddies cleared that field to play baseball.
The site is now a shopping strip.
Donovan also spent a lot of time teaching his children the ins and outs of the business.
Pat's father, William, grew up sweeping the garage, pumping gas and learning how to fix cars.
Pat's childhood was very similar.
He's been working at Donovan's Service since 1969, jokingly saying he didn't have much of a choice.
"I wa 14 years old and I got to drive cars," Pat told the Dispatch. "All my friends were starting to drive and I knew how to fix their cars. They thought it was pretty cool."
The 1970s were a big change for Donovan's Service and the Donovan family.
It was during this decade his father took over the business, the shop started closing on Sundays, and Pat met and married his sweetheart Janet.
The couple raised three sons and they now have six grandchildren.
Their middle son, John, is now a mechanic at Donovan's Service.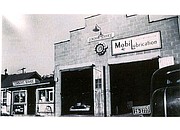 Today, the business is more modern and thriving, but still encaptures the mom-and-pop nostalgia from its early roots.
There have been drastic changes. The gas pumps disappeared in the late 1990s and the business is now closed on weekends. The house on the property, eventually used as storage, was torn down in 2009.
The business now houses 9 bays in two garages.
"We're thankful for everyone who walks through the door," Pat said. "We're lucky that we're able to have a lot of customers without doing any advertising."
In addition to Pat and John, other family members help out with the business now as well.
Pat's nephew, William Nealey, is a mechanic and John's 7-year-old son, Callen, helps out with sweeping, handing wrenches to his dad and learning how to tighten and loosen screws.
"I just like helping my dad," Callen said. "Getting dirty is fun."
Janet helps her husband run the business by doing all the paperwork, such as the bookkeeping, payroll and taxes.
And over the years, the family has seen their fair share of cool rides drop by the shop.
Classic cars are always a treat, both father and son agree.
One time, someone brought in a 1975 checkered cab, and John bought it. He restored the vehicle and displays it at car shows.
Just a few months ago, Pat added, a customer came in with a Tesla.
The best part about owning a shop, however, is the opportunity to meet new people, Pat insisted.
"A lot of my customers have become friends over the years and I'm seeing second and third generations come in," he said. "It's the reward of the business."
To celebrate Donovan's Service's monumental milestone, the family held an open house earlier this month at the shop.
The mayor, along with other city officials and long-time customers, showed up to enjoy refreshments and mingle.
The mayor presented Pat with a proclamation stating July 3 as Donovan's Service Day.
It was an act that both touched the Donovan family and reminded them the business they continue to grow, after eight decades, is rarity.
"Shawnee is a tight community and this place has small town written all over it," Pat said. "That's what makes it charming and it's amazing that feeling has lasted as long as it has now that the city is over 60,000 people. We're really grateful for all the support Shawnee has given us over the last 80 years."